To avoid the most commonly reported problems, it is recommended that you adhere to the guidelines listed below when you work with Lobbying Disclosure forms:
•      Forms can be completed manually by completing the fields on each page, or by importing the data using an XML data source.  The import tool is designed for populating large forms by IT professionals familiar with using XML files;
•      New issue, update and addendum pages can be added and deleted at any time while you are working on the form using the appropriate buttons located on the form;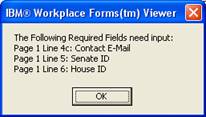 •      The form is validated when you sign the document.  A message will be displayed if required fields in your form are not completed.  You must review any messages that appear and correct your form before you can sign and file it;

•      When you save the form you will be reminded if there are required fields in the form that are incomplete.
More:

Completing Form Fields

Importing Form Content