If you are using a database to track your lobbying activity, you can export the information from your database as XML and import it directly into a lobbying disclosure form.  This tool is designed for lobbying firms that are currently using a database with technical support that is familiar with using XML files.  A sample MS Access database has been created to give you a working example of how to export your data into an XML import file.
See Import Tool in the Appendices for downloads and the XML schema
To install the Import Tool:
•      Download the ushrIFX.ifx file and copy it to the C:\Program Files\IBM\Workplace Forms\Viewer\2.5\extensions folder;
•      Open a blank form in IBM Workplace viewer;
The Import XML button will appear in the left hand side of the form header.
To populate your forms using an XML data source:
•      Prepare your XML Import file according to the appropriate XML schema:
•      Open the blank LD-1 or LD-2 form in IBM Workplace Viewer;
•      Click the Import XML button: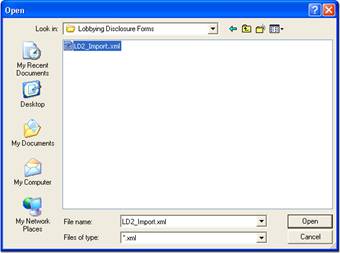 A window is displayed to select your XML import file;
•      Select the XML file you want to import and click the Open button:
The form screen will be displayed as the form is being built.  The length of time to import your file will vary depending on the number of pages your form will contain;
•      If the XML import file was not formatted properly:

A message is displayed that your file contains invalid data and lists the specific elements that are invalid according to the schema;
•      Click the Ok button, fix the formatting in your import file, and click the Import XML button on the form again;
•      If the import was successful: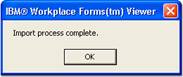 A message is displayed that the import completed;
•      Click the OK button:
Your completed form has been created.  If the fields on the first page are not displayed, navigate to any other page on the form and go back to page 1.  The fields will show as populated.
Review each page in the form to ensure that all fields are valid.  If a field contains invalid data, it is shown in red.  You must correct the entries before you can sign and file your form.