---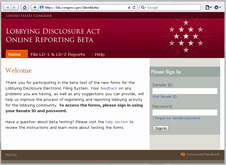 Notice: Online Lobby Reporting Available
There are newer web based versions of the lobbying disclosure forms available for use on all of your future filings. These new Online Lobbying Disclosure forms have been available for over three years now and will be replacing the IBM forms early next year.
We encourage you to start using these forms as we will not be accepting IBM forms after the 2014 Fourth Quarter filing period (ending January 20th, 2015).
---
Download Template Forms
If you are an active registrant, you can download IBM Workplace forms that are pre-populated with your registrant and client information. To locate your forms, enter your registrant name in the field below and click the "Search" button. If you are not sure of the Registrant name, you can view the list of active registrant names in alphabetical order using the links below.
If you have just registered a new client and a link to the pre-populated form is not available, please check the download page again later in the day. The icon will be displayed when the new form is available.
View Alphabetically:
| Registrant Name | Registrant ID | LD-1 Form |
| --- | --- | --- |
| BALLARD PARTNERS | 43477 | |
Client Name

House ID

LD-2 Form

Africell Holding
434770054
Alcalde & Fay (on behalf of Jacksonville Port Authority)
434770030
Alden Torch Financial, LLC
434770133
Amazon.com
434770008
American Health Associates, Inc.
434770184
American Health Care Association
434770007
American Road & Transportation Builders Association
434770010
Anderson Kill P.C. (for certain plaintiffs in "9/11" litigation)
434770083
Association of Dental Support Organizations
434770164
Atlantic Sapphire, USA, LLC
434770190
Audacious Inquiry
434770171
Aviator Capital Management, LLC
434770176
Balsam Brands, Inc.
434770130
Bankers Financial Corporation
434770128
Barry University
434770175
Bio-Tech Consulting Inc.
434770136
Bird Rides, Inc.
434770169
Blue Skies Aerospace Group
434770103
Blue Wolf Capital Fund IV, LP
434770183
Boxercraft, Inc.
434770197
Broward College Foundation
434770149
Building a Better America
434770152
Caplin Family Offices
434770181
Carbonfund.org Foundation
434770131
CBI Acquisitions, LLC
434770153
Children's Hospital Association
434770052
Citizens for a Secure and Safe America
434770067
Citizens for Responsible Energy Solutions (CRES)
434770024
City of Jacksonville
434770025
City of Miami Beach, Florida
434770059
City of Pensacola
434770062
CKP a division of Brown and Brown Florida Inc.
434770142
Colonial Management Group, LP
434770071
Continental Heavy Civil Corp.
434770126
Crowley Maritime Corporation
434770045
Delaware North Companies Gaming & Entertainment, Inc.
434770182
Detroit International Bridge Company, Inc.
434770081
Dish Network, LLC
434770012
DraftKings, Inc.
434770159
Eagle LNG Partners LLC
434770072
East Alabama Medical Center
434770134
F.E.B. Corp.
434770021
FanDuel, Inc.
434770160
Fidelity National Financial, Inc.
434770167
Figg Bridge Engineers, Inc.
434770144
Flagler Health+
434770154
Friends of Miami Dade College
434770146
G4S Secure Solutions (USA) Inc.
434770141
General Motors LLC
434770111
HRB Tax Group, Inc. (formerly known as H&R Block, Inc.)
434770053
iCare.com LLC
434770148
IMPACT
434770196
Inventure Holdings, LLC
434770187
Jiko Technologies, Inc.
434770168
Kendall Properties and Investments
434770096
Kreindler & Kreindler LLP (for certain plaintiffs in "9/11" litigation)
434770082
Laboratory Corporations of America Holdings
434770039
Lake Cumberland Marina LLC
434770147
Lathrop Gage LLP
434770056
Laundrylux
434770163
Len-Angeline LLC
434770097
Lender's Consulting Group, LLC
434770191
Leonardo DRS, Inc.
434770074
Major League Baseball
434770124
Maxim Healthcare Services, Inc.
434770125
MCI, LC
434770194
Miami-Dade County Public Schools
434770036
Millennium Physician Group LLC
434770162
Motion Picture Association of America, Inc.
434770084
Nanobiosym Diagnostics, Inc.
434770195
NanoPure, LLC
434770161
NES Health
434770192
NextEra Energy, Inc./Florida Power and Light Company
434770001
North Broward Hospital District d/b/a Broward Health
434770114
NOVA Southeastern University
434770057
Okaloosa County, FL
434770155
On Demand Holdings, Inc.
434770158
Origin Logistics, LLC
434770188
Orsted Wind Power North America LLC (formerly known as North East Offshore, LLC)
434770145
Palm Bay International, Inc.
434770151
Pernod Ricard USA., LLC
434770016
Potomac Center North, Inc.
434770189
Public Health Trust of Miami-Dade County (on behalf of Jackson Health Systems)
434770075
Public Utility District No.1 of Douglas County
434770193
RAI Services Company (FKA- RAISC)
434770006
Renew Financial Group LLC
434770156
Republic Services Procurement, Inc.
434770117
RIL USA
434770115
Safety Net Hospital Alliance of Florida
434770017
Seal Shield, LLC
434770185
Sensus Healthcare
434770109
Sentry Data Systems
434770078
SharkNinja Operating LLC
434770178
SI Group Client Services
434770118
Singani 63
434770085
Sky Boat LLC
434770022
Skyport North American
434770172
Standard Industries
434770180
Tampa General Hospital
434770165
The Boeing Company
434770106
The Florida International University Board of Trustees
434770100
The Geo Group, Inc
434770003
The Mega Company
434770198
The Mosaic Company
434770027
The Pebble Partnership
434770119
TL Management
434770177
Trulieve
434770055
U.S Sugar Corporation
434770002
Uber Technologies, Inc.
434770033
University of Miami
434770038
USA Freedom LLC
434770157
Varian Medical Systems
434770080
Waterton Global Resource Management, Inc.
434770139
Zeta Global
434770179
Forms Archive
Click on the link below to download blank semiannual LD2 forms.
Forms Archive
Install Form Viewer Software
The IBM Workplace Viewer software is required to work with the Lobbying Disclosure forms on a Windows computer. To download the application, enter your registrant name and e-mail address in the fields listed below and click the "download" button.