---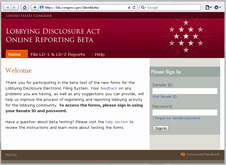 Notice: Online Lobby Reporting Available
There are newer web based versions of the lobbying disclosure forms available for use on all of your future filings. These new Online Lobbying Disclosure forms have been available for over three years now and will be replacing the IBM forms early next year.
We encourage you to start using these forms as we will not be accepting IBM forms after the 2014 Fourth Quarter filing period (ending January 20th, 2015).
---
Download Template Forms
If you are an active registrant, you can download IBM Workplace forms that are pre-populated with your registrant and client information. To locate your forms, enter your registrant name in the field below and click the "Search" button. If you are not sure of the Registrant name, you can view the list of active registrant names in alphabetical order using the links below.
If you have just registered a new client and a link to the pre-populated form is not available, please check the download page again later in the day. The icon will be displayed when the new form is available.
View Alphabetically:
| Registrant Name | Registrant ID | LD-1 Form |
| --- | --- | --- |
| BALLARD PARTNERS | 43477 | |
Client Name

House ID

LD-2 Form

Africell UK Limited
434770253
AGL Solutions, LLC
434770286
Alden Torch Financial, LLC
434770133
Alternative Solutions Group LLC d/b/a Guardian Health
434770310
Amazon.com
434770008
American Road & Transportation Builders Association
434770010
American Veterinary Medical Association
434770258
Anderson Kill P.C. (for certain plaintiffs in "9/11" litigation)
434770083
Andrew Lee
434770223
Automated HealthCare Solutions
434770213
Baptist Health Care, Inc.
434770317
Broward College Foundation
434770149
Capitol Hill Consulting Group (on behalf of LHC Group)
434770296
City of DeBary
434770318
City of Jacksonville
434770025
City of Largo, Florida
434770263
City of Miami Beach, Florida
434770059
City of Pensacola
434770062
City of Winter Haven
434770226
Colonial Management Group, LP
434770071
Computer & Communications Industry Association
434770295
Core and Main LP
434770260
Critical Response Strategies
434770284
DBL Ventures
434770246
DoorDash, Inc.
434770231
Eastern Salt Company, Inc.
434770267
ERC Modular Inc., a Delaware Corp.
434770247
FarmaceuticalRX of PA, LLC
434770225
Fernando Diez Barroso Azcarraga & Maria Lucia Tolo
434770305
FirstDay Foundation (formerly known as BCFS)
434770241
Flagler Health+
434770154
Florida Sheriffs Association
434770238
Florida Sheriffs Risk Management Fund
434770237
Florida Transportation Builders' Association, Inc.
434770280
Fred Voccola
434770288
Friends of Miami Dade College
434770146
Gadsden County, FL Board of County Commissioners
434770293
Gapingvoid Culture Design Group
434770303
Greater Caspian Association
434770277
Hard Rock Japan K.K.
434770269
Hope Healthcare
434770291
iAero Airways (f.k.a. Blue Skies Aerospace Group)
434770103
Indelible Business Solutions, Inc.
434770282
Indian River State College Foundation, Inc.
434770234
Insightec, Inc.
434770302
International Atlantic, LLC
434770210
Jacksonville Port Authority (previously through Alcalde & Fay)
434770030
Julian Rudolph
434770313
Kaseya, Inc.
434770315
Kreindler & Kreindler LLP (for certain plaintiffs in "9/11" litigation)
434770082
Lake Cumberland Marina LLC
434770147
Lakeside Bluffs Group LLC
434770208
Lee County Board of County Commissioners
434770300
Leonardo DRS, Inc.
434770074
Mainstream Engineering Corporation
434770275
Major League Baseball
434770124
Manatee County
434770309
Martin County, Florida
434770265
McDermott+ Consulting (on behalf of Abbott Diabetes Care)
434770297
McDermott+ Consulting (on behalf of the American Academy of Ophthalmology)
434770307
MCI, LC
434770194
Metropolitan Government of Nashville and Davidson County
434770268
Miami-Dade County Public Schools
434770036
Motion Picture Association of America, Inc.
434770084
Mount Sinai Medical Center
434770316
NextEra Energy, Inc./Florida Power and Light Company
434770001
NOVA Southeastern University
434770057
Okaloosa County, FL
434770155
Papa, Inc.
434770292
Pernod Ricard USA., LLC
434770016
Public Health Trust of Miami-Dade County (on behalf of Jackson Health Systems)
434770075
Radom Corporation
434770298
RAI Services Company (FKA- RAISC)
434770006
Renewable Energy Aggregators, Inc.
434770236
RIL USA
434770115
Robinhood
434770294
Safe Port Terminals, LLC
434770261
Safety Net Hospital Alliance of Florida
434770017
SAS Institute Inc.
434770230
Savantage Solutions, Inc.
434770308
Seminole Hard Rock Digital, LLC
434770255
Sentry Data Systems
434770078
SePRO Corporation
434770299
SharkNinja Operating LLC
434770178
Singani 63
434770085
Socure Inc.
434770290
Southern Glazer's Wine and Spirits, LLC
434770199
SR Technologies, Inc.
434770311
Standard Industries
434770180
Sulzbacher Center
434770319
SunCoke Energy
434770301
Superior Optical Labs, Inc.
434770306
Swire Properties, Inc.
434770207
Tampa General Hospital
434770165
Tampa-Hillsborough Expressway Authority
434770217
TechLaunch Academy
434770312
The Heat Group
434770279
The Mosaic Company
434770027
Total Green Tropicals, Inc.
434770289
Trulieve
434770055
U.S Sugar Corporation
434770002
University of Miami
434770038
UpToDate, Inc.
434770314
VyStar Credit Union
434770270
Walgreen Co.
434770281
WeatherSTEM
434770243
Forms Archive
Click on the link below to download blank semiannual LD2 forms.
Forms Archive
Install Form Viewer Software
The IBM Workplace Viewer software is required to work with the Lobbying Disclosure forms on a Windows computer. To download the application, enter your registrant name and e-mail address in the fields listed below and click the "download" button.