---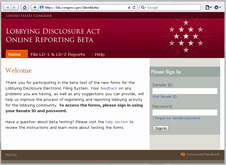 Notice: Online Lobby Reporting Available
There are newer web based versions of the lobbying disclosure forms available for use on all of your future filings. These new Online Lobbying Disclosure forms have been available for over three years now and will be replacing the IBM forms early next year.
We encourage you to start using these forms as we will not be accepting IBM forms after the 2014 Fourth Quarter filing period (ending January 20th, 2015).
---
Download Template Forms
If you are an active registrant, you can download IBM Workplace forms that are pre-populated with your registrant and client information. To locate your forms, enter your registrant name in the field below and click the "Search" button. If you are not sure of the Registrant name, you can view the list of active registrant names in alphabetical order using the links below.
If you have just registered a new client and a link to the pre-populated form is not available, please check the download page again later in the day. The icon will be displayed when the new form is available.
View Alphabetically:
| Registrant Name | Registrant ID | LD-1 Form |
| --- | --- | --- |
| Crossroads Strategies, LLC | 41166 | |

Download all client forms
Client Name

House ID

LD-2 Form

Action Now Initiative, LLC (ANI)
411660149
AgWorks, LLC
411660220
AICPA Association of International Certified Professional Accountants
411660040
Airlines for America
411660077
Alabama Institute for Deaf and Blind
411660053
Alabama-Coushatta Tribe of Texas
411660078
Ally Financial Inc.
411660117
Altria Client Services LLC
411660015
American Association of Nurse Anesthesiology
411660245
American Land Title Association
411660196
Association of Private Non-Profit Institutions
411660241
AT&T Services, Inc.
411660002
Aventiv Technologies LLC and various subsidiaries
411660169
BETA, Inc.
411660207
Breezeline
411660190
Bridger Aerospace Group Holdings, LLC
411660222
Bristol-Myers Squibb
411660022
Capitol 6 Advisors on behalf of Skydweller Aero Inc.
411660217
Charter Brokerage LLC
411660218
Chesapeake Bay Commission
411660130
CHUBB INA Holding Company Inc
411660249
City of Baton Rouge and Parish of East Baton Rouge
411660187
Community Health Development Coalition, Inc.
411660206
Cook Inlet Region Incorporated (CIRI)
411660085
Credit Union National Association
411660020
Dapper Labs Inc.
411660235
Dependable Health Services
411660250
Devon Energy Corporation
411660213
Dropbox, Inc.
411660104
Eisai, Inc.
411660028
Electronic Payments Coalition
411660256
Expedia, Inc.
411660058
Fitch Ratings
411660004
Fountain House
411660223
Genentech, Inc.
411660033
Google Client Services LLC (ffa Google Inc.)
411660017
Green Business Certification Inc.
411660156
Guardian Centers of Georgia, LLC
411660186
H&R Block Management, LLC
411660247
Hancock County Port and Harbor Commission
411660225
HeadLight Technologies, Inc.
411660234
HF Sinclair Corporation
411660029
Huntington Ingalls Incorporated
411660036
IDEMIA Identity & Security USA, LLC
411660172
Individual Retirement Rights Association
411660224
INFiN, a Financial Services Alliance
411660147
Intoxalock
411660106
James H. Simons
411660216
JoshCo Group, LLC
411660178
KnowBe4, Inc.
411660135
Koch Companies Public Sector LLC
411660057
Kohler Co.
411660248
LCMC Health
411660185
LHC Group
411660180
Liberty Mutual Group Inc.
411660111
Lilly USA, LLC
411660227
LOOP LLC
411660199
Los Angeles World Airports (LAWA)
411660160
Louisiana Mid-Continent Oil and Gas Association (LMOGA)
411660211
Lucid Hearing Holding Company, LLC
411660246
Marsh & McLennan Companies, Inc.
411660052
McCain Institute Foundation
411660152
Memphis-Shelby County Airport Authority
411660252
Merck & Co., Inc.
411660042
Micron Technology, Inc.
411660244
Morgan Stanley & Co. LLC
411660030
National Association of Farm Service Agency County Office Employees (NASCOE)
411660037
National Association of Mutual Insurance Companies
411660043
National Association of Realtors
411660139
National Athletic Trainers' Association
411660068
National Medal of Honor Museum
411660137
National PKU Alliance
411660212
Navigate Affordable Housing Partners, Inc.
411660251
New York Air Brake, LLC
411660140
NightHawk Biosciences, Inc.
411660204
Nissan North America, Inc.
411660188
nLIGHT Corporation
411660144
Norfolk Southern Corporation
411660019
OATLY, Inc.
411660127
Ocean Aero, Inc.
411660192
Opiant Pharmaceuticals
411660238
OXE Marine Inc.
411660170
Parallel Systems
411660239
Parry Labs, LLC
411660226
Peraton Corporation
411660229
Pernod Ricard USA
411660005
Pharmaceutical Research and Manufacturers of America
411660102
Port of Everett
411660091
Port of Kalama
411660154
Port of Olympia
411660253
Professional Golfers' Association of America
411660061
Protective Life Corporation
411660055
Raven Aerostar Technical Solutions
411660159
Ryan Air, Inc.
411660142
Safari Club International
411660007
SAFE Boats International, LLC
411660115
Salesforce.com, Inc.
411660076
Sanofi US Services Inc.
411660118
Securities Industry and Financial Markets Association (SIFMA)
411660163
Sempra Energy
411660166
Shield AI, Inc.
411660205
Spider Strategies, Inc.
411660131
Spokane Tribe of Indians
411660094
SSA Marine
411660096
Sunrise Foods International Inc.
411660128
Takeda Pharmaceuticals America, Inc.
411660025
TC Services, Inc.
411660233
TechNet
411660232
The Boeing Company
411660242
The PNC Financial Services Group
411660255
TikTok Inc.
411660195
TRANS UNION LLC
411660176
Transamerica Companies
411660194
U.S. Sugar Corporation
411660123
United Site Services, Inc.
411660189
United States Steel Corporation
411660231
University of Phoenix FRA Apollo Education Group
411660044
Van Ness Feldman, LLP on behalf of Columbia River Treaty Power Group
411660145
Visa, Inc.
411660035
VMware, Inc.
411660202
Washington State Department of Transportation
411660099
World Shipping Council
411660221
X Energy, LLC
411660254
Zepher, Inc.
411660098
Forms Archive
Click on the link below to download blank semiannual LD2 forms.
Forms Archive
Install Form Viewer Software
The IBM Workplace Viewer software is required to work with the Lobbying Disclosure forms on a Windows computer. To download the application, enter your registrant name and e-mail address in the fields listed below and click the "download" button.