---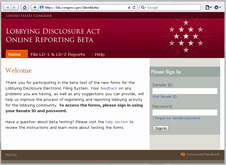 Notice: Online Lobby Reporting Available
There are newer web based versions of the lobbying disclosure forms available for use on all of your future filings. These new Online Lobbying Disclosure forms have been available for over three years now and will be replacing the IBM forms early next year.
We encourage you to start using these forms as we will not be accepting IBM forms after the 2014 Fourth Quarter filing period (ending January 20th, 2015).
---
Download Template Forms
If you are an active registrant, you can download IBM Workplace forms that are pre-populated with your registrant and client information. To locate your forms, enter your registrant name in the field below and click the "Search" button. If you are not sure of the Registrant name, you can view the list of active registrant names in alphabetical order using the links below.
If you have just registered a new client and a link to the pre-populated form is not available, please check the download page again later in the day. The icon will be displayed when the new form is available.
View Alphabetically:
| Registrant Name | Registrant ID | LD-1 Form |
| --- | --- | --- |
| Capitol Counsel, LLC | 39384 | |

Download all client forms
Client Name

House ID

LD-2 Form

ABIR
393840259
ADP LLC
393840204
Allianz of America Corporation
393840298
Ally Financial Inc.
393840181
Amalgamated Bank
393840253
American Academy of Dermatology
393840066
American Academy of Ophthalmology
393840033
American Association of Veterinary Laboratory Diagnosticians
393840151
American Bankers Association HSA Council
393840060
American College of Emergency Physicians
393840281
American Fraternal Alliance
393840182
American Fuel & Petrochemical Manufacturers (AFPM)
393840219
American Health Care Association
393840089
American Physical Therapy Association
393840107
American Psychiatric Association
393840287
American Rental Association
393840238
American Retirement Association (formerly ASPPA)
393840112
American Society for Transplantation and Cellular Therapy
393840308
AMGA
393840258
Amgen, Inc.
393840063
Arq, LLC
393840301
Astellas Pharma US, Inc.
393840293
AT&T Services, Inc.
393840184
Bayer Corporation
393840269
Baystate Health
393840260
Beacon Capital Partners, LLC
393840018
Beam Suntory
393840103
Biogen, Inc.
393840307
Biotechnology Industry Organization
393840108
Blue Earth Diagnostics, Inc.
393840249
California Dental Association
393840266
Capital Magnet Fund Coalition (ad hoc coalition)
393840275
Capital One Financial Corp.
393840203
Chevron Corp.
393840118
Comcast Corporation
393840145
Communitech
393840241
Consumer Bankers Association
393840221
Cow Creek Band of Umpqua Tribe of Indians
393840191
Cruise Lines International Association, Inc.
393840309
CTIA
393840285
Decorative Hardwoods Association
393840286
Delta Air Lines, Inc.
393840172
DLA Piper on behalf of Puerto Rico Fiscal Agency and Financial Advisory Auth.
393840299
East West Bank
393840257
Edison Electric Institute
393840071
Electronic Funds Transfer Association
393840180
Energy Infrastructure Council
393840300
Enterprise Community Partners, Inc.
393840168
Expedia, Inc.
393840065
ExxonMobil Corporation
393840171
Florida Community Loan Fund
393840251
Genentech
393840007
Giffords (formerly reporting as Americans for Responsible Solutions)
393840220
Healthcare Leadership Council
393840006
HealthiNation
393840288
Hologic, Inc.
393840064
Intuit, Inc
393840024
Investment Company Institute
393840202
ISARA Corporation
393840264
Joint Commission on Accreditation of Healthcare Organizations
393840008
JSH&W LLP on behalf of U.S. Savings Bond Coalition
393840304
Las Vegas Sands Corporation
393840165
Lockheed Martin Corporation
393840141
Lymphedema Advocacy Group
393840280
Magellan Midstream Partners
393840239
March of Dimes Inc.
393840295
Masimo Corporation
393840306
Massachusetts Biotechnology Council
393840223
Medical Imaging & Technology Alliance (MITA)
393840270
Merck & Company, Inc.
393840129
National Association of Real Estate Investment Trusts
393840009
National Association of Realtors
393840179
National Business Aviation Association, Inc.
393840027
National Community Pharmacists Association (NCPA)
393840218
National Disability CDFI Coalition
393840227
National Football League
393840176
National Mentor Holdings, Inc. on behalf of The MENTOR Network
393840284
National Park Conservation Association
393840156
National Society of Genetic Counselors
393840261
NCTA - The Internet & Television Association (FKA Nat'l Cable & Telecom Assoc.)
393840146
NIKE, Inc.
393840289
Nurse-Family Partnership
393840231
NYISO (New York Independent System Operator)
393840296
Pacific Life Insurance Company
393840208
Parsons & Whittemore Enterprises
393840059
PFM Financial Advisors LLC
393840294
Pharmaceutical Research and Manufacturers of America (PhRMA)
393840047
Physician Hospitals of America
393840228
Physicians Advocacy Institute
393840183
Planned Parenthood Federation of America, Inc
393840189
RadNet, Inc.
393840290
RAI Services Company (formerly Reynolds American, Inc.)
393840073
Regions Financial Corp.
393840136
Reinsurance Association of America
393840271
Renewable Energy Group, Inc.
393840237
Rite Aid Corporation
393840153
Securities Industry and Financial Markets Association (SIFMA)
393840149
Shopify
393840303
State Fund Congressional Action Group (SFCAG)
393840093
SunTrust Bank
393840232
TeraExchange
393840278
The GEO Group, Inc.
393840213
The Strategic Group
393840282
The Surety & Fidelity Association of America
393840277
The Walter Group LLC on behalf of Financial Security, Safety & Soundness Coal.
393840262
The Walter Group LLC on behalf of Tweed Inc.
393840272
The Walter Group on behalf of Acreage Holdings
393840292
Varian Medical Systems
393840125
Vertex Pharmaceuticals Incorporated
393840273
Violet Power
393840276
Virginia Tourism Corporation
393840305
Walmart Inc.
393840095
Westlake Chemical Partners LP
393840236
Woodberry Associates, LLC
393840164
Forms Archive
Click on the link below to download blank semiannual LD2 forms.
Forms Archive
Install Form Viewer Software
The IBM Workplace Viewer software is required to work with the Lobbying Disclosure forms on a Windows computer. To download the application, enter your registrant name and e-mail address in the fields listed below and click the "download" button.