---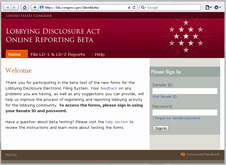 Notice: Online Lobby Reporting Available
There are newer web based versions of the lobbying disclosure forms available for use on all of your future filings. These new Online Lobbying Disclosure forms have been available for over three years now and will be replacing the IBM forms early next year.
We encourage you to start using these forms as we will not be accepting IBM forms after the 2014 Fourth Quarter filing period (ending January 20th, 2015).
---
Download Template Forms
If you are an active registrant, you can download IBM Workplace forms that are pre-populated with your registrant and client information. To locate your forms, enter your registrant name in the field below and click the "Search" button. If you are not sure of the Registrant name, you can view the list of active registrant names in alphabetical order using the links below.
If you have just registered a new client and a link to the pre-populated form is not available, please check the download page again later in the day. The icon will be displayed when the new form is available.
View Alphabetically:
| Registrant Name | Registrant ID | LD-1 Form |
| --- | --- | --- |
| Invariant LLC | 39145 | |

Download all client forms
Client Name

House ID

LD-2 Form

Accenture Federal Services LLC
391450224
Accenture LLP
391450225
Advantek Waste Management Services LLC
391450183
Aerial Rapid Transit Technologies LLC
391450195
Aeroseal
391450218
Airbus Americas, Inc.
391450208
American Beverage Association
391450035
American Chemistry Council
391450233
American Council of Engineering Companies
391450190
American International Group, Inc.
391450122
Anduril Industries
391450120
Antheia
391450185
Apple Inc.
391450154
Aramark Destinations
391450001
Aramark Services, Inc.
391450179
Archer Aviation Inc.
391450239
Association of Food and Drug Officials
391450275
Baxter Healthcare Corporation
391450114
Bayer Corporation
391450145
BayoTech
391450247
BioIQ
391450199
Bridge to Renewables, Inc. d/b/a BTR Energy
391450274
Broadcom Inc.
391450231
California Date Commission
391450243
Campbell Soup Company
391450159
Carrier Corporation
391450197
Center for Organ Recovery & Education (lobbying on behalf of Donor Alliance)
391450216
Charter Communications Inc.
391450269
CIBO Technologies
391450115
CIGNA Corporation
391450002
Circle
391450248
Coinflip
391450201
Colton Underwood Legacy Foundation
391450283
Constellation Brands
391450107
Corn Refiners Association
391450230
Cummins Inc.
391450291
Danone North America Public Benefit Corporation
391450149
DATAROBOT, INC.
391450260
Dean & Associates on behalf of Memphis Area Transit Authority
391450284
Density Inc.
391450167
DraftKings Inc.
391450141
DSM
391450191
Ecolab
391450206
Edward D. Jones & Co., L.P.
391450273
Egan-Jones Ratings Company
391450265
Entegris
391450281
Ericsson Inc.
391450220
eShares, Inc. DBA Carta, Inc.
391450156
Eventbrite, Inc.
391450123
Federation of American Hospitals
391450256
FlashParking
391450270
Flexport, Inc.
391450257
Gate Gourmet Inc.
391450193
Gel Blaster
391450287
Geothermal Exchange Organization
391450047
Gharda Chemicals International, Inc.
391450241
goTenna
391450137
Guardant Health, Inc.
391450258
H&R Block Management, LLC
391450158
Havenpark Management
391450249
Health Catalyst, Inc.
391450184
Hearst Corporation
391450007
H-E-B Grocery Company, LP
391450245
Household & Commercial Products Association
391450196
Hudson Technologies
391450071
HUGO BOSS USA, Inc.
391450254
ICEYE US, Inc.
391450204
ICON Technology, Inc.
391450203
International Fresh Produce Association
391450267
JAB Holding Company
391450290
Jobs for America's Graduates
391450242
Jones Fortuna LP on behalf of Georgia Water Supply Providers
391450278
Kabbage, Inc.
391450090
LeafLink, Inc.
391450222
Liberty Media Corporation
391450205
Lilt
391450237
Marriott International, Inc.
391450077
McCain Foods USA, Inc.
391450259
McDonald's Corporation
391450157
Mercari, Inc.
391450276
Merlin Labs
391450186
Modern Life Inc.
391450228
Molekule
391450144
Moth+Flame, Inc.
391450198
MSA Safety, Inc.
391450189
Multi Service Technology Solutions, Inc. (d/b/a TreviPay)
391450280
Nareit
391450051
National Association of Children's Hospitals
391450251
National Association of Realtors
391450142
National Confectioners Association
391450147
National Medicinal Cannabis Coalition
391450215
National Pork Producers Council
391450086
National Retail Federation
391450244
National Veterinary Associates
391450255
Navient Solutions, LLC
391450151
Navy Pier
391450146
News Media Alliance
391450029
Nextdoor
391450235
NextEra Energy, Inc.
391450098
Niantic, Inc.
391450103
Northern Pacific Airways, Inc.
391450279
Omni Federal
391450282
Open SAN Consulting, LLC d/b/a OSC Edge
391450285
Oto Analytics, Inc
391450210
Palantir Technologies Inc.
391450172
Palo Alto Networks
391450161
Payward Inc d/b/a Kraken
391450263
PepsiCo, Inc.
391450105
Petco Animal Supplies Stores, Inc.
391450213
POET LLC
391450111
PRA Group, Inc.
391450192
Premise
391450234
Prince George's County Government
391450262
Project Vesta
391450253
Raytheon Technologies Corporation and Affiliates
391450125
Red Bull North America, Inc.
391450065
Saildrone
391450240
Scale
391450169
Sculptor Capital Management
391450016
Shopify Inc.
391450272
SK hynix America Inc.
391450182
Skyryse, Inc.
391450264
Social Capital
391450246
Solugen, Inc.
391450163
Space Exploration Technologies Corp.
391450058
Sunnova Energy International
391450212
Swiss Reinsurance Company Ltd
391450026
Syndio
391450236
TaskRabbit
391450092
TaxBit Inc.
391450261
The Aarons Company, Inc.
391450266
The AES Corporation
391450177
The American Council of Life Insurers
391450140
The Business Roundtable
391450160
The Home Depot
391450023
The RealReal, Inc.
391450188
Total Containment
391450277
Toyota Motor North America, Inc.
391450066
TravelCenters of America Inc.
391450227
Tri-County Electric Cooperative
391450211
TriNet USA, Inc.
391450187
Trust Stamp
391450289
Uranium Producers of America
391450076
Ursa Major
391450217
VSP
391450124
Waev Inc.
391450286
Washington Gas
391450221
Web 3.0 Technologies Foundation
391450288
Workday, Inc.
391450166
Workrise Technologies, Inc.
391450162
Zeno Power Systems, Inc.
391450268
Zocdoc
391450078
Zoetis Inc.
391450155
Zurich American Insurance Company
391450173
Forms Archive
Click on the link below to download blank semiannual LD2 forms.
Forms Archive
Install Form Viewer Software
The IBM Workplace Viewer software is required to work with the Lobbying Disclosure forms on a Windows computer. To download the application, enter your registrant name and e-mail address in the fields listed below and click the "download" button.