---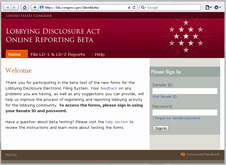 Notice: Online Lobby Reporting Available
There are newer web based versions of the lobbying disclosure forms available for use on all of your future filings. These new Online Lobbying Disclosure forms have been available for over three years now and will be replacing the IBM forms early next year.
We encourage you to start using these forms as we will not be accepting IBM forms after the 2014 Fourth Quarter filing period (ending January 20th, 2015).
---
Download Template Forms
If you are an active registrant, you can download IBM Workplace forms that are pre-populated with your registrant and client information. To locate your forms, enter your registrant name in the field below and click the "Search" button. If you are not sure of the Registrant name, you can view the list of active registrant names in alphabetical order using the links below.
If you have just registered a new client and a link to the pre-populated form is not available, please check the download page again later in the day. The icon will be displayed when the new form is available.
View Alphabetically:
| Registrant Name | Registrant ID | LD-1 Form |
| --- | --- | --- |
| MEHLMAN CASTAGNETTI ROSEN & THOMAS, INC. | 36893 | |

Download all client forms
Client Name

House ID

LD-2 Form

1-800 Contacts
368930180
3M Health Information Systems
368930206
AARP, Inc.
368930233
ADOBE SYSTEMS INC.
368930132
AEGIS SCIENCES CORPORATION
368930163
Aflac Inc.
368930236
American Chemistry Council
368930191
American Medical Association
368930202
American Society of Echocardiography
368930210
American Trucking Associations
368930164
AMERICA'S HEALTH INSURANCE PLANS
368930018
APPLIED MATERIALS, INC.
368930107
ASCENSION HEALTH ALLIANCE (FKA ASCENSION HEALTH)
368930038
Association of Accessible Medicines
368930179
Axon Enterprise, Inc.
368930245
Behavioral Health Group
368930250
BLUE CROSS BLUE SHIELD OF ARIZONA
368930127
Blue Shield of California
368930215
BRIGGS & STRATTON CORPORATION
368930149
ByteDance Inc.
368930244
Canadian Pacific Railway
368930178
Chevron U.S.A., Inc.
368930190
Citigroup Washington, Inc.
368930239
CLOUDFLARE
368930145
Clover Health
368930196
Coalition for Genetic Data Protection
368930230
DISH Network, LLC
368930174
EDISON ELECTRIC INSTITUTE
368930065
EMPLOYERS COUNCIL ON FLEXIBLE COMPENSATION
368930087
Epic Systems Corporation
368930219
EVERYTOWN FOR GUN SAFETY ACTION FUND
368930146
FCA US LLC
368930123
FLUOR CORPORATION
368930110
Food Allergy Research & Education (FARE)
368930189
Forging Industry Association
368930228
Franco Signor LLC
368930246
Genalyte
368930249
General Aviation Manufacturers Association
368930213
GoodRx, Inc.
368930251
Hewlett Packard Enterprise Company
368930168
HP, Inc.
368930176
HUMANA
368930066
iHeartMedia, Inc.
368930102
Illumina, Inc.
368930231
Information Technology Industry Council (ITI)
368930182
International Association of Airport Duty Free Stores
368930254
Internet Corporation for Assigned Names and Numbers (ICANN)
368930039
iPSE-US Assn of Indep Wkrs (was Assn Indep Professionals and Self-Employed)
368930223
Job Creators Network
368930175
Lyft, Inc.
368930214
Maplebear Inc. D/B/A Instacart
368930243
MAYO CLINIC
368930081
MDVIP
368930119
Medical Place
368930237
Medtronic, Inc.
368930227
Micron Technology, Inc.
368930198
MJ Bradley & Associates
368930071
NATIONAL PACE ASSOCIATION
368930121
National Renal Administrators Association
368930173
NATIONAL RESTAURANT ASSOCIATION
368930103
NATIONAL VENTURE CAPITAL ASSOCIATION
368930082
NIELSEN
368930147
NORTH AMERICAN INSULATION MANUFACTURING ASSOCIATION
368930006
North Fund
368930253
Nuro, Inc.
368930235
OWENS CORNING
368930007
PricewaterhouseCoopers LLP
368930248
PROCTER & GAMBLE
368930024
PurFoods, LLC
368930226
Quicken Loans, Inc.
368930234
Rapid7, Inc.
368930130
RED HAT, INC.
368930003
Retail Industry Leaders Association (RILA)
368930050
SAP America, Inc.
368930197
TE CONNECTIVITY, INC.
368930120
TECHNOLOGY CEO COUNCIL
368930000
Teladoc Health, Inc.
368930160
TEXAS INSTRUMENTS INCORPORATED
368930028
The Boeing Company
368930205
THE BUSINESS ROUNDTABLE
368930019
The Campaign for Sustainable Rx Pricing
368930184
The Mental Health Association of NY City, Inc., d/b/a Vibrant Emotional Health
368930247
The Nemours Foundation
368930195
The New York and Presbyterian Hospital
368930156
T-Rex Solutions, LLC
368930201
Twilio, Inc.
368930229
TWITTER INC.
368930167
United Airlines, Inc.
368930222
Verily Life Sciences, LLC
368930212
Vizient, Inc.
368930157
VMware, Inc.
368930203
Walmart Inc.
368930060
Zoom Video Communication Inc.
368930252
Forms Archive
Click on the link below to download blank semiannual LD2 forms.
Forms Archive
Install Form Viewer Software
The IBM Workplace Viewer software is required to work with the Lobbying Disclosure forms on a Windows computer. To download the application, enter your registrant name and e-mail address in the fields listed below and click the "download" button.