---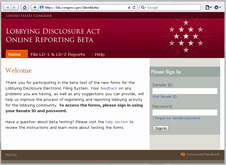 Notice: Online Lobby Reporting Available
There are newer web based versions of the lobbying disclosure forms available for use on all of your future filings. These new Online Lobbying Disclosure forms have been available for over three years now and will be replacing the IBM forms early next year.
We encourage you to start using these forms as we will not be accepting IBM forms after the 2014 Fourth Quarter filing period (ending January 20th, 2015).
---
Download Template Forms
If you are an active registrant, you can download IBM Workplace forms that are pre-populated with your registrant and client information. To locate your forms, enter your registrant name in the field below and click the "Search" button. If you are not sure of the Registrant name, you can view the list of active registrant names in alphabetical order using the links below.
If you have just registered a new client and a link to the pre-populated form is not available, please check the download page again later in the day. The icon will be displayed when the new form is available.
View Alphabetically:
| Registrant Name | Registrant ID | LD-1 Form |
| --- | --- | --- |
| Strategic Health Care | 36694 | |

Download all client forms
Client Name

House ID

LD-2 Form

Alice Peck Day Memorial Hospital
366940209
Allen Memorial Hospital
366940090
Aultman Hospital
366940194
BALL MEMORIAL HOSPITAL
366940100
Baptist Healthcare System
366940185
Benefis Health System
366940283
Berger Health System
366940121
Bingham Memorial Hospital
366940110
Bluegrass Family Health
366940227
Botsford General Hospital
366940087
Catskill Regional Medical Center
366940140
CentraCare Health System
366940200
Centura Health
366940050
Chinese Community Health Plan
366940214
Coalition for Affordable Health Coverage (CAHC)
366940128
Coalition for DGME Fairness
366940049
Community Hospital
366940112
Community Memorial Hospital
366940201
Continuing Care Hospital
366940226
COPE Health Solutions
366940143
Covington County Hospital
366940277
Craig Hospital
366940199
Donor Network West
366940281
Forum Health
366940036
Freeman Health
366940046
Gaylord Hospital
366940154
Grand River Hospital District
366940276
Grant Memorial Hospital
366940241
Greater Regional Medical Center
366940256
Gritman Medical Center
366940054
Hackensack Meridian Health
366940252
Hardin Memorial Hospital
366940184
HealthFirst Health Plans, Inc.
366940219
HealthLinx
366940278
Henry Ford Health System
366940186
Hills and Dales General Hospital
366940275
Hospital Health Plan Coalition (formerlyNational Coalition of Local Health Plans
366940000
Howard Memorial Hospital
366940257
Indian River Medical Center
366940089
Iowa Health System
366940111
Kettering College
366940235
Lafayette Regional Health Center
366940202
Legacy Health
366940267
Lincoln Health
366940230
LOPA
366940249
Magnolia Regional Health Center
366940098
Margaret Rollins School of Nursing
366940232
Memorial Regional Health
366940259
Methodist Hospital
366940142
Methodist Le Bonheur Healthcare
366940269
Mid-America Transplant
366940246
Ministry Health Care
366940133
Morrow County Hospital
366940260
Mother Frances Hospital
366940213
National Alliance for Nursing Education (NANE)
366940105
North Sunflower Medical Center
366940203
Norton Community Hospital
366940057
OCHIN, Inc.
366940273
Ochsner Health System
366940266
Opelousas General Health System
366940165
Osceola Medical Center
366940211
OSF Healthcare System
366940119
Our Legacy Florida
366940280
Paragonix Technologies
366940282
Parkview Health System
366940178
Piedmont Healthcare
366940265
Presbyterian Health Plan
366940225
ProMedica Health System
366940159
Promise Healthcare
366940061
Pullman Regional Hospital
366940208
Ridgecrest Regional Hospital
366940264
Riverwalk Land Development, LLC
366940176
Roane General Hospital
366940263
Saint Francis Foundation
366940117
Saint Mary's Regional Medical Center, ME
366940043
Selby General Hospital
366940080
Shelby Memorial Hospital
366940261
Shepherd Center
366940239
Sisters of Mercy Health System
366940127
Skyline Hospital
366940206
Southwest Transplant Allliance
366940279
Sparks Regional Medical Center
366940109
St. Croix Regional Medical Center
366940210
St. John's College of Nursing
366940231
St. Joseph Memorial Hospital
366940205
Texas Health Resources
366940284
The Queen's Health Systems
366940268
Trinity Health
366940097
Tri-State Memorial
366940207
Union General Hospital
366940262
West Feliciana Hospital
366940274
West Park Hospital District
366940134
Forms Archive
Click on the link below to download blank semiannual LD2 forms.
Forms Archive
Install Form Viewer Software
The IBM Workplace Viewer software is required to work with the Lobbying Disclosure forms on a Windows computer. To download the application, enter your registrant name and e-mail address in the fields listed below and click the "download" button.