---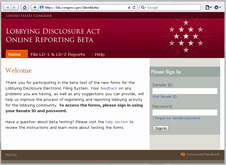 Notice: Online Lobby Reporting Available
There are newer web based versions of the lobbying disclosure forms available for use on all of your future filings. These new Online Lobbying Disclosure forms have been available for over three years now and will be replacing the IBM forms early next year.
We encourage you to start using these forms as we will not be accepting IBM forms after the 2014 Fourth Quarter filing period (ending January 20th, 2015).
---
Download Template Forms
If you are an active registrant, you can download IBM Workplace forms that are pre-populated with your registrant and client information. To locate your forms, enter your registrant name in the field below and click the "Search" button. If you are not sure of the Registrant name, you can view the list of active registrant names in alphabetical order using the links below.
If you have just registered a new client and a link to the pre-populated form is not available, please check the download page again later in the day. The icon will be displayed when the new form is available.
View Alphabetically:
| Registrant Name | Registrant ID | LD-1 Form |
| --- | --- | --- |
| Cornerstone Government Affairs, Inc. | 36051 | |

Download all client forms
Client Name

House ID

LD-2 Form

ACT for NIH: Advancing Cures Today
360510283
Adobe Inc.
360510455
Advanced Medical Technology Association
360510433
Advanced Navigation and Positioning Corporation
360510440
AgustaWestland Philadelphia Corporation
360510359
Albany-Dougherty Economic Development Commission
360510150
AMCOT
360510138
American Cancer Society Cancer Action Network, Inc.
360510269
American Forest Foundation
360510410
American Foundation for Suicide Prevention
360510417
American Gaming Association
360510385
American Sheep Industry Association
360510261
American Society of Addiction Medicine, Inc.
360510404
American Veterinary Medical Association
360510381
Association of Health Information Outsourcing Services
360510427
Association of Public and Land-Grant Universities
360510034
Association of Schools and Programs of Public Health
360510051
Association of State and Territorial Health Officials
360510169
Atlantic Health System, Inc.
360510459
Atlantic Strategies Group obo Economic Development Commission of Charles County
360510348
Augusta University Research Institute
360510249
B2G Advisors, LLC obo Harvard Investments, Inc.
360510447
Baxter Healthcare Corporation
360510254
Better World Campaign
360510135
BNSF Railway Company
360510242
Board of Commissioners of Lowndes County
360510428
C Spire Wireless
360510227
CACI International, Inc.
360510460
California Association of Winegrape Growers
360510246
Camgian Microsystems Corporation
360510412
Care in Action
360510457
Catholic Health Association
360510087
CenturyLink
360510056
Champion Petfoods LP
360510432
Cheniere Energy, Inc.
360510414
Childhelp
360510361
Children's National Medical Center
360510313
Citadel Defense Company
360510400
CITGO
360510278
Citigroup Washington Inc.
360510340
City of Bainbridge, Georgia
360510366
City of Des Moines
360510398
City of Hope Medical Center
360510304
City of Springfield
360510162
CoBank
360510066
Communities in Schools
360510178
Corteva Agriscience
360510075
Cotton Growers Warehouse Association
360510111
Covenant Aviation Security
360510256
Cribs for Kids, Inc.
360510426
CropLife America
360510011
Crossroads Strategies, LLC obo Lake Tindall, LLP obo Mississippi Levee Board
360510450
Cubic Corporation
360510279
Diamond Rock Hospitality Company
360510443
Dougherty County Commission
360510353
Driscoll's, Inc.
360510429
EcoVest Capital, Inc.
360510338
Elusys Therapeutics
360510295
Epilepsy Foundation
360510172
Era Group, Inc.
360510419
ExxonMobil
360510418
Family Endeavors, Inc.
360510446
Florida Sugar Cane League
360510053
Foundation to Eradicate Duchenne
360510413
Frontera Resources Corporation
360510368
GAXtracts, LLC
360510436
Genentech, Inc.
360510388
General Dynamics
360510106
General Dynamics Information Technology
360510422
General Mills Corporation
360510006
Georgia Producers Alliance
360510438
Giant Oak, Inc.
360510452
Global Business Travel Association
360510210
GM Defense, LLC
360510441
Google Inc.
360510346
Greater Houston Partnership
360510397
Greater Oklahoma City Chamber
360510392
Grenada County, Mississippi
360510453
Harris Health System
360510365
Haymarket Center
360510325
Health Care Alliance for Patient Safety
360510379
Honeywell International on behalf of Advanced Turbine Engine Company (ATEC)
360510303
Houston First Corporation
360510451
Hunt Development Group LLC
360510250
Hyperion Technology Group, Inc.
360510345
Idaho Forest Group, LLC
360510378
Jacksonville State University
360510374
John Bean Technologies Corporation
360510390
Johnson & Johnson Services Inc
360510049
JR Automation
360510458
Kids in Need of Defense
360510369
Kirby Corporation
360510251
Kratos Defense & Security Solutions
360510316
Lankford & Reed, PLLC
360510236
Lawton Fort Sill Chamber of Commerce
360510402
Life Bridge Health System
360510079
Livestock Marketing Association
360510307
Loyola University New Orleans
360510207
Mainspring Energy, Inc. (formerly EtaGen)
360510399
Marshall University Research Corp.
360510380
Mary Bird Perkins Cancer Center
360510004
Microsoft Corporation
360510090
MidAmerican Energy
360510309
Mr. Jay Alix
360510391
Narcorps Specialties, LLC
360510439
NASCAR
360510237
National Alliance for Public Charter Schools
360510355
National Association of Chronic Disease Directors
360510074
National Limousine Association
360510159
National Ocean Policy Coalition
360510407
National Pork Producers Council
360510302
National Sorghum Producers
360510015
National Wild Turkey Federation
360510042
Native American Contractors Association
360510442
Navatek LLC
360510434
Near Airport Parking Industry Trade Association (NAPITA)
360510328
NIKE, Inc
360510265
Noble Energy, Inc.
360510408
Northwest Arkansas Council obo the University of Arkansas
360510416
Nutanix, Inc.
360510382
OpsWatch, LLC obo HBM-nCode Federal, LLC
360510350
Pesticide Registration Improvement Act Coalition
360510203
Pfizer
360510113
Phoebe Putney Health System
360510043
Produce Marketing Association
360510290
Professional Rodeo Cowboys Association
360510277
Providence St. Joseph Health
360510341
Puerto Rico Public Private Partnerships Authority
360510437
Pulmonary Fibrosis Foundation
360510445
R4 Technologies, Inc.
360510394
Rajant Corporation
360510383
Rice University
360510232
RTI International
360510206
Saab Barracuda
360510271
Sac & Fox Tribe of the Mississippi in Iowa
360510081
Sallie Mae Bank
360510335
SAP America, Inc.
360510337
Savantage Solutions
360510286
Shazam, Inc.
360510339
SIGA Technologies
360510167
Smartronix
360510319
Society for Immunotherapy of Cancer
360510362
Society of American Florists
360510324
StriveTogether, Inc.
360510461
Stupp Brothers, Inc.
360510220
Synack, Inc.
360510449
Sysco Corporation
360510260
Tennessee Technological University
360510423
The Aluminum Association
360510425
The Boeing Company
360510200
The Cherokee Nation
360510244
The Natural Stone Institute
360510358
The Nature Conservancy
360510356
The Washington Center
360510456
The Wonderful Company
360510396
The Y
360510141
Thomas Jefferson University
360510395
Tunica Biloxi Tribe of Louisiana
360510215
Twin Pines Minerals, LLC
360510430
U.S. Custom Harvesters, Inc.
360510454
Ultra Electronics - Flightline Systems
360510305
United Airlines, Inc.
360510241
United Egg Producers
360510268
United Launch Alliance
360510420
UnityPoint Health
360510409
University of Chicago
360510229
University of Kentucky
360510299
University of Louisiana Lafayette
360510384
University of Minnesota
360510030
University of Notre Dame
360510444
US Rice Producers Association
360510022
Valent U.S.A. LLC
360510320
Washington State University
360510377
Willis North America, Inc.
360510222
Wine and Spirits Wholesalers of America
360510435
ZERO - The End of Prostate Cancer
360510294
ZeroFOX, Inc.
360510448
Forms Archive
Click on the link below to download blank semiannual LD2 forms.
Forms Archive
Install Form Viewer Software
The IBM Workplace Viewer software is required to work with the Lobbying Disclosure forms on a Windows computer. To download the application, enter your registrant name and e-mail address in the fields listed below and click the "download" button.