---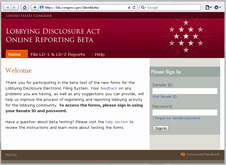 Notice: Online Lobby Reporting Available
There are newer web based versions of the lobbying disclosure forms available for use on all of your future filings. These new Online Lobbying Disclosure forms have been available for over three years now and will be replacing the IBM forms early next year.
We encourage you to start using these forms as we will not be accepting IBM forms after the 2014 Fourth Quarter filing period (ending January 20th, 2015).
---
Download Template Forms
If you are an active registrant, you can download IBM Workplace forms that are pre-populated with your registrant and client information. To locate your forms, enter your registrant name in the field below and click the "Search" button. If you are not sure of the Registrant name, you can view the list of active registrant names in alphabetical order using the links below.
If you have just registered a new client and a link to the pre-populated form is not available, please check the download page again later in the day. The icon will be displayed when the new form is available.
View Alphabetically:
| Registrant Name | Registrant ID | LD-1 Form |
| --- | --- | --- |
| Cornerstone Government Affairs, Inc. | 36051 | |

Download all client forms
Client Name

House ID

LD-2 Form

3 Proton Lithium Inc.
360510556
AbbVie Inc.
360510522
ACT for NIH: Advancing Cures Today
360510283
Adobe Inc.
360510455
Advanced Materials and Devices, Inc.
360510569
Advanced Medical Technology Association
360510433
Advanced Navigation and Positioning Corporation
360510440
Alabama Agricultural and Mechanical University
360510577
Albany-Dougherty Economic Development Commission
360510150
AMCOT
360510138
American Cancer Society Cancer Action Network, Inc.
360510269
American College of Preventive Medicine
360510484
American Federation for Aging Research
360510553
American Forest Foundation
360510410
American Foundation for Suicide Prevention
360510417
American Gaming Association
360510385
American Portable Diagnostics Association
360510479
American Sheep Industry Association
360510261
American Society for Radiation Oncology
360510509
American Society of Addiction Medicine, Inc.
360510404
American Veterinary Medical Association
360510381
Ampere Computing LLC
360510549
Analog Devices, Inc.
360510557
Anduril Industries, Inc.
360510490
Applied Intuition, Inc.
360510565
Applied Research Associates, Inc.
360510554
Associated Universities, Inc.
360510488
Association of Health Information Outsourcing Services
360510427
Association of Schools and Programs of Public Health
360510051
Association of State and Territorial Health Officials
360510169
Atlanta University Center Consortium, Inc.
360510561
Atlantic Strategies Group obo Economic Development Commission of Charles County
360510348
Augusta University Research Institute
360510249
Avangrid Management Company, LLC
360510603
Aviation Training Consulting, LLC
360510491
Baxter Healthcare Corporation
360510254
Beef Alliance
360510559
Berry Aviation, Inc.
360510516
Bionica Labs
360510605
BNSF Railway Company
360510242
Board of Commissioners of Lowndes County
360510428
Brainbox AI US LLC
360510545
By Light Professional IT Services LLC
360510566
C Spire
360510227
CACI International, Inc.
360510460
California Association of Winegrape Growers
360510246
California Walnut Commission
360510564
Calspan Aero Systems Engineering, Inc.
360510563
Camgian Microsystems Corporation
360510412
Capewell Aerial Systems
360510590
Care in Action
360510457
Catholic Health Association
360510087
Centene Corporation
360510501
CEZ, a. s.
360510540
Childhelp
360510361
Children's National Medical Center
360510313
Chronic Disease Directors
360510074
Citadel Defense Company
360510400
Citigroup Washington Inc.
360510340
City of Bainbridge, Georgia
360510366
City of Cedar Rapids, Iowa
360510544
City of Des Moines
360510398
City of Hope Medical Center
360510304
City of Knoxville, Tennessee
360510587
City of Monroe, Louisiana
360510599
City of Springfield
360510162
City of Waukegan, Illinois
360510595
Cline Strategic Consulting, LLC obo Houston Metro
360510521
Coalition for Workforce Innovation
360510518
CoBank
360510066
Communities in Schools
360510178
Comtech Telecommunications Cyber Strong (fka TeleCommunications Systems, Inc.)
360510515
Corteva Agriscience LLC (FKA Corteva Agriscience)
360510075
Cotton Growers Warehouse Association
360510111
Covenant Aviation Security
360510256
CropLife America
360510011
Crowdstrike, Inc.
360510604
Cubic Corporation
360510279
Curium US LLC
360510591
Dougherty County Commission
360510353
Driscoll's, Inc.
360510429
Eaves Law Firm, LLC obo Vieques, Puerto Rico
360510471
EcoVest Capital, Inc.
360510338
Edward M. Kennedy Institute
360510480
Epirus, Inc.
360510486
ExxonMobil
360510418
Families Against Mandatory Minimums
360510576
Family Endeavors, Inc.
360510446
FISTA Development Trust Authority
360510402
Florida Sugar Cane League
360510053
Fortress Information Security, LLC
360510601
Foundation to Eradicate Duchenne
360510413
Franciscan Missionaries of Our Lady Health System
360510542
Frontera Resources Corporation
360510368
Gates Policy Initiative
360510588
Genentech, Inc.
360510388
General Dynamics
360510106
GHGSat Inc.
360510583
Global Business Travel Association
360510210
GM Defense, LLC
360510441
Google Client Services
360510346
Greater Houston Partnership
360510397
Greater Oklahoma City Chamber
360510392
Gundersen Lutheran Administrative Services, Inc.
360510492
Hancock County Port and Harbor Commission
360510609
Harris Health System
360510365
Harsco Corporation
360510547
Haymarket Center
360510325
Hazelden Betty Ford Foundation
360510610
Heliogen Holdings, Inc.
360510586
Houston First Corporation
360510451
Howard Hughes Medical Institute
360510474
HSBC Technology & Services USA Inc.
360510523
Hunt Development Group LLC
360510250
Hyperion Technology Group, Inc.
360510345
Hypersonic Ground Test Center Inc
360510573
Idaho Forest Group, LLC
360510378
iHeartMedia, Inc.
360510524
Illinois Road and Transportation Builders Association
360510596
Independent Television Service, Inc.
360510354
Initiative for Health Care Affordability
360510513
Inovio Pharmaceuticals, Inc.
360510507
Integrated Energy Materials LLC
360510534
International Fresh Produce Association
360510575
Iridium Satellite LLC
360510525
John Bean Technologies Corporation
360510390
Johnson & Johnson Services Inc
360510049
Kids in Need of Defense
360510369
Kirby Corporation
360510251
Kistefos AS
360510472
Kratos Defense & Security Solutions
360510316
Land O'Lakes, Inc.
360510526
Lankford & Reed, PLLC
360510236
LifeBridge Health System
360510079
Livinguard AG
360510505
Loyola University New Orleans
360510207
Lugert-Altus Irrigation District
360510528
Lumen Technologies
360510056
Mainspring Energy, Inc.
360510399
Marshall University Research Corp.
360510380
Mary Bird Perkins Cancer Center
360510004
Master Boat Builders, Inc.
360510483
Medical Creations, Inc.
360510541
Mental Health America
360510470
Merlin International, Inc.
360510485
MicroGEM International PLC
360510477
MidAmerican Energy
360510309
Mr. Dan Doctoroff obo Target ALS Foundation Inc.
360510582
Mr. Jay Alix
360510391
Mystic Aquarium
360510489
NASCAR
360510237
National Federation of Independent Business, Inc.
360510538
National Kidney Foundation
360510085
National Limousine Association
360510159
National Ocean Policy Coalition
360510407
National Sorghum Producers
360510015
National Wild Turkey Federation
360510042
Near Airport Parking Industry Trade Association (NAPITA)
360510328
NervGen Pharma Corp.
360510533
NIKE, Inc
360510265
Nurse-Family Partnership
360510568
Nutanix, Inc.
360510382
Ocmulgee National Park and Preserve Initiative
360510600
OpsWatch, LLC obo HBM-nCode Federal, LLC
360510350
Orchard Therapeutics North America
360510567
OU Medicine, Inc.
360510555
Parraid, LLC
360510580
Pesticide Registration Improvement Act Coalition
360510203
Pfizer
360510113
Phoebe Putney Health System
360510043
Polk County, Iowa
360510463
Pre, LLC obo S2 Rapiscan
360510475
Prescient Edge
360510498
Professional Rodeo Cowboys Association
360510277
Puerto Rico Public Private Partnerships Authority
360510437
Pulmonary Fibrosis Foundation
360510445
Quantum Technology Sciences, Inc.
360510500
R4 Technologies, Inc.
360510394
Rajant Corporation
360510383
Raytheon Technologies Corporation
360510606
Rice University
360510232
RTI International
360510206
Saab
360510271
Sac & Fox Tribe of the Mississippi in Iowa
360510081
Sallie Mae Bank
360510335
Samsung Semiconductor, Inc.
360510593
San Jacinto River Authority
360510546
Sarepta Therapeutics, Inc.
360510579
Satelles, Inc.
360510581
Save the Children Federation Inc.
360510608
Semiconductor Industry Association
360510504
ServiceNow, Inc.
360510514
Shazam, Inc.
360510339
Shelby County, TN
360510558
Sigma Defense Systems LLC
360510578
SiriusIQ obo CLX Health, LLC
360510562
Smartronix
360510319
Smith & Nephew
360510592
Society for Immunotherapy of Cancer
360510362
Society of American Florists
360510324
ST Engineering North America, Inc.
360510594
StriveTogether, Inc.
360510461
Syracuse University
360510607
Sysco Corporation
360510260
Tait Towers Manufacturing LLC
360510548
Target Corporation
360510589
Tate, Inc.
360510602
Tennessee Technological University
360510423
The Aluminum Association
360510425
The Boeing Company
360510200
The Catholic University of America
360510473
The Cherokee Nation
360510244
The Pew Charitable Trusts
360510552
The Regents of the University of Colorado obo University of Colorado Anschutz
360510584
The University of Louisiana Monroe Foundation
360510560
The Washington Center
360510456
The Wonderful Company
360510396
The Y
360510141
Thomas Jefferson University
360510395
Travere Therapeutics, Inc.
360510574
Tribal Solutions Group
360510535
Tribal Solutions Medical LLC
360510571
Tunica Biloxi Tribe of Louisiana
360510215
Twin Pines Minerals, LLC
360510430
Ultra FKA Ultra Electronics - Flightline Systems
360510305
United Airlines, Inc.
360510241
United Egg Producers
360510268
United Launch Alliance
360510420
University of Arkansas
360510551
University of Chicago
360510229
University of Kentucky
360510299
University of Louisiana Lafayette
360510384
University of Minnesota
360510030
University of Notre Dame
360510444
University of Texas Health Science Center
360510465
Urbix, Inc.
360510511
US Rice Producers Association
360510022
Valent U.S.A. LLC
360510320
Valero Services, Inc.
360510543
Village of Elk Grove, Illinois
360510597
Washington State University
360510377
Wheeler Bio (FKA Wheeler Labs, LLC)
360510497
William Rainey Harper College
360510598
Willis North America, Inc.
360510222
Wine and Spirits Wholesalers of America
360510435
ZERO - The End of Prostate Cancer
360510294
ZeroFOX, Inc.
360510448
Forms Archive
Click on the link below to download blank semiannual LD2 forms.
Forms Archive
Install Form Viewer Software
The IBM Workplace Viewer software is required to work with the Lobbying Disclosure forms on a Windows computer. To download the application, enter your registrant name and e-mail address in the fields listed below and click the "download" button.