---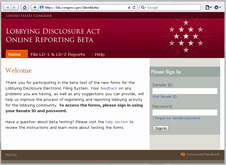 Notice: Online Lobby Reporting Available
There are newer web based versions of the lobbying disclosure forms available for use on all of your future filings. These new Online Lobbying Disclosure forms have been available for over three years now and will be replacing the IBM forms early next year.
We encourage you to start using these forms as we will not be accepting IBM forms after the 2014 Fourth Quarter filing period (ending January 20th, 2015).
---
Download Template Forms
If you are an active registrant, you can download IBM Workplace forms that are pre-populated with your registrant and client information. To locate your forms, enter your registrant name in the field below and click the "Search" button. If you are not sure of the Registrant name, you can view the list of active registrant names in alphabetical order using the links below.
If you have just registered a new client and a link to the pre-populated form is not available, please check the download page again later in the day. The icon will be displayed when the new form is available.
View Alphabetically:
| Registrant Name | Registrant ID | LD-1 Form |
| --- | --- | --- |
| Strategic Marketing Innovations | 35365 | |

Download all client forms
Client Name

House ID

LD-2 Form

Achates Power, Inc.
353650358
Advanced Acoustic Concepts
353650395
Akita Innovations, Inc.
353650340
Amastan Technologies, Inc.
353650357
Ameresco
353650189
Arkema R&D
353650331
Cerion LLC
353650308
COLUMBIA POWER TECHNOLOGIES
353650114
Cornerstone Research Group
353650367
Cree Fayetteville, Inc. (FKA Arkansas Power Electronics International)
353650111
Cytec Solvay Group (FKA CYTEC INDUSTRIES)
353650027
Drexel University
353650372
DuPont De Nemours, LLC
353650402
Edison Welding Institute
353650388
Elmet Technologies LLC
353650356
Energy Exploration Technologies, Inc.
353650392
Enginvity Power Systems, Inc.
353650398
Fairbanks Morse
353650393
FDH Velocitel (FKA FDH, Inc.)
353650289
Florida Atlantic University
353650337
Forge Nano, Inc.
353650347
General Electric Company
353650384
Huntsman Corporation
353650333
HYBRID PLASTICS, INC
353650046
iBeam Materials, Inc.
353650383
Ideal Aerosmith
353650236
KNOW Bio, LLC
353650400
LiquidPiston
353650373
Mabus Group behalf of National Security Solutions Idemia
353650389
Marquette University
353650396
Megamagnetics, Inc.
353650374
Metal Improvement Company, LLC
353650364
MetalTek International
353650390
MicroLink Devices, Inc.
353650306
MILITARY IMPACTED SCHOOLS ASSN
353650068
Montana State University
353650329
NAECO, LLC
353650394
National Hydropower Association
353650311
Navatek, Ltd.
353650345
Navitas Systems, LLC
353650385
New Balance Athletic Shoe, Inc.
353650295
Next Defense Solutions
353650387
Northwestern University
353650376
Odyne Systems
353650348
Oregon State University
353650299
Oshkosh Corporation
353650379
PACIFIC SCIENTIFIC ENERGETIC MATERIALS COMPANY
353650069
PartWorks, LLC
353650369
Phoenix, LLC
353650380
Physical Sciences Inc.
353650153
PolyPlus Battery Company
353650319
PowerChem
353650399
PPG Industries, Inc.
353650323
Pure Watercraft
353650386
Qorvo
353650351
Saint Gobain Crystals
353650122
Saint-Gobain Performance Plastics
353650354
Silatronix, Inc.
353650271
SpaceX
353650377
SPECIALTY MATERIALS, INC
353650072
Steel Founders' Society of America
353650315
Third Wave Systems
353650100
TRITON SYSTEMS, INC
353650035
Ultra Communications
353650397
Ultra-met Carbide Technologies
353650352
United States Footwear Manufacturers Association (FKA RPFMA)
353650382
UNIV OF DAYTON RESEARCH UNIVERSITY
353650016
University of Arkansas at Little Rock
353650151
University of Delaware
353650363
University of Maine
353650017
University of Massachusetts Dartmouth
353650344
UNIVERSITY OF MASSACHUSETTS LOWELL
353650118
University of Massachusetts Medical School
353650365
UNIVERSITY OF MONTANA
353650092
University of Tennessee
353650273
University of Washington
353650298
USACA
353650160
Veterans for Common Sense
353650391
Whooshh Innovations
353650401
Forms Archive
Click on the link below to download blank semiannual LD2 forms.
Forms Archive
Install Form Viewer Software
The IBM Workplace Viewer software is required to work with the Lobbying Disclosure forms on a Windows computer. To download the application, enter your registrant name and e-mail address in the fields listed below and click the "download" button.