---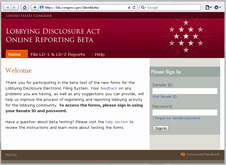 Notice: Online Lobby Reporting Available
There are newer web based versions of the lobbying disclosure forms available for use on all of your future filings. These new Online Lobbying Disclosure forms have been available for over three years now and will be replacing the IBM forms early next year.
We encourage you to start using these forms as we will not be accepting IBM forms after the 2014 Fourth Quarter filing period (ending January 20th, 2015).
---
Download Template Forms
If you are an active registrant, you can download IBM Workplace forms that are pre-populated with your registrant and client information. To locate your forms, enter your registrant name in the field below and click the "Search" button. If you are not sure of the Registrant name, you can view the list of active registrant names in alphabetical order using the links below.
If you have just registered a new client and a link to the pre-populated form is not available, please check the download page again later in the day. The icon will be displayed when the new form is available.
View Alphabetically:
| Registrant Name | Registrant ID | LD-1 Form |
| --- | --- | --- |
| Winning Strategies Washington | 34724 | |

Download all client forms
Client Name

House ID

LD-2 Form

180 TURNING LIVES AROUND, INC
347240054
ALICE Technologies
347240251
AVX Aircraft Company
347240155
BETH MEDRASH GOVOHA
347240065
BROOKDALE COMMUNITY COLLEGE
347240031
Canon Financial Services, Inc.
347240200
Center Point, Inc.
347240116
City of Newark
347240104
City of Williamsburg, VA
347240220
CleanSlate Centers, Inc.
347240175
Community Transportation Association of America (CTAA)
347240187
County of Mercer
347240260
DEBORAH HEART AND LUNG CENTER
347240053
Decode Health
347240250
Detection Innovation Group
347240256
Diabetes Patient Advocacy Coalition
347240246
DREW UNIVERSITY
347240040
Frontier Polymers
347240067
Green Brook Flood Control Commission
347240068
HEALTHCARE INSTITUTE OF NEW JERSEY
347240029
Hope for Marian (NPC)
347240241
Hospital Alliance of New Jersey
347240166
HUDSON COUNTY IMPROVEMENT AUTHORITY
347240064
I AM ALS
347240201
Inclusivity Strategic Consulting
347240249
Inspira Health Network
347240234
Kaleo
347240146
Kean University
347240257
Klas Telecom Government Inc.
347240186
Lehigh Technologies
347240074
Marotta Controls
347240196
Middlesex County, New Jersey
347240243
Mintz Levin (on behalf of Fulgent Genetics, Inc.)
347240259
ML Strategies on behalf of Northern Light Health
347240254
Monroe County Water Authority
347240222
National Alliance on Mental Illness
347240237
National Association of Emergency Medical Technicians
347240194
National Troopers Coalition
347240172
NEW JERSEY INSTITUTE OF TECHNOLOGY
347240027
NJN Foundation
347240070
Odyssey House Louisiana, Inc.
347240192
Olivian
347240229
OmniProphis Corporation
347240236
Personnel Decisions Research Institute, LLC
347240231
Prologis Inc.
347240244
Prudential
347240099
RESNET
347240151
ROWAN UNIVERSITY
347240004
RWJ Barnabas Health - FKA Barnabas Health
347240157
SETON HALL UNIVERSITY
347240051
SIMS Metal Management
347240101
Sims Strategies (on behalf of Creighton University)
347240242
SoutheastHEALTH
347240189
St. Joseph's Regional Medical Center
347240171
STEVENS INSTITUTE OF TECHNOLOGY
347240019
TechUnited:NJ
347240238
The Balloon Council
347240076
TidalHealth (FKA Nanticoke, Peninsula Health)
347240224
Tightseal Construction
347240184
Township of South Brunswick NJ
347240255
Trauma Center Association of America
347240181
Treatment Communities of America
347240119
UNION COUNTY
347240045
VALLEY HOSPITAL (VALLEY HEALTH SYSTEMS)
347240025
Verde Environmental Technologies, Inc.
347240245
Water Tech Corporation
347240198
West New York Housing Authority
347240258
Windlift
347240199
Woodbridge Township
347240082
Zoll
347240182
Forms Archive
Click on the link below to download blank semiannual LD2 forms.
Forms Archive
Install Form Viewer Software
The IBM Workplace Viewer software is required to work with the Lobbying Disclosure forms on a Windows computer. To download the application, enter your registrant name and e-mail address in the fields listed below and click the "download" button.