---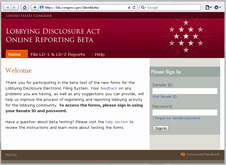 Notice: Online Lobby Reporting Available
There are newer web based versions of the lobbying disclosure forms available for use on all of your future filings. These new Online Lobbying Disclosure forms have been available for over three years now and will be replacing the IBM forms early next year.
We encourage you to start using these forms as we will not be accepting IBM forms after the 2014 Fourth Quarter filing period (ending January 20th, 2015).
---
Download Template Forms
If you are an active registrant, you can download IBM Workplace forms that are pre-populated with your registrant and client information. To locate your forms, enter your registrant name in the field below and click the "Search" button. If you are not sure of the Registrant name, you can view the list of active registrant names in alphabetical order using the links below.
If you have just registered a new client and a link to the pre-populated form is not available, please check the download page again later in the day. The icon will be displayed when the new form is available.
View Alphabetically:
| Registrant Name | Registrant ID | LD-1 Form |
| --- | --- | --- |
| American Defense International, Inc. | 32825 | |

Download all client forms
Client Name

House ID

LD-2 Form

Accenture Federal Services LLC
328250384
ADMA Biologics, Inc.
328250454
Agilis Management, Inc.
328250335
AGY Holding Corporation
328250508
Amazon Web Services
328250452
Atlas Devices
328250437
AURA Technologies, Inc.
328250436
Bascom Hunter Technologies, Inc.
328250420
Battelle Memorial Institute
328250483
Baylor University
328250471
Bollinger Shipyards, LLC
328250423
CesiumAstro, Inc.
328250470
Clearview AI
328250488
Clemson University
328250319
Cobham Advanced Electronic Solutions Inc.
328250490
Consortium Management Group
328250506
CorVent Medical
328250504
C-Speed, LLC
328250418
CytoSorbents, Inc.
328250302
Defender Pharmaceuticals, Inc.
328250433
DREXEL UNIVERSITY
328250079
Eastern MedWaste, LLC
328250503
Edward Via College of Osteopathic Medicine
328250404
Elbit Systems Cyclone Ltd.
328250441
Enalare Therapeutics, Inc.
328250489
Epirus, Inc.
328250492
Florida Atlantic University
328250368
General Atomics
328250121
General Dynamics
328250311
Genetic Networks, LLC
328250467
Giant Oak, Inc.
328250499
GM Defense LLC
328250500
Grand Valley Manufacturing
328250457
Hadrian Automation
328250502
Hunt Companies, Inc.
328250424
Impulse Space
328250507
International Stability Operations Association
328250495
Iron Mountain Information Management, LLC
328250450
J.A. Green and Company (for Palantir Technologies Inc.)
328250349
J.A. Green and Company (for SCOLA)
328250472
J.A. Green and Company (for Shield AI)
328250482
KONGSBERG AS
328250207
Kratos Defense & Security Solution, Inc.
328250359
L-3 Technologies, Inc.
328250200
Leidos
328250372
LeoLabs, Inc.
328250474
LytEn, Inc.
328250465
MCM Technology, LLC
328250405
Mezzo Technologies
328250494
MP Materials
328250478
Nammo, Inc.
328250426
NEW JERSEY INSTITUTE OF TECHNOLOGY
328250114
Nordby Associates
328250419
Nuclear Energy Institute
328250439
Oxford Instruments Nanoscience
328250496
PC Matic
328250442
PCP-Tactical LLC and Gorilla Ammunition Company
328250449
Persistent Systems, LLC
328250432
Printed Circuit Board Association of America
328250491
Raytheon Technologies Corporation
328250083
Red Six Aerospace Inc.
328250476
SAP America, Inc.
328250286
Sertainty Corporation
328250466
Soukos
328250475
South Carolina Aviation & Technology Center (SC TAC)
328250308
SpaceX
328250363
Spirit AeroSystems, Inc.
328250473
STIDD SYSTEMS, INC
328250047
Stratolaunch, LLC
328250498
Target Hospitality
328250505
Textron Inc.
328250430
Top Aces Corp.
328250435
Varda Space Industries, Inc.
328250497
ViTel Net
328250374
Xeless GmbH
328250313
ZScaler, Inc. and Affiliates
328250501
Forms Archive
Click on the link below to download blank semiannual LD2 forms.
Forms Archive
Install Form Viewer Software
The IBM Workplace Viewer software is required to work with the Lobbying Disclosure forms on a Windows computer. To download the application, enter your registrant name and e-mail address in the fields listed below and click the "download" button.