---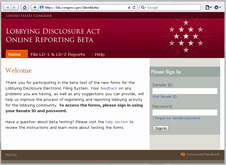 Notice: Online Lobby Reporting Available
There are newer web based versions of the lobbying disclosure forms available for use on all of your future filings. These new Online Lobbying Disclosure forms have been available for over three years now and will be replacing the IBM forms early next year.
We encourage you to start using these forms as we will not be accepting IBM forms after the 2014 Fourth Quarter filing period (ending January 20th, 2015).
---
Download Template Forms
If you are an active registrant, you can download IBM Workplace forms that are pre-populated with your registrant and client information. To locate your forms, enter your registrant name in the field below and click the "Search" button. If you are not sure of the Registrant name, you can view the list of active registrant names in alphabetical order using the links below.
If you have just registered a new client and a link to the pre-populated form is not available, please check the download page again later in the day. The icon will be displayed when the new form is available.
View Alphabetically:
| Registrant Name | Registrant ID | LD-1 Form |
| --- | --- | --- |
| Van Scoyoc Associates | 32802 | |

Download all client forms
Client Name

House ID

LD-2 Form

ACE Aeronautics, LLC
328021049
AeroVironment, Inc.
328020607
Alabama State Port Authority
328020128
Alameda-Contra Costa Transit District
328020161
AM General Corporation
328020308
Amazon Corporate, LLC
328021007
American Association of Homeopathic Pharmacists
328020783
American Herbal Products Association
328020325
APTS Action, Inc.
328020962
Aqua America
328021029
ARUP Laboratories, Inc.
328021042
Association of United States Postal Lessors
328020920
Association of University Programs in Occupational Health and Safety
328020682
Austal USA
328020605
B.E. Meyers & Co., Inc.
328021046
Baldwin County Commission
328020559
Block.one
328021034
Broward County, Florida
328020933
California State University, San Bernardino
328021037
Capital Concerts, Inc.
328020904
City and County of Denver
328021018
City of Clearwater, FL
328020866
City of Coconut Creek, FL
328020819
City of Culver City, CA
328020994
City of East Point, Georgia
328020970
City of Elk Grove, California
328020527
City of Fort Myers, Florida
328021038
City of Gainesville, FL
328020989
City of Gulf Shores, Alabama
328020429
City of Irvine, CA
328020884
City of Orange Beach, Alabama
328020345
City of Palo Alto, California
328020751
City of Rancho Cucamonga, CA
328020868
City of Tempe, Arizona
328020934
City of Thousand Oaks, CA
328020899
City of Torrance, CA
328020930
Clark County Public Transportation Benefit Area dba C-Tran
328020609
CLEAN WATER SERVICES
328020556
College on Problems of Drug Dependence
328020678
Comcast Corporation
328021033
Community Foundation Public Awareness Initiative (Informal Coalition)
328020855
Community Funds, Inc. dba The New York Community Trust
328020850
Computer Systems Center Inc.
328020906
Corporate Friends of CDC, Inc.
328020818
County of Orange, California
328021041
County of Sonoma, CA
328020916
CRH Americas Materials, Inc.
328020107
Cummins, Inc.
328020335
Dallas Area Rapid Transit (DART)
328020245
Dana Farber Cancer Institute
328020300
Desert Research Institute
328020289
Digital Systems Group, Inc.
328021020
Document Storage Systems, Inc.
328020946
doTERRA International LLC
328020902
Downey Brand LLP (Three Rivers Levee Improvement Authority)
328021005
Eastern Michigan University
328020229
Eastern Municipal Water District
328020505
Eclipse Energy Systems, Inc.
328020980
El Paso Water Utilities -- Public Service Board dba El Paso Water
328021009
Federal Resources Supply Company
328020974
Federation of State Humanities Councils
328020041
FedEx Corporation
328020146
General Dynamics
328020377
Georgia State University Research Foundation
328020267
Global Technical Systems
328020814
Greater Cleveland Regional Transit Authority
328021026
H. Lee Moffitt Cancer Center & Research Institute Hospital, Inc.
328020931
Institute for Veterans and Military Families at Syracuse University
328021039
International Health, Racquet, and Sports Club Association
328020990
International Partnership for Microbicides
328020822
Iowa State University
328020927
Leebcor Services
328021044
Little Rock Port Authority
328021012
Lockheed Martin Corporation
328020578
MacAndrews & Forbes Group LLC
328020576
Marine Group Boat Works
328020811
Medical College of Wisconsin
328021030
Medical University Hospital Authority
328020382
Melanoma Research Foundation
328020793
Mobile Airport Authority
328020288
Mobile County Commission
328020441
Napa County, CA
328020918
National Asphalt Pavement Association
328020182
National Association of Councils on Developmental Disabilities
328020662
National Association of Enrolled Agents
328020105
National Fish and Wildlife Foundation
328021043
National Institute for Water Resources
328020018
National Marrow Donor Program
328020907
National Space Grant Alliance
328020153
Navient
328020417
Neurofibromatosis Network
328020925
Neurofibromatosis, Inc. Midwest
328020685
Neurofibromatosis, Inc. Northeast
328020660
New York University Langone Medical Center
328020657
North American Stainless
328021022
Northwestern Memorial Healthcare
328020667
Noveome BioTherapeutics, Inc.
328020905
Padgett Business Services
328020573
Paychex
328021040
Philanthropy New York
328021045
Pinellas County, Florida
328020896
Pinellas Suncoast Transit Authority
328020939
Plant Based Foods Association
328021016
Port Freeport
328020988
Port of Oakland
328021021
Port Tampa Bay
328020960
Quantico Tactical
328021000
Refuge Resource Group, LLC
328021028
Restoration Systems, LLC
328021051
RNAceuticals
328021050
San Diego County
328020763
SAN JOAQUIN AREA FLOOD CONTROL AGENCY
328020482
Santa Clara Valley Transportation Authority
328020762
Santa Clarita Valley Water Agency
328021032
Savox Communications Inc
328020984
Scenic America
328021035
SeaWorld Parks and Entertainment, Inc.
328020917
Sonoma-Marin Area Rail Transit District
328020869
Southern Company Services, Inc.
328020228
Spectrum Photonics, Inc.
328021023
State Science & Technology Institute (SSTI)
328021011
Systecon North America
328021027
Tampa Bay Area Regional Transit Authority
328021024
Tax Guard
328020849
TEMPTIME
328020755
Texas A&M University System
328020864
Texas Classroom Teachers Association
328020802
Texas Neurofibromatosis Foundation
328020658
The American Network of Community Options and Resources (ANCOR)
328021048
The Charles Stark Draper Laboratory, Inc. dba Draper
328021052
The Cleveland Clinic Foundation
328020315
THE COALITION OF EPSCOR STATES
328020008
The Methodist Hospital d/b/a Houston Methodist
328020965
The Rotary Foundation of Rotary International
328020679
The St. Petersburg Downtown Partnership, Inc.
328020903
The University of Alabama System
328020024
The University of Utah
328021015
Total Military Management
328020852
UAB Health System
328020993
Union Pacific
328020199
United States Bomb Technicians Association
328021031
University of Idaho
328020047
University of New Mexico
328020901
University of North Dakota
328020940
University of Rhode Island Research Foundation
328020758
University of Toledo
328020208
University of Wyoming
328020879
Upfield US Inc.
328021019
Virginia Port Authority
328020942
Volunteers of America
328021036
Washington County, Oregon
328020551
Wayne County Airport Authority
328020800
West Basin Municipal Water District
328020996
Zebra Technologies
328021047
Zeteo Tech, Inc.
328021006
Forms Archive
Click on the link below to download blank semiannual LD2 forms.
Forms Archive
Install Form Viewer Software
The IBM Workplace Viewer software is required to work with the Lobbying Disclosure forms on a Windows computer. To download the application, enter your registrant name and e-mail address in the fields listed below and click the "download" button.