---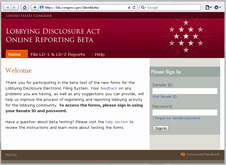 Notice: Online Lobby Reporting Available
There are newer web based versions of the lobbying disclosure forms available for use on all of your future filings. These new Online Lobbying Disclosure forms have been available for over three years now and will be replacing the IBM forms early next year.
We encourage you to start using these forms as we will not be accepting IBM forms after the 2014 Fourth Quarter filing period (ending January 20th, 2015).
---
Download Template Forms
If you are an active registrant, you can download IBM Workplace forms that are pre-populated with your registrant and client information. To locate your forms, enter your registrant name in the field below and click the "Search" button. If you are not sure of the Registrant name, you can view the list of active registrant names in alphabetical order using the links below.
If you have just registered a new client and a link to the pre-populated form is not available, please check the download page again later in the day. The icon will be displayed when the new form is available.
View Alphabetically:
| Registrant Name | Registrant ID | LD-1 Form |
| --- | --- | --- |
| The Ferguson Group | 32589 | |

Download all client forms
Client Name

House ID

LD-2 Form

Abtech Industries
325890292
Agricultural Floodplain Management Alliance (AFMA)
325890348
AIDS Healthcare Foundation
325890451
Brookhaven, GA - City of
325890438
Burlingame, CA - City of
325890422
Burlington-NC, City of
325890426
Butte County Association of Governments
325890247
BUTTE COUNTY-CA
325890174
California Valley Miwok Tribe
325890402
Cat Creek Energy, LLC
325890386
CDM Smith
325890396
Centerville, UT-City of
325890429
Central Arizona Irrigation & Drainage District
325890449
City of Blaine, MN
325890453
City of Fort Wayne, IN
325890356
City of Idaho Falls, ID
325890457
City of Morro Bay, CA
325890398
City of New Rochelle, NY
325890415
City of Tamarac
325890262
City of Woodland, CA
325890082
Coachella Valley Association of Governments
325890447
COLLEGE PARK-GA, CITY OF
325890228
CONCORD-NC, CITY OF
325890099
County of Fairfax
325890421
County of Inyo, CA
325890411
Daly City, CA
325890391
Deschutes Basin Board of Control
325890460
EAST POINT-GA, CITY OF
325890181
El Dorado County Water Agency
325890394
Ephraim City, UT
325890373
FAMILY FARM ALLIANCE
325890003
FivePoint (formerly Newhall Land)
325890362
FOLSOM-CA, CITY OF
325890035
FRIANT WATER AUTHORITY (formerly Friant Water Users Authority)
325890134
Gering Ft. Laramie Irrigation District
325890419
GLENN-COLUSA IRRIGATION DISTRICT-CA
325890022
Greenville Utilities Commission
325890253
GREENVILLE-NC, CITY OF
325890116
HAMILTON COUNTY
325890273
HIGH POINT-NC, CITY OF
325890179
Idaho Falls Regional Airport, ID
325890412
Idaho Water Resource Board
325890404
Idaho Water Users Association
325890256
Johnson County, KS
325890462
KINGS RIVER WATER ASSN/KINGS RIVER CONSERVATION
325890048
Kittitas County
325890427
Klamath Water Users Association
325890274
Lake Cascade Agricultural Easement Holders
325890424
LENNAR COMMUNITIES
325890064
Livingston County
325890393
Loudoun County, VA
325890371
Maricopa Stanfield Irrigation & Drainage District
325890448
Mark IV Capital
325890428
MERCED IRRIGATION DISTRICT
325890325
MIDPENINSULA REGIONAL OPEN SPACE DISTRICT
325890271
Modesto Irrigation District
325890388
Mono County, CA
325890454
Monterey Peninsula Water Management District
325890390
MOORESVILLE-NC, TOWN OF
325890097
NATAT (NATIONAL ASSN OF TOWNS AND TOWNSHIPS
325890234
National Special Districts Coalition
325890437
National Stripper Wells Association
325890403
NORTH CAROLINA ASSOCIATION OF ELECTRIC COOPERATIVES
325890245
North Unit Irrigation District
325890445
NORTHERN CALIFORNIA WATER ASSOCIATION
325890153
OCEANSIDE-CA, CITY OF
325890025
Oregon Water Resources Congress
325890463
Permian Basin Petroleum Association
325890420
Placer County Transportation Planning Agency
325890464
Reclamation District 108
325890023
Regional Water Authority
325890432
River Garden Farms, CA
325890408
ROSEVILLE-CA, CITY OF
325890091
Sacramento County, CA
325890379
SAN JOAQUIN COUNTY FLOOD CONTROL AND WATER CONSERVATION DISTRICT
325890270
SAN JUAN WATER DISTRICT
325890140
San Luis Obispo Council of Governments
325890461
San Luis Obispo County-CA
325890238
SANTA MONICA-CA, CITY OF
325890027
Scout Clean Energy
325890440
Silicon Valley Clean Water
325890392
Sites Project Authority
325890418
Solano Irrigation District
325890439
SOMACH SIMMONS & DUNN on behalf of State of Texas
325890210
Southern California Public Power Authority (SCPPA)
325890395
SUTTER COUNTY-CA
325890061
Sutter Mutual Water Company and Reclamation District 1500
325890413
SWCA Environmental
325890409
Texas Alliance of Energy Producers
325890455
The Freshwater Trust
325890425
The Orland Unit Water Users Association
325890430
TOWN OF CARY, NC
325890123
Town of Cheraw, SC
325890465
Town of Mount Pleasant, SC
325890459
Town of Paradise, CA
325890417
Tule River Improvement JPA (formerly Lower Tule River Irrigation District)
325890136
TURLOCK IRRIGATION DISTRICT
325890008
Vallejo, CA - City of
325890436
Wake County, NC
325890416
Ward & Smith on behalf of Brunswick County, NC
325890442
Ward & Smith on behalf of Holden Beach
325890434
Ward & Smith on behalf of the Town of Topsail Beach
325890456
Ward & Smith on behalf of Topsail Island Shoreline Protection Commission
325890435
Ward and Smith on behalf of Baldhead Island, NC
325890466
Ward and Smith on behalf of the Carteret County Beach Commission
325890458
Washington State Water Resources Association
325890275
WESTERN MUNICIPAL WATER DISTRICT
325890156
Wilkes County on behalf of Town of North Wilkesboro, NC
325890469
Wilkes County on behalf of Town of Wilkesboro, NC
325890468
Wilkes County, NC
325890467
Yakima Basin Joint Board
325890255
Yuma County Agriculture Water Coalition
325890423
Forms Archive
Click on the link below to download blank semiannual LD2 forms.
Forms Archive
Install Form Viewer Software
The IBM Workplace Viewer software is required to work with the Lobbying Disclosure forms on a Windows computer. To download the application, enter your registrant name and e-mail address in the fields listed below and click the "download" button.