---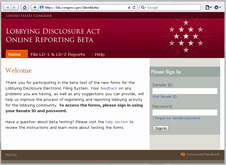 Notice: Online Lobby Reporting Available
There are newer web based versions of the lobbying disclosure forms available for use on all of your future filings. These new Online Lobbying Disclosure forms have been available for over three years now and will be replacing the IBM forms early next year.
We encourage you to start using these forms as we will not be accepting IBM forms after the 2014 Fourth Quarter filing period (ending January 20th, 2015).
---
Download Template Forms
If you are an active registrant, you can download IBM Workplace forms that are pre-populated with your registrant and client information. To locate your forms, enter your registrant name in the field below and click the "Search" button. If you are not sure of the Registrant name, you can view the list of active registrant names in alphabetical order using the links below.
If you have just registered a new client and a link to the pre-populated form is not available, please check the download page again later in the day. The icon will be displayed when the new form is available.
View Alphabetically:
| Registrant Name | Registrant ID | LD-1 Form |
| --- | --- | --- |
| BROWNSTEIN HYATT FARBER SCHRECK, LLP | 31842 | |

Download all client forms
Client Name

House ID

LD-2 Form

ABBVIE
318420402
ADT LLC
318420518
AdvaMed
318420644
Alliance of Health Care Sharing Ministries
318420553
Allianz of America
318420641
Ally Financial, Inc.
318420603
Altaba, Inc.
318420591
Altria Client Services
318420554
American Academy of Adoption Attorneys
318420552
American Gaming Association
318420254
American Multi-Cinema, Inc.
318420117
American Petroleum Institute
318420629
American Public Power Association
318420595
American Tower Corporation
318420425
AmeriHealth Caritas Health Plan
318420504
amfAR, The Foundation for AIDS Research
318420532
Amgen USA Inc.
318420544
AMP Robotics
318420671
Anheuser-Busch Companies, LLC
318420453
Anthem, Inc.
318420446
APOLLO INVESTMENT MANAGEMENT, LP
318420142
APOLLO MANAGEMENT HOLDINGS
318420418
APOLLO MANAGEMENT, LP
318420187
ArcBest Corporation (formely reporting as Arkansas Best Corporation)
318420346
Ardent Health Services
318420095
ARES CAPITAL CORPORATION
318420174
Ares Management LLC
318420198
Aspira (f.r.a. Active Network LLC)
318420440
ASSICURAZIONI GENERALI S.p.A.
318420191
Athene Holding
318420455
Aura Financial Corporation
318420590
Auterion Government Solutions, Inc.
318420636
AXA
318420640
Baxter HealthCare Corporation
318420251
Beep, Inc.
318420620
Blackfeet Tribe
318420372
Brentwood School
318420413
Bruno Independent Living Aids, Inc.
318420541
Cadiz, Inc.
318420053
Caesars Enterprise Services, LLC (fraCaesarsEntertainmentOperatingCompany,Inc.)
318420265
Cannabis Trade Federation (fra New Federalism Fund)
318420487
CareDx, Inc.
318420616
Carlson Travel, Inc.
318420658
Cars.com
318420654
Cengage
318420678
Centene Corporation
318420593
Central Arizona Water Conservation District (CAWCD)
318420509
Century 21 Stores
318420668
Chotin Group
318420328
Chrysalis Holdings, Inc. (d.b.a. NewDay)
318420377
CHS, Inc.
318420557
Clean Affordable Reliable Electricity Coalition (CARE Coalition)
318420555
CLEAR
318420486
Cleveland Clinic Foundation
318420679
Coalition for Business Development
318420600
CoBank
318420496
Coinstar
318420492
Colony Capital, Inc
318420653
Colorado State University
318420550
Columbia Care LLC
318420610
Comcast Corporation
318420087
Counterterrorism Education Learning Lab (CELL)
318420218
Credit Karma, Inc.
318420583
Credit Union National Association, Inc.
318420456
Del Monte Fresh Produce Company
318420621
Delaware North Companies Inc.
318420525
Direct ChassisLink, Inc.
318420639
Dominion Voting Systems, Inc.
318420592
Electronic Payments Coalition (EPC)
318420212
Envision Healthcare
318420664
Equinor US Operations LLC (fra Equinor Gulf Services, LLC)
318420387
Equinor Wind US LLC (fra Statoil Wind US LLC)
318420505
Equity Office Management LLC
318420448
Ericsson Inc.
318420628
Exelon
318420558
FedEx Corporation
318420272
FirstBank Holding Co.
318420427
Forest County Potawatomi Community
318420365
Forest Lawn Memorial-Park Association
318420602
Freeport LNG Expansion
318420072
Fujian Jinhua Integrated Circuit Co. Ltd
318420606
Garrison Diversion Conservancy District
318420503
Georgia Renewable Power
318420633
Gogo, Inc.
318420672
GovPredict
318420478
Guaranteed Asset Protection Alliance
318420406
Harbor Freight Tools USA Inc.
318420652
HEB Grocery Company, LP
318420367
Hudbay Minerals (fra Rosemont Copper Company)
318420326
HUGHES NETWORK SYSTEMS, LLC
318420146
Hunt Consolidated Inc.
318420561
Immigration Hub
318420642
Impossible Aerospace
318420597
Independent Directors of the Board of Directors of Wells Fargo & Company
318420475
Insperity Services, L.P.
318420497
International Hearing Society
318420383
Intralot USA
318420580
Intrepid Potash Inc.
318420482
J&F Investimentos S.A.
318420643
J2 GLOBAL COMMUNICATIONS, INC.
318420170
Jackson Family Enterprises
318420500
Jacobs Engineering Group Inc.
318420649
Jake's Fireworks
318420423
JOHNSON & JOHNSON SERVICES, INC.(f.r.a. JOHNSON & JOHNSON SHARED SERVICES, INC.)
318420175
Jordan Cove Energy Project LP
318420586
JW Aluminum
318420598
Kalorama Group, LLC
318420512
KGL Logistics
318420575
KinderCare Education, LLC (formerly reporting as Knowledge Universe)
318420412
Kyle House Group obo Consensus For Development Reform
318420663
Lankford & Reed, PLLC
318420431
Las Vegas Convention and Visitors Authority
318420420
Leonard Green & Partners, LP
318420245
LifePoint Health (f.r.a RCCH HealthCare Partners)
318420469
Ligado Networks LLC
318420546
Lilly USA, LLC
318420638
Limoneira Lewis Community Builders LLC
318420528
Locke Lord LLP (on behalf of Lincoln Military Housing, LLC)
318420574
Lytton Band of Pomo Indians
318420470
Managed Funds Association (MFA)
318420253
Management and Training Corporation
318420472
Maridose LLC
318420615
Marriott International, Inc.
318420599
Marshfield Clinic Health System
318420659
Marubeni Oil & Gas (USA) Inc.
318420607
McDonald's Corporation
318420370
McWhinney Real Estate Services, Inc.
318420673
Mewbourne Oil Company
318420632
MGM Public Policy, LLC
318420495
Motor Vehicle Protection Products Association (f.r.a. Motor Vehicle Ancillary..)
318420405
NAREIT (fra National Association of Real Estate Investment Trusts)
318420374
National Biodiesel Board
318420630
NATIONAL CABLE & TELECOMMUNICATIONS ASSOCIATION
318420024
National Collegiate Athletic Association
318420411
National Confectioners Association
318420491
National Head Start Association
318420484
National Retail Federation
318420666
National Stone Sand and Gravel Association
318420578
Navajo Nation
318420355
NMAC (on behalf of the HIV/STD Partnership)
318420499
NovaCopper US Inc. (dba Trilogy Metals US)
318420623
Novartis
318420508
One Call Corporation
318420670
OneMain Holdings Inc.
318420533
Online Lenders Alliance
318420624
Ontario International Airport
318420677
Outokumpu Stainless USA, LLC
318420588
Pacific Connector Gas Pipeline LP
318420587
Paragon Biosciences, LLC
318420625
Park Hotels & Resorts, Inc.
318420669
Pinterest, Inc.
318420548
Plastics Industry Association
318420651
Policy and Taxation Group
318420563
Portable Fuel Container Manufacturer Association
318420342
Power Design, Inc.
318420622
Precision Castparts Corporation (f.r.a. TIMET-TITANIUM METALS CORPORATION)
318420023
PricewaterhouseCoopers LLP
318420384
PureStar Group
318420656
Puyallup Tribe
318420617
Pyramid Management Group, LLC
318420675
QUALCOMM INCORPORATED
318420148
Real Estate Roundtable
318420375
Red Rock Resorts, Inc.
318420577
RELX Inc. (formerly known as Reed Elsevier Inc.)
318420394
Resource Management Service, LLC
318420585
Rocky Mountain Industrials fra RMR Industrials
318420612
Route 66 Ventures
318420674
Royal Caribbean Cruises Ltd.
318420680
San Bernardino Valley Water Conservation District
318420619
San Diego County Water Authority
318420581
Santa Cruz Healthcare
318420657
Schneider National Inc.
318420564
Searchlight Capital Partners
318420665
Sentrillion
318420304
Service Contract Industry Council
318420404
Shoshone Paiute Tribes of the Duck Valley Reservation
318420645
Simon Wiesenthal Center for the Museum of Tolerance (fra SWC Museum Corporation)
318420084
Skydio
318420635
SL Green Realty Corp.
318420263
SoundExchange
318420249
Southern Nevada Home Builders Association
318420596
Spark Therapeutics, Inc.
318420523
Starbucks
318420568
Stash Financial, Inc.
318420676
Sun Country Airlines
318420611
Talos Energy
318420627
Teal Drones
318420637
Telecommunications Industry Association
318420488
Tenaska Inc.
318420572
TENET HEALTHCARE CORP
318420094
Textile Rental Services Association
318420662
The Early Care and Education Consortium
318420601
The Federation of State Medical Boards
318420538
The Institute for Legal Reform - U.S. Chamber of Commerce
318420221
The Manitowoc Company
318420647
The Northeast MAGLEV, LLC
318420510
The OrthoForum
318420380
T-Mobile
318420373
Town of Tusayan, AZ
318420515
Tunica-Biloxi Tribe of Louisiana
318420661
U.S. Travel Association
318420543
Ubicquia
318420667
Ultimate Fighting Championship (UFC)
318420209
University of Phoenix, fra Apollo Education Group, Inc.
318420362
US Travel Insurance Association
318420660
Valley Children's Healthcare
318420608
VECTOR GROUP, LTD
318420003
Vigilent Inc.
318420618
Visionary Integration Professionals
318420650
Walgreen Co.
318420451
WESTERN UNION
318420169
Westlands Water District
318420332
White Mountain Apache Tribe
318420436
Wildlife Conservation Society
318420646
William Hill US
318420655
Willis Electric Co. Ltd
318420490
Wilmer Hale (on behalf of Purdue Pharma L.P.)
318420609
Wolters Kluwer
318420569
WPX Energy, Inc.
318420381
Wynn Resorts, Limited
318420396
Yelp
318420536
Ygrene Energy Fund Inc.
318420594
Yodlee Inc.
318420517
Forms Archive
Click on the link below to download blank semiannual LD2 forms.
Forms Archive
Install Form Viewer Software
The IBM Workplace Viewer software is required to work with the Lobbying Disclosure forms on a Windows computer. To download the application, enter your registrant name and e-mail address in the fields listed below and click the "download" button.