---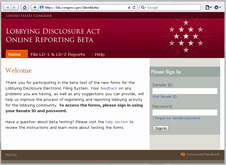 Notice: Online Lobby Reporting Available
There are newer web based versions of the lobbying disclosure forms available for use on all of your future filings. These new Online Lobbying Disclosure forms have been available for over three years now and will be replacing the IBM forms early next year.
We encourage you to start using these forms as we will not be accepting IBM forms after the 2014 Fourth Quarter filing period (ending January 20th, 2015).
---
Download Template Forms
If you are an active registrant, you can download IBM Workplace forms that are pre-populated with your registrant and client information. To locate your forms, enter your registrant name in the field below and click the "Search" button. If you are not sure of the Registrant name, you can view the list of active registrant names in alphabetical order using the links below.
If you have just registered a new client and a link to the pre-populated form is not available, please check the download page again later in the day. The icon will be displayed when the new form is available.
View Alphabetically:
| Registrant Name | Registrant ID | LD-1 Form |
| --- | --- | --- |
| Akin, Gump, Strauss, Hauer & Feld | 31784 | |

Download all client forms
Client Name

House ID

LD-2 Form

Aaron's Inc.
317840800
ABBOTT LABORATORIES
317840260
Academy of Model Aeronautics
317840806
Accenture LLP
317840825
Advanced Drainage Systems
317840572
Air Evac Lifeteam
317840627
Akebia Therapeutics, Inc.
317840818
Alcresta Therapeutics, Inc.
317840744
Alden Torch Financial LLC
317840848
Allegiant Travel Company
317840580
Alliance for Automotive Innovation
317840885
Alliance for Fair Trade with India (AFTI)
317840622
Alliance for Olive Oil Quality Standards
317840589
Alliance of Dedicated Cancer Centers
317840304
Altice USA, Inc.
317840784
Altria Client Services LLC
317840733
Amazon Corporate, LLC
317840792
American Ambulance Association
317840644
American Bankers Association
317840746
American College of Gastroenterology
317840645
American Council of Life Insurers
317840473
American Cruise Lines
317840895
American Exploration & Production Council (AXPC)
317840603
American Medical Rehabilitation Providers Association
317840657
Americans for Prosperity
317840842
Amgen USA, Inc.
317840753
Anheuser-Busch Companies, Inc.
317840403
Aplastic Anemia and MDS International Foundation
317840741
APOLLO MANAGEMENT HOLDINGS, LP
317840778
Appriss, Inc.
317840731
Arcosa, Inc.
317840813
Aria Energy
317840890
Arizona Water Company
317840612
Associations of Mexican Tomato Growers
317840914
Asurion LLC
317840617
AT&T
317840004
Athletico Physical Therapy
317840899
Bain Capital, LLC
317840437
Baker Tilly Virchow Krause, LLP
317840548
Barrick Gold Corporation of North America Inc.
317840128
Bayer Corporation (FKA Monsanto Company)
317840525
Bell-Carter Foods
317840851
Biotechnology Innovation Organization
317840134
Bloom Energy
317840799
Braidy Industries
317840840
Bridgestone Americas Holding, Inc.
317840203
Buccaneers Holding LLC
317840875
Business Roundtable
317840080
CalOptima
317840729
Cargill, Inc.
317840779
CF Industries, Inc. and CF Industries Holdings, Inc
317840465
Charlotte's Web, Inc.
317840865
Charter Communications, Inc.
317840828
Chevron, U.S.A. Inc.
317840537
CHRISTUS Health System
317840647
Chubb INA Holdings Inc.
317840531
Citizens for Responsible Energy Solutions
317840869
City of Houston
317840327
City of Laredo, Texas
317840868
City of Vallejo, California
317840909
Coalition for 21st Century Patent Reform
317840397
Coalition to Heal Invisible Wounds
317840740
Comcast Corporation
317840827
Comite Interprofessionnel du Vin de Champagne
317840640
Connected Nation Development Corporation
317840781
Consumer Safety Technology, LLC DBA Intoxalock
317840866
Consumer Technology Association
317840425
Cook Group Inc.
317840853
Cordant Health Solutions
317840808
CoreCivic, Inc.
317840195
Cox Enterprises Inc.
317840421
Cranemasters, Inc.
317840794
Cruise Lines International Association
317840908
CTIA
317840793
Cumberland Community Improvement District
317840396
CVS Health
317840812
Diehl Stiftung & Co. KG
317840859
DJI Technology, Inc.
317840861
Eastman Chemical Company
317840429
Empresas Fonalledas, Inc.
317840487
EMVCo, LLC
317840716
Energy Harbor Corp. (FKA FirstEnergy Solutions Corp.)
317840790
Entergy Services, LLC
317840876
Epson America Inc.
317840845
Equifax Inc.
317840681
EXXON MOBIL CORP
317840027
Federated Wireless, Inc.
317840817
Financial Services Forum
317840841
FireKeepers Development Authority
317840587
Fletcher Group, Inc.
317840797
Florida Citrus Mutual
317840279
Fluor Corporation
317840360
FMR LLC
317840611
Fontana Union Water Co.
317840196
Fontana Water Company
317840432
Foothill/Eastern Transportation Corridor Agency
317840438
Fort Lauderdale Downtown Development Authority
317840482
FS Investment Corporation
317840730
Gap Inc.
317840791
Garden of Life, LLC
317840867
Genentech Inc
317840862
George Kaiser Family Foundation
317840486
GGV Management LLC
317840855
Gila River Indian Community
317840110
Gilead Sciences, Inc.
317840454
Global Medical Response, Inc.
317840887
GOJO Industries
317840905
Goya Foods Inc.
317840901
HawkEye 360 Inc.
317840878
HDR, Inc.
317840738
Healthcare Leadership Council
317840757
HerdX
317840824
Hershey Company
317840608
Hill-Rom
317840701
Hillwood Development Company, LLC
317840854
Ho-Chunk Inc.
317840756
Honeywell International
317840305
Houchens Industries
317840772
Houston Airport System
317840566
Humane Society Legislative Fund
317840726
IMCS Group Inc.
317840877
Indigo Ag
317840849
Infineon Technologies America Corp.
317840758
Innovation Alliance
317840524
Inseego Corp.
317840886
International Council of Shopping Centers
317840711
International Infrastructure Finance Company
317840815
International Paper
317840822
ISNetworld
317840614
JRSK, Inc. dba Away
317840863
Keidanren
317840735
Kentucky Lottery Corporation
317840833
Kingston Technology
317840832
Koch Companies Public Sector
317840858
Kohlberg Kravis Roberts & Company
317840420
KPC Development Company LLC
317840860
LanzaTech Inc.
317840550
Laureate Education, Inc. (FKA Laureate International Universities)
317840783
Let'sGetChecked
317840915
Levi Strauss & Company
317840786
LG Chem America, Inc.
317840903
LG&E and KU Energy, LLC
317840765
Liberty Global Logistics
317840610
Liberty Mutual Insurance Company
317840022
Liberty Tire Recycling, LLC
317840906
LOreal USA
317840888
Mammoth Energy Services, Inc.
317840785
Management Research Services, Inc.
317840891
Mario Camacho Foods, Inc.
317840872
Mashantucket Pequot Tribal Nation
317840892
McKesson Corporation
317840843
MDIF Media Partners I, LP
317840767
Memorial Sloan-Kettering Cancer Center
317840088
MiddleGround Capital
317840911
Millennium Health
317840721
Mobility Capital Finance, Inc. dba MoCaFi
317840894
Moody's Corporation
317840250
Motion Picture Association of America
317840030
National Association of REALTORS
317840852
National Association of Theatre Owners
317840889
National Cotton Council of America
317840597
National Independent Venue Association
317840907
National Spectrum Consortium
317840896
National Thoroughbred Racing Association
317840856
NCTA-The Internet & Television Association
317840725
New Venture Fund
317840762
NextEra Energy, Inc.
317840355
Nippon Telegraph and Telephone Corporation
317840864
Oaktree Capital Management
317840604
OC Oerlikon Management AG
317840884
Official Committee of Unsecured Creditors of Southern Foods dba Dean Foods
317840882
Oneida Indian Nation
317840460
Otsuka Pharmaceutical Development & Commercialization, Inc.
317840679
Owens & Minor, Inc.
317840900
Owl Rock Capital Partners
317840775
Palantir Technologies, Inc.
317840810
Partnership for Job Creation
317840583
Pebble Limited Partnership
317840697
Pechanga Band of Luiseno Mission Indians
317840540
Penobscot Nation
317840743
Pfizer, Inc.
317840036
Pharmaceutical Research and Manufacturers of America
317840723
Pipe Line Contractors Association
317840625
PMI Global Services Inc.
317840635
Polaris Industries
317840811
Pompeian, Inc
317840844
Port of Long Beach
317840435
PrecisionHawk USA, Inc.
317840709
Professional Background Screeners Association fka NAPBS
317840680
Puerto Rico Statehood Council
317840623
Qualcomm Incorporated
317840776
R.J. Corman Railroad Group
317840732
ResMed, Inc.
317840710
Restaurant Brand International Inc. (RBI)
317840736
Retirement Systems Data, LLC
317840619
Rochester Genesee Regional Transportation Authority
317840163
Rotech Healthcare, Inc.
317840766
RP Management, LLC
317840592
Samumed, LLC
317840692
San Manuel Band of Mission Indians
317840821
Schulte Hospitality Group
317840898
SEMI
317840904
Senseonics Incorporated
317840838
Sepsis Stakeholder Coalition
317840796
Shatterproof
317840788
Siemens Corporation
317840545
Signature Flight Support Corporation
317840902
Society to Improve Diagnosis in Medicine
317840742
Solano Transportation Authority
317840451
Southeastern Conference
317840881
Southwest Research Institute
317840847
St. Thomas University
317840912
StrangeWorks Inc.
317840831
Surgery Partners
317840897
Syracuse University
317840839
TE Connectivity
317840564
Texas Association for Home Care & Hospice
317840575
Texas Public Policy Foundation
317840850
The American Creativity, Technology Innovation Organizations Network for Trade
317840761
The Carlyle Group
317840829
The Center for a Free Economy
317840804
The Michaels Companies, Inc.
317840913
The Puerto Rico Equality Forum
317840626
The Seneca Nation of Indians
317840249
The Strategic Group
317840837
Tile
317840870
TransAtlantic Petroleum Ltd.
317840873
Trimble Navigation Ltd
317840558
Trinity Industries
317840632
Tube Transport fka Hyperloop America Inc.
317840834
U.S. Chamber of Commerce Center for Capital Markets Competitiveness
317840857
U.S. Chamber of Commerce Institute for Legal Reform
317840382
United Parcel Service
317840220
United States Pharmacopeial Convention
317840712
United Technologies Corporation
317840490
University of Louisville
317840814
UofL Health, Inc.
317840910
US Physician Partners (Informal Coalition)
317840846
Varian Medical Systems, Inc.
317840724
Verax BioMedical Inc.
317840798
Virgin Trains USA LLC
317840916
Visa, U.S.A., Inc.
317840534
VIZIO, Inc.
317840801
Volkswagen Group of America, Inc.
317840137
Whirlpool Corporation
317840763
Xenex Disinfection Services, LLC
317840675
Yacht Haven USVI LLC
317840883
Zelis Healthcare Corporation
317840871
ZP Better Together, LLC
317840893
ZTE Corporation
317840879
Forms Archive
Click on the link below to download blank semiannual LD2 forms.
Forms Archive
Install Form Viewer Software
The IBM Workplace Viewer software is required to work with the Lobbying Disclosure forms on a Windows computer. To download the application, enter your registrant name and e-mail address in the fields listed below and click the "download" button.