---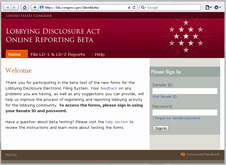 Notice: Online Lobby Reporting Available
There are newer web based versions of the lobbying disclosure forms available for use on all of your future filings. These new Online Lobbying Disclosure forms have been available for over three years now and will be replacing the IBM forms early next year.
We encourage you to start using these forms as we will not be accepting IBM forms after the 2014 Fourth Quarter filing period (ending January 20th, 2015).
---
Download Template Forms
If you are an active registrant, you can download IBM Workplace forms that are pre-populated with your registrant and client information. To locate your forms, enter your registrant name in the field below and click the "Search" button. If you are not sure of the Registrant name, you can view the list of active registrant names in alphabetical order using the links below.
If you have just registered a new client and a link to the pre-populated form is not available, please check the download page again later in the day. The icon will be displayed when the new form is available.
View Alphabetically:
| Registrant Name | Registrant ID | LD-1 Form |
| --- | --- | --- |
| AKIN GUMP STRAUSS HAUER & FELD | 31784 | |

Download all client forms
Client Name

House ID

LD-2 Form

1-800 Contacts
317840946
1Huddle Inc
317840917
ABBOTT LABORATORIES
317840260
Abiomed, Inc.
317841013
Accenture LLP
317840825
Advanced Drainage Systems
317840572
Advanced Medical Technology Association (AdvaMed)
317841012
AHS Management Company, Inc
317841046
Alabama Shipyard LLC
317840960
Alden Torch Financial LLC
317840848
Allegiant Travel Company
317840580
Alliance for Automotive Innovation
317840885
Alliance to Protect Nantucket Sound
317841034
Altria Client Services LLC
317840733
Amazon Corporate, LLC
317840792
AMERICAN AIRLINES, INC
317840001
American Bus Association, Inc.
317840977
American Council of Life Insurers
317840473
American Cruise Lines
317840895
American Library Association
317840990
Americans for Prosperity
317840842
Amgen USA, Inc.
317840753
Anheuser-Busch Companies, Inc.
317840403
Ant Group Co., Ltd.
317840961
APOLLO MANAGEMENT HOLDINGS, LP
317840778
Arcosa, Inc.
317840813
Argentem Creek Partners LP
317840947
Associations of Bell Peppers Growers and Importers
317840971
Associations of Mexican Tomato Growers
317840914
Asurion LLC
317840617
AT&T
317840004
Athletico Physical Therapy
317840899
Attentive Mobile, Inc.
317840988
BACtrack
317841020
Bain Capital, LLC
317840437
Baker Tilly Virchow Krause, LLP
317840548
Bamboo Health
317841037
Barlow Respiratory Hospital
317841024
Bayer Corporation (FKA Monsanto Company)
317840525
Beijing Xiaomi Mobile Software Co., Ltd.
317840968
Bell-Carter Foods
317840851
Biotechnology Innovation Organization
317840134
BlackRock, Inc.
317841021
Bloom Energy
317840799
Booz Allen Hamilton Inc.
317841048
Bradley Lane Investment Company
317841044
Bridgestone Americas Holding, Inc.
317840203
Brightline Holdings LLC
317840916
Business Roundtable
317840080
Cargill, Inc.
317840779
Carlyle Investment Management
317840829
Carrier Corp.
317840874
Center for Sportfishing Policy
317840979
Centrient Pharmaceuticals LLC
317840936
Charter Communications, Inc.
317840828
Chevron, U.S.A. Inc.
317840537
CHRISTUS Health System
317840647
Chubb INA Holdings Inc.
317840531
Citizens for a Safe and Secure America
317841017
Citizens for Responsible Energy Solutions
317840869
City of Fort Lauderdale
317841016
City of Houston
317840327
City of Kyle, Texas
317841001
City of Laredo, Texas
317840868
City of Vallejo, California
317840909
Coalition for 1099-K Fairness
317841049
Coalition for 21st Century Patent Reform
317840397
Coalition for Smarter Infrastructure Investment
317840978
Coalition of Semiconductor Equipment Manufacturers
317841011
Coalition to Heal Invisible Wounds
317840740
Coalition to Stop Restaurant Tariffs
317840948
Comcast Corporation
317840827
Comite Interprofessionnel du Vin de Champagne
317840640
Connected Nation Development Corporation
317840781
Consumer Technology Association
317840425
CoreCivic, Inc.
317840195
Council on Foundations
317840323
Coupang, Inc.
317841002
Cox Enterprises Inc.
317840421
Crypto Council for Innovation
317841055
Cumberland Community Improvement District
317840396
CVS Health
317840812
DaVita, Inc.
317840953
DoorDash
317840934
Eastman Chemical Company
317840429
eBay Inc.
317841018
Education Reform Now Advocacy
317841007
ElectraMeccanica Vehicles Corporation
317840999
eMed, LLC
317841008
Empresas Fonalledas, Inc.
317840487
EMVCo, LLC
317840716
Energy Harbor Corp.
317840790
EnPower Inc.
317841040
ENPRO INDUSTRIES
317840290
Entergy Services, LLC
317840876
EQT Corporation
317840987
Equifax Inc.
317840681
Esquel Enterprises Limited
317840930
Federated Wireless, Inc.
317840817
Financial Services Forum
317840841
FinThrive, Inc.
317841041
FireKeepers Development Authority
317840587
Fletcher Group, Inc.
317840797
Florida Citrus Mutual
317840279
Fluor Corporation
317840360
FMR LLC
317840611
Fort Lauderdale Downtown Development Authority
317840482
Fortenova Grupa d.d.
317841030
Fortescue Future Industries Pty Ltd
317841054
Freepoint Commodities LLC
317840973
FS Investment Corporation
317840730
Gap Inc.
317840791
Garden of Life, LLC
317840867
Garrett Electronics, Inc.
317840954
Genentech Inc
317840862
George Kaiser Family Foundation
317840486
GGV Management LLC
317840855
Gila River Indian Community
317840110
Gila River Telecommunications, Inc.
317840624
Gilead Sciences, Inc.
317840454
Global Laser Enrichment, LLC
317841038
GoBrands, Inc. d/b/a Gopuff
317841039
GOJO Industries
317840905
Gujarat Fluorochemicals GmbH
317841059
HawkEye 360 Inc.
317840878
HDR, Inc.
317840738
Hershey Company
317840608
Hillwood Development Company, LLC
317840854
HMTX Industries LLC
317840969
Ho-Chunk Inc.
317840756
Honeywell International
317840305
Houchens Industries
317840772
Houston Airport System
317840566
HP Inc
317840984
Humane Society Legislative Fund
317840726
Inari Medical
317840993
Indigo Ag
317840849
Infineon Technologies America Corp.
317840758
Innovation Alliance
317840524
Inseego Corp.
317840886
International Council of Shopping Centers
317840711
International Paper
317840822
Intuit, Inc. and Affiliates (formerly Intuit, Inc.)
317840995
Iranian American Community of Northern California
317840565
Jet Set Sports Holdings
317840983
Keidanren
317840735
KEWA Financial Inc.
317840949
Kingston Technology
317840832
Koch Companies Public Sector
317840858
Kohlberg Kravis Roberts & Company
317840420
Laboratory Corporation of America Holdings
317840951
LanzaTech Inc.
317840550
Levi Strauss & Company
317840786
LG&E and KU Energy, LLC
317840765
Liberty Global Logistics
317840610
Liberty Mutual Insurance Company
317840022
Lion Elastomers, LLC
317841033
LMAX Group
317841050
L'Oreal USA
317840888
Lyft, Inc.
317840920
MACOM Technology Solutions
317841061
Mainstay Medical, Ltd.
317841031
McKesson Corporation
317840843
MDIF Media Partners I, LP
317840767
Meta Aerospace
317840932
Micron Technology, Inc.
317841005
MiddleGround Capital
317840911
Millennium Health
317840721
Missouri Cobalt LLC
317841045
Mondelez Global LLC
317841006
Motion Picture Association of America
317840030
MSC Mediterranean Shipping Company SA
317840986
Natera
317841029
National Association of REALTORS
317840852
National Cotton Council of America
317840597
National Fire Protection Association
317840952
National Independent Venue Association
317840907
National Thoroughbred Racing Association
317840856
NCTA-The Internet & Television Association
317840725
NextEra Energy, Inc.
317840355
Niacet Corporation
317841060
Nippon Telegraph and Telephone Corporation
317840864
North American Olive Oil Association (fka Alliance for Olive Oil Qlty Stndrds)
317840589
North American Produce Coalition
317841058
North American Transit Alliance
317840927
Oaktree Capital Management
317840604
OC Oerlikon Management AG
317840884
Oneida Indian Nation
317840460
Opportunity Financial, LLC
317841035
Otis Elevator Company
317840918
Pacific Gas and Electric Company
317841019
Partnership for Job Creation
317840583
Partnership for Medicaid Home-Based Care
317841023
Partnership to Address Global Emissions, Inc.
317841056
Pathward, National Association (fka Pathward (formerly MetaBank, N.A.))
317840945
Pechanga Band of Luiseno Mission Indians
317840540
Penobscot Nation
317840743
Pfizer, Inc.
317840036
Pharmaceutical Research and Manufacturers of America
317840723
Pipe Line Contractors Association
317840625
PMI Global Services Inc.
317840635
Polaris Industries
317840811
Pompeian, Inc
317840844
Port of Corpus Christi Authority
317841036
Port of Long Beach
317840435
Professional Background Screeners Association fka NAPBS
317840680
Proponents of Affordable Housing, Inc.
317840939
Puerto Rico Legal and Educational Foundation, Inc.
317841022
Puerto Rico Statehood Council
317840623
Qualcomm Incorporated
317840776
Raytheon Technologies Corporation and Affiliates
317840490
Reliable Robotics
317841025
ResMed Corp. (fka ResMed, Inc.)
317840710
Restaurant Brands International Inc. (RBI)
317840736
Rochester Genesee Regional Transportation Authority
317840163
RP Management, LLC
317840592
Salesforce.com, Inc
317840964
San Manuel Band of Mission Indians
317840821
SAP America, Inc.
317840992
Senseonics Incorporated
317840838
Shatterproof
317840788
SHEIN Technology LLC
317841053
Siemens Corporation
317840545
Signature Flight Support Corporation
317840902
SJ Medconnect
317841051
Softrams LLC
317840989
Solano Transportation Authority
317840451
Solar Energy Industries Association
317840970
Southeastern Conference
317840881
Southwest Research Institute
317840847
Stanley Black & Decker, Inc.
317840962
Stenson Tamaddon LLC
317841057
Sunny Glen Children's Home
317841042
Surgery Partners
317840897
Synthetic Biology Coalition
317840981
Taxpayers Protection Alliance
317840985
TE Connectivity
317840564
Texas Association for Home Care & Hospice
317840575
Texas Public Policy Foundation
317840850
The Alliance for Trade Enforcement (AFTE)
317840622
The Crosby Group
317840937
The Leadership Conference on Civil and Human Rights
317840966
The Official Committee of Unsecured Creditors of Purdue Pharma L.P., et al
317841043
The Seneca Nation of Indians
317840249
The Strategic Group
317840837
The US-China Business Council
317841027
Tile
317840870
Tito's Handmade Vodka (d/b/a Fifth Generation, Inc.)
317841052
Trade Alliance for Health
317841014
TRANSPORTATION CORRIDOR AGENCIES (FKA FOOTHILL/EASTERN TRAN CORRIDOR AGENCY)
317840438
TransUnion
317840923
Trimble Navigation Ltd
317840558
Trinity Industries
317840632
U.S. Chamber of Commerce Center for Capital Markets Competitiveness
317840857
U.S. Chamber of Commerce Institute for Legal Reform
317840382
United Parcel Service
317840220
United States Pharmacopeial Convention
317840712
University of Louisville
317840814
UofL Health, Inc.
317840910
Vallourec USA Corporation
317840924
Varian Medical Systems, Inc.
317840724
Verizon Communications
317841032
Veterans Guardian VA Claim Consulting LLC
317841028
Visa, U.S.A., Inc.
317840534
Volkswagen Group of America, Inc.
317840137
Westminster College - Missouri
317841047
Xenex Disinfection Services, LLC
317840675
Zelis Healthcare Corporation
317840871
ZP Better Together, LLC
317840893
ZTE Corporation
317840879
Forms Archive
Click on the link below to download blank semiannual LD2 forms.
Forms Archive
Install Form Viewer Software
The IBM Workplace Viewer software is required to work with the Lobbying Disclosure forms on a Windows computer. To download the application, enter your registrant name and e-mail address in the fields listed below and click the "download" button.