---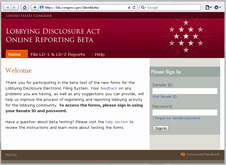 Notice: Online Lobby Reporting Available
There are newer web based versions of the lobbying disclosure forms available for use on all of your future filings. These new Online Lobbying Disclosure forms have been available for over three years now and will be replacing the IBM forms early next year.
We encourage you to start using these forms as we will not be accepting IBM forms after the 2014 Fourth Quarter filing period (ending January 20th, 2015).
---
Download Template Forms
If you are an active registrant, you can download IBM Workplace forms that are pre-populated with your registrant and client information. To locate your forms, enter your registrant name in the field below and click the "Search" button. If you are not sure of the Registrant name, you can view the list of active registrant names in alphabetical order using the links below.
If you have just registered a new client and a link to the pre-populated form is not available, please check the download page again later in the day. The icon will be displayed when the new form is available.
View Alphabetically:
| Registrant Name | Registrant ID | LD-1 Form |
| --- | --- | --- |
| Tiber Creek Group | 31587 | |

Download all client forms
Client Name

House ID

LD-2 Form

Academy of Managed Care Pharmacy
315870402
Acadia Pharmaceuticals, Inc.
315870383
Accountable for Health
315870449
Agilon Health, Inc.
315870446
Agios Pharmaceuticals Inc.
315870391
Airbus Americas, Inc.
315870401
Alnylam Pharmaceuticals, Inc.
315870444
America Is Better
315870364
American Hotel & Lodging Association
315870302
American Policy Ventures Action
315870456
American Property Casualty Insurance Association
315870135
Amgen, Inc.
315870178
Association for Clinical Oncology
315870367
Astellas Pharma US, Inc.
315870216
AstraZeneca
315870179
Bank of America Corporation
315870429
BeiGene USA, Inc.
315870386
Bicycle Health, Inc.
315870448
Biotechnology Innovation Organization (BIO)
315870209
Bloom Energy
315870458
Blue Cross Blue Shield Association
315870272
Boyd Gaming Corporation
315870234
Breakthrough Energy Action
315870438
Bristol Myers Squibb
315870369
Canada Life Reinsurance Company
315870316
Carbon Removal Alliance
315870455
Case New Holland Industrial Inc.
315870274
Cigna Corporation and subsidiaries
315870408
Commercial Real Estate Finance Council
315870451
Committee on Capital Markets Regulation
315870176
CorMedix, Inc.
315870454
Dairy Farmers of Canada
315870395
Defending Democracy Together
315870426
Delfi Diagnostics
315870437
DELOITTE LLP
315870133
Delta Air Lines, Inc.
315870295
Deutsche Bank USA (fka Deutsche Bank Securities Inc.)
315870223
Discovery Communications, LLC (fka Warner Bros. Discovery, Inc.)
315870414
Dream Corps
315870442
Election Systems & Software, LLC
315870342
Elevance Health, Inc. (fka Anthem Inc.)
315870224
EMD Serono, Inc.
315870309
Entergy Services LLC
315870188
Environmental Defense Action Fund
315870263
EOS Energy Storage LLC
315870384
Equipment Leasing and Finance Association
315870328
Ferrero U.S.A., Inc.
315870358
Finseca
315870396
Friends of the Global Fight Against AIDS, Tuberculosis, and Malaria
315870326
FWD.us
315870266
Gilead Sciences, Inc.
315870443
GoBrands, Inc. d/b/a Gopuff
315870425
Grid United LLC
315870439
Hannover Life Reassurance Company of America
315870315
Harley-Davidson Financial Services, Inc.
315870220
HealthPartners
315870255
Incyte Corporation
315870388
Information Technology Industry Council
315870417
Jazz Pharmaceuticals (fka Greenwich Biosciences, Inc.)
315870353
JMA Wireless
315870375
Johnson Controls Inc.
315870354
Legacy Community Health Services
315870285
MASTERCARD
315870152
Merck & Co., Inc
315870287
MICROSOFT CORPORATION
315870125
Mississippi County, Arkansas
315870430
MMM Healthcare
315870284
ModivCare Solutions, LLC
315870363
Monkton, Inc.
315870341
Munich American Reassurance Company
315870317
NATIONAL ASSN OF BROADCASTERS
315870035
National Association of Benefits and Insurance Professionals (fka NAHU)
315870291
North American Subaru, Inc.
315870360
Nusano, Inc.
315870445
NVG, LLC (on behalf of Habitat for Humanity International, Inc.)
315870320
NVIDIA Corporation
315870441
ONE Action
315870214
Organon, LLC
315870416
Partnership Project Action Fund (obo Climate Action Campaign)
315870452
Phlow Corporation
315870411
PHRMA
315870182
Primerica, Inc.
315870410
Qualcomm, Inc.
315870413
Quidnet Energy, Inc.
315870428
Recora
315870453
Roku Inc.
315870423
SAP America Inc.
315870421
SB Energy DevCo (US), Inc.
315870373
SB Group US DBA SoftBank Group US, Inc.
315870398
SeatGeek
315870431
Secretary of State, State of Delaware
315870217
Shopify
315870434
Siemens Healthineers
315870427
Stride
315870381
SunPower Corporation
315870389
Takeda Pharmaceuticals America, Inc.
315870409
The Business Roundtable
315870348
The Ickes & Enright Group (Northwell Health fka North Shore-LIJ)
315870235
The Ickes & Enright Group, Inc. (on behalf of Consortium for Worker Education)
315870228
The Ickes and Enright Group (on behalf of Greater New York Hospital Association)
315870308
The Northwestern Mutual Life Insurance Company
315870347
Tiber Creek Health Strategies, Inc. (on behalf of Eli Lilly and Company)
315870361
Tiber Creek Health Strategies, Inc. (On behalf of Genentech, Inc.)
315870248
Tiber Creek Health Strategies, Inc. (On behalf of Novartis)
315870262
TPI Composites, Inc.
315870314
U.S. Chamber of Commerce - C_TEC and CCMC
315870407
U.S. Chamber of Commerce fka U.S. Chamber of Commerce-Institute for Legal Reform
315870119
UNITED SERVICES AUTOMOBILE ASSOCIATION
315870177
University of Arizona Foundation
315870440
Vertex Pharmaceuticals
315870242
View
315870419
VulcanForms, Inc.
315870457
WEX Inc.
315870450
Forms Archive
Click on the link below to download blank semiannual LD2 forms.
Forms Archive
Install Form Viewer Software
The IBM Workplace Viewer software is required to work with the Lobbying Disclosure forms on a Windows computer. To download the application, enter your registrant name and e-mail address in the fields listed below and click the "download" button.