---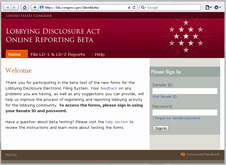 Notice: Online Lobby Reporting Available
There are newer web based versions of the lobbying disclosure forms available for use on all of your future filings. These new Online Lobbying Disclosure forms have been available for over three years now and will be replacing the IBM forms early next year.
We encourage you to start using these forms as we will not be accepting IBM forms after the 2014 Fourth Quarter filing period (ending January 20th, 2015).
---
Download Template Forms
If you are an active registrant, you can download IBM Workplace forms that are pre-populated with your registrant and client information. To locate your forms, enter your registrant name in the field below and click the "Search" button. If you are not sure of the Registrant name, you can view the list of active registrant names in alphabetical order using the links below.
If you have just registered a new client and a link to the pre-populated form is not available, please check the download page again later in the day. The icon will be displayed when the new form is available.
View Alphabetically:
| Registrant Name | Registrant ID | LD-1 Form |
| --- | --- | --- |
| BGR Government Affairs | 31564 | |

Download all client forms
Client Name

House ID

LD-2 Form

7 Eleven, Inc.
315640698
AAPAN
315640157
Abbott Laboratories
315640493
Abiomed Inc.
315640191
Adarga
315640730
Advanced Medical Technology Association
315640488
Advancing Mental Health for Military Families, LLC
315640715
Akebia Therapeutics, Inc.
315640593
Alabama State University
315640534
ALG Senior LLC
315640585
Alliance for Regenerative Medicine
315640679
AmChams of Asia Pacific
315640691
Amedisys, Inc.
315640523
American Beverage Association
315640494
American Chamber of Commerce in South China
315640666
American Health Care Association
315640440
American Land Title Association
315640729
American Society of Gene and Cell Therapy
315640564
Americans for Transparency and Accountability
315640658
AmeriFreight Systems LLC
315640684
Amgen Inc.
315640012
Armis
315640673
AshBritt Environmental, Inc.
315640209
Association of Dental Support Organizations
315640473
AT Capital Pte. Ltd.
315640686
Aviator Capital Management, LLC
315640614
Bayer Corporation
315640566
Beijing Xiaomi Mobile Software Co., Ltd (FKA Edward B. MacMahon, Jr., PLC)
315640644
Better World Fund
315640055
BioMarin Pharmaceutical Inc.
315640726
Biotechnology Innovation Organization
315640535
Brightline Holdings LLC (formerly Virgin Trains USA)
315640542
Caesars Enterprise Services, LLC
315640433
Canadian National Railroad
315640064
Captor Capital Corp.
315640663
CARE Action Now, Inc.
315640565
Career Education Colleges and Universities
315640713
Casa Systems, Inc.
315640667
Catholic Health
315640692
CDR Maguire
315640696
Centene Corporation
315640527
Charles River Laboratories
315640712
Chemonics International
315640529
Children's Hospital and Health System, Inc.
315640377
CJ America, Inc.
315640640
Cleary Gottlieb Steen & Hamilton LLP on behalf of Venezuela Creditor Committee
315640706
Coach USA
315640718
Cognizant Technology Solutions
315640502
Colony Brands, Inc.
315640415
Comcast Corporation
315640094
Consumer Access to Repair (CAR) Coalition
315640622
Corning Incorporated
315640722
Covanta Holding Corporation
315640688
Cox Enterprises, Inc.
315640463
Credit Suisse Securities (USA) LLC
315640562
Cresco Labs (formerly known as Bluma Wellness / One Plant)
315640637
CSC Holdings, LLC
315640561
CTIA
315640568
Day & Zimmermann Group, Inc.
315640685
Deutsche Bank USA
315640723
DHL Express (USA), Inc.
315640646
DuPage County
315640338
Edward Lifesciences LLC
315640552
Embassy of Bangladesh
315640458
Embassy of the Kingdom of Bahrain to the United States
315640543
Embassy of the Republic of Azerbaijan
315640507
Emovis Technologies US, Inc.
315640733
Enterprise Products Operating LLC
315640586
Entertainment Software Association
315640501
Envirotech Vehicles, Inc.
315640711
EOS Defense Systems USA, Inc.
315640677
Epigenomics, Inc.
315640524
EssilorLuxottica (FKA Essilor of America, Inc.)
315640589
Eurohold Bulgaria AD
315640732
Findhelp
315640672
Flagstar Bank
315640510
Fortress Information Security, LLC
315640699
Franklin Resources, Inc.
315640478
Fresenius Medical Care
315640279
Friends of Fort Novosel (FKA Friends of Fort Rucker)
315640636
GeoComply Solutions Inc.
315640720
GlaxoSmithKline, Inc
315640002
Global Risk Advisors
315640708
Globe Specialty Metals, Inc.
315640642
Greater Orlando Aviation Authority
315640714
Grubhub Holdings, Inc.
315640705
HCBS Advocacy, LLC
315640635
HNTB Corporation
315640430
Horizon Pharma
315640570
Huntington Ingalls Industries, Inc. (FKA Huntington Ingalls Incorporated)
315640424
Iranian American Community of Northern California
315640676
Jysan Holdings
315640724
Kellogg Company
315640701
Kidney Care Partners
315640432
Kontoor Brands
315640687
Kurdistan Regional Government
315640167
LetterOne Holdings S.A.
315640476
Liberty Media Corporation
315640641
Ligado Networks LLC
315640664
Lockheed Martin Corporation
315640734
Lockton Management, LLC
315640496
Lucid Circuit
315640695
MASS GENERAL BRIGHAM (FORMERLY KNOWN AS PARTNERS HEALTHCARE)
315640618
Massachusetts Mutual Life Insurance Company (MassMutual Financial Group)
315640288
Matrix Medical Network
315640632
Mattress Firm
315640613
MetLife Group, Inc. (FKA MetLife Services and Solutions, LLC)
315640655
Mind Springs Health
315640704
MLK Community Healthcare
315640647
Motion Picture Association
315640549
National Association of Vision Care Plans
315640390
National Lifeline Association
315640544
National Resilience, Inc.
315640634
National Restaurant Association
315640340
National School Boards Association
315640703
NCTA-The Internet & Television Association
315640557
Neurocrine Biosciences, Inc.
315640506
New Indy Catawba LLC
315640657
New Meridian Corporation
315640725
Novartis
315640716
Nuclear Energy Institute
315640467
NuCoal Resources, Ltd.
315640487
Oak Street Health
315640651
OneWeb Technologies
315640700
Ontario Teachers' Pension Plan
315640630
Optica (FKA The Optical Society)
315640538
Oregon Inlet Fishing Center
315640727
OROS
315640690
Ouro Mining Inc.
315640584
Overseas Shipholding Group, Inc.
315640537
Pactiv Evergreen Inc.
315640728
Pfizer, Inc
315640137
PGP Investors, LLC
315640446
Pharma & Biopharma Outsourcing Association
315640505
Pharmaceutical Research and Manufacturers of America
315640007
Polaris Industries
315640597
Prudential Financial, Inc.
315640626
PTC Therapeutics
315640603
Purchasing Power, LLC
315640665
Qualcomm Incorporated
315640669
Qualtrics LLC
315640731
Quectel Wireless Solutions Co., Ltd.
315640735
Qurate Retail Group
315640709
Radiology Partners
315640653
RAI Services Company
315640516
Raytheon Technologies Corporation and Affiliates (FKA United Technologies Corp)
315640508
Razom, Inc.
315640738
Real Time Medical Systems
315640674
Recess
315640629
Recycling Infrastructure Now
315640649
Red White and Blue, LLC
315640659
Republic of India
315640216
Rigetti & Co., LLC
315640737
Rockwell Automation
315640710
S&P Global
315640601
Samsung Electronics America
315640470
Sandvine
315640628
SAS Institute Inc.
315640619
Scotts Miracle-Gro Company
315640511
SCP-Health
315640599
Select Medical Corporation
315640171
Sellers Dorsey
315640143
Senior Care Pharmacy Coalition
315640475
Snap Inc.
315640670
Southern Company Services, Inc.
315640009
SPIE
315640539
Strider Technologies, Inc.
315640694
Stryker Corporation
315640638
Targa Resources
315640675
Target ALS Foundation Inc.
315640682
Textron, Inc.
315640011
The Assistance Fund
315640639
The College Board
315640447
The Travelers Companies, Inc. and subsidiaries
315640462
Transamerica Companies
315640702
Trust for the National Mall
315640354
U.S. Acute Care Solutions, LLC
315640569
U.S. Anesthesia Partners, Inc.
315640492
U.S. Global Leadership Campaign
315640485
University of Mississippi
315640051
University of Wisconsin-Milwaukee
315640719
UroGen Pharma, Inc.
315640697
US Radiology Specialists
315640654
Valero Services, Inc.
315640736
Verizon Communications, Inc.
315640233
Vineyard Wind, LLC
315640583
Vitol Inc.
315640678
Voyager Space Holdings, Inc.
315640707
Walgreen Co.
315640558
Water Utility, City of Waukesha
315640190
Waylink Assets Limited
315640721
WE Energies
315640183
Western Digital Corporation
315640514
Wiregrass Economic Development Corporation
315640559
World Dog Alliance (Hong Kong) Limited
315640693
WorldVu Development, LLC
315640598
Yellow Corporation
315640612
York Space Systems
315640717
Forms Archive
Click on the link below to download blank semiannual LD2 forms.
Forms Archive
Install Form Viewer Software
The IBM Workplace Viewer software is required to work with the Lobbying Disclosure forms on a Windows computer. To download the application, enter your registrant name and e-mail address in the fields listed below and click the "download" button.