---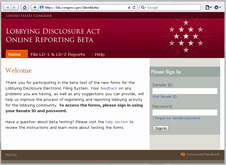 Notice: Online Lobby Reporting Available
There are newer web based versions of the lobbying disclosure forms available for use on all of your future filings. These new Online Lobbying Disclosure forms have been available for over three years now and will be replacing the IBM forms early next year.
We encourage you to start using these forms as we will not be accepting IBM forms after the 2014 Fourth Quarter filing period (ending January 20th, 2015).
---
Download Template Forms
If you are an active registrant, you can download IBM Workplace forms that are pre-populated with your registrant and client information. To locate your forms, enter your registrant name in the field below and click the "Search" button. If you are not sure of the Registrant name, you can view the list of active registrant names in alphabetical order using the links below.
If you have just registered a new client and a link to the pre-populated form is not available, please check the download page again later in the day. The icon will be displayed when the new form is available.
View Alphabetically:
| Registrant Name | Registrant ID | LD-1 Form |
| --- | --- | --- |
| Arnold & Porter Kaye Scholer LLP | 31381 | |

Download all client forms
Client Name

House ID

LD-2 Form

7-Eleven, Inc.
313810269
A.O. Smith Corporation
313810214
Acera Surgical
313810248
Adaptive Biotechnologies
313810264
AEGIS Insurance Services, Inc.
313810187
Almo Corporation
313810249
Alvogen
313810287
American Counseling Association
313810256
American Geriatrics Society
313810225
American Property Casualty Insurance Association
313810272
America's Frontier Fund
313810313
Archivox S.r.L.
313810312
AT&T Services, Inc.
313810213
Barr Brands International
313810203
Baylor University
313810230
Berkshire Hathaway Energy
313810284
BioTelemetry Inc.
313810263
BlockFi
313810310
Blue Owl Capital Holdings LLC
313810275
BP America Inc.
313810157
Bruin Biometrics
313810228
Business Continuity Coalition
313810279
CATF Action, Inc.
313810295
Cerberus Capital Management, LP on behalf of Worldwide Flight Services
313810259
Childrens Health System of Texas
313810207
Children's Hospital of The King's Daughters
313810206
Clark Equipment Company dba Doosan Bobcat North America
313810306
Coalition to Insure Against Terrorism
313810193
Colorado Regional Health Information Organization
313810261
Community Service Society of New York
313810317
Complete College America
313810305
Corning Incorporated
313810251
DEV Capital Partners, L.L.C.
313810300
Dutch Association of Insurers
313810188
Endeavors
313810243
EvoEndo, Inc.
313810316
Exelixis, Inc.
313810245
Ferring Pharmaceuticals, Inc.
313810252
First Republic Bank
313810237
FirstKey Homes, LLC
313810258
Firstrust Savings Bank
313810234
Fraternal Government Relations Coalition
313810204
HeadLight
313810283
Hologic, Inc.
313810112
Hyosung Heavy Industries Corporation (formerly Hyosung Corporation)
313810232
Hyundai Steel Company
313810217
International Information System Security Certification Consortium
313810303
Invitation Homes Inc.
313810314
Learning Care Group
313810270
Lieber Institute for Brain Development
313810212
Lloyd's of London
313810189
Managed Funds Association
313810278
McGraw-Hill Education
313810201
Monteris Medical
313810293
National Association of Real Estate Investment Trusts
313810190
NexGen Power Systems
313810304
NORC at the University of Chicago
313810239
Organogenesis
313810238
PEER Bearing Company
313810246
Perrigo Company plc
313810315
Pharmaceutical Research and Manufacturers of America (PhRMA)
313810145
Phathom Pharmaceuticals
313810286
Plaintiffs in Sokolow v. PLO (Informal Coalition)
313810226
POSCO
313810227
Prince Kuhio Plaza, LLC
313810311
Professional Non-Profit Theater Coalition
313810276
Provention Bio, Inc.
313810290
REACH Redlands LLC
313810301
Regeneron Pharmaceuticals, Inc.
313810288
Reyes Holdings L.L.C.
313810297
Rigel Pharmaceuticals Inc.
313810289
Robert Bosch LLC
313810296
Robert Davidson
313810299
Samsung C&T Corporation
313810199
Samsung Electronics America, Inc.
313810198
Samsung Electronics Co., Ltd.
313810220
San Francisco General Hospital Foundation
313810308
Social Finance, Inc.
313810266
Society of Nuclear Medicine and Molecular Imaging
313810244
Soderling International LTD (formerly Darrell Management Inc.) dba Grupo Onyx
313810298
Stratus
313810250
The Depository Trust & Clearing Corporation
313810273
Trinidad Benham Corporation
313810231
University of Redlands
313810307
URAC, Inc.
313810309
viaPhoton
313810282
Western Digital
313810254
William & Mary Foundation
313810302
Zinus, Inc.
313810277
Forms Archive
Click on the link below to download blank semiannual LD2 forms.
Forms Archive
Install Form Viewer Software
The IBM Workplace Viewer software is required to work with the Lobbying Disclosure forms on a Windows computer. To download the application, enter your registrant name and e-mail address in the fields listed below and click the "download" button.