---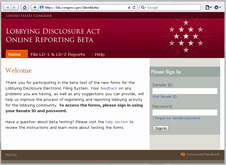 Notice: Online Lobby Reporting Available
There are newer web based versions of the lobbying disclosure forms available for use on all of your future filings. These new Online Lobbying Disclosure forms have been available for over three years now and will be replacing the IBM forms early next year.
We encourage you to start using these forms as we will not be accepting IBM forms after the 2014 Fourth Quarter filing period (ending January 20th, 2015).
---
Download Template Forms
If you are an active registrant, you can download IBM Workplace forms that are pre-populated with your registrant and client information. To locate your forms, enter your registrant name in the field below and click the "Search" button. If you are not sure of the Registrant name, you can view the list of active registrant names in alphabetical order using the links below.
If you have just registered a new client and a link to the pre-populated form is not available, please check the download page again later in the day. The icon will be displayed when the new form is available.
View Alphabetically:
| Registrant Name | Registrant ID | LD-1 Form |
| --- | --- | --- |
| K&L GATES LLP | 31355 | |

Download all client forms
Client Name

House ID

LD-2 Form

ACCELERGY CORPORATION
313550385
AGC Flat Glass North America, Inc.
313550408
AIRPORT MINORITY ADVISORY COUNCIL
313550276
ALGAE BIOMASS ORGANIZATION
313550531
Alpha Technologies, Inc.
313550809
ALTERNATIVE INVESTMENT MANAGEMENT ASSOCIATION LIMITED
313550655
AMERICAN BUREAU OF SHIPPING
313550578
American Bus Association
313550766
American Commercial Space Innovators
313550858
American Fuel and Petrochemical Manufacturers
313550728
AMERICAN MARITIME PARTNERSHIP
313550621
American Roll-on Roll-off Carrier Group, Inc.
313550724
AMERICAN SECURITY ACTION FUND, INC.
313550601
AMERICAN SMALL MANUFACTURING COALITION
313550264
American Superconductor Corporation
313550767
American Tower Corporation
313550736
AMERICAN WATER
313550570
Apex Clean Energy
313550845
Association of Washington Business
313550698
Astranis Space Technologies Corp.
313550791
AVIS-BUDGET GROUP, INC.
313550521
Axiom Space, Inc.
313550848
Berkshire Hathaway Energy
313550826
BLUE ORIGIN, LLC
313550625
BNSF RAILWAY CO.
313550005
Boeing Employees' Credit Union
313550513
Breville Pty, Ltd.
313550808
BROWN-FORMAN CORP
313550004
BUSINESS LEADERS FOR MICHIGAN
313550664
ByteDance Inc.
313550838
California Public Employees' Retirement System
313550684
CALVERT VENTURES, LLC
313550628
Catalyst Old River Hydroelectric Limited Partnership
313550820
CERES, INC.
313550666
Charles River Laboratories International, Inc.
313550819
CHARLES SCHWAB & CO., INC.
313550573
CHURCH ALLIANCE
313550566
CIGAR RIGHTS OF AMERICA
313550603
CITY LIGHT & POWER, INC.
313550668
City of Spokane
313550815
Clark Street Associates LLC on behalf of PSIQuantum
313550830
Clark Street Associates LLC on behalf of Skywater Technology
313550827
Clark Street Associates on behalf of Complete Genomics, Inc.
313550862
Clark Street on behalf of Qorvo
313550857
CMS ENERGY CORP.
313550622
Coalition for Energy Efficient Jobs & Investment
313550772
Columbia Sportswear
313550822
COMMERCIAL SPACEFLIGHT FEDERATION
313550439
Commonwealth Research Associates, LLC
313550717
Community Capital Management, LLC d/b/a CRAFund Advisory, Inc.
313550792
Compass Group USA, Inc.
313550855
CONSORTIUM OF STATE MARITIME ACADEMIES
313550252
Consumer Technology Association
313550669
Crissy Field Dog Group
313550693
Cumberland County Hospital System d/b/a Cape Fear Valley Health System
313550641
Cyanco International
313550831
Disability Benefits Deadline Initiative
313550852
DJI Technology, Inc.
313550714
Dominion Energy Services, Inc.
313550839
Edelman Financial Engines f/k/a Financial Engines
313550499
ENVIRONMENTAL DEFENSE ACTION FUND
313550309
ENVIRONMENTAL DEFENSE FUND
313550427
Equinix, Inc.
313550784
Eugene Civic Alliance
313550787
FARM BUREAU BANK FSB
313550514
Financial Accounting Foundation
313550476
FinCom Ltd.
313550795
First Trust Portfolios L.P.
313550700
Fleet Energy America, Inc.
313550843
Forterra, Inc.
313550676
Fresh Harvest
313550846
G.W. PEOPLES CONTRACTING CO. INC.
313550336
GALACTIC VENTURES
313550569
GLOBAL ALLIANCE FOR CANNABIS COMMERCE
313550824
Gordon Food Service, Inc.
313550841
Great Elm Capital Group, Inc.
313550754
GREAT LAKES METRO CHAMBERS
313550606
Greater Pittsburgh Chamber of Commerce
313550733
GREATER SPOKANE INCORPORATED
313550244
Gulf of Mexico Reef Fish Shareholders' Alliance
313550752
Hecla Mining Company
313550682
Iconic Artists, LLC
313550806
Industrial Technology Institute
313550751
Ingo Money, Inc.
313550861
Inmarsat PLC d/b/a Inmarsat Aviation
313550773
INSTITUTE OF INTERNATIONAL CONTAINER LESSORS
313550558
INSTITUTE OF SCRAP RECYCLING INDUSTRIES, INC.
313550592
Intelligrated Systems, Inc. dba Honeywell Intelligrated
313550805
INTERNATIONAL HOUSING COALITION
313550467
James Hardie Building Products, Inc.
313550760
John Lefas
313550854
Just Greens LLC
313550599
LAKE CARRIERS ASSOCIATION
313550070
LAKE PILOTS ASSN INC.
313550199
Launch on Demand Corporation
313550850
LEHIGH HANSON INC.
313550750
LIBERTY MEDIA CORPORATION
313550434
LOWER PASSAIC RIVER STUDY AREA COOP
313550549
Lynas USA, LLC
313550856
Macquarie Infrastructure and Real Assets, Inc.
313550687
MADE IN SPACE
313550741
MAGNOLIA LNG LLC
313550633
MASSACHUSETTS MARITIME ACADEMY, INC.
313550411
MATSON NAVIGATION
313550296
Maxar Technologies Holdings Inc. f/k/a SSL MDA Holdings
313550746
McDermott International, Inc. f/k/a CHICAGO BRIDGE & IRON (CB&I)
313550030
MEC Aerial Platform Sales Corp.
313550847
Michael L. Taylor
313550853
Midwater Trawlers Cooperative
313550794
Moda Health
313550769
Mohegan Tribal Gaming Authority
313550825
MUSEUM OF FLIGHT
313550649
NANOBUSINESS COMMERCIALIZATION ASSOCIATION
313550168
Nanotronics Imaging, Inc.
313550778
National Assn for Biomedical Research
313550761
NATIONAL ASSOCIATION OF CHAPTER THIRTEEN TRUSTEES (NACTT)
313550357
NATIONAL ASSOCIATION OF TRAILER MANUFACTURERS
313550429
National Water Supply Alliance
313550716
NCL CORPORATION LTD.
313550155
NextStep Interacative Inc.
313550860
Nortek Security & Control LLC
313550817
NORTHERN MICHIGAN UNIVERSITY
313550058
Olympus Power LLC
313550802
Oshkosh Corporation
313550812
Pacific Seafood Group
313550770
PacifiCorp Energy
313550793
Package Coalition LLC
313550807
PAPER RECYCLING COALITION
313550579
Pear Therapeutics, Inc.
313550863
Phylagen, Inc.
313550840
PIMCO FUNDS
313550557
Pinnacle Treatment Centers
313550755
PITNEY BOWES
313550057
PolyVision Corporation
313550859
Port of Moses Lake
313550781
Port of Portland
313550704
PPG Industries Inc.
313550711
PRIMET PRECISION MATERIALS, INC.
313550459
Quantum Industry Coalition
313550814
Qurate Retail, Inc. f/k/a LIBERTY INTERACTIVE CORPORATION
313550604
QVC, INC.
313550595
R.T. G. Furniture Corp. d/b/a Rooms to Go
313550837
Receivables Management Association fka DBA INTERNATIONAL
313550722
RenaissanceRe Holdings Ltd.
313550374
Resolve Marine Group, Inc.
313550813
Sierra Pacific Industries
313550730
SIXTEEN THIRTY FUND
313550637
Space Apprentices Enterprise Inc. d/b/a Momentus Space
313550818
Spire Global, Inc.
313550849
SPOKANE AIRPORT BOARD
313550742
SPRAGUE ENERGY CORP.
313550574
ST. LAWRENCE SEAWAY PILOTS ASSN.
313550052
STARBUCKS COFFEE CORP
313550227
STEELCASE, INC.
313550616
Sunshine Silver Mining & Refining Corporation
313550803
Suntory Business Expert Limited
313550732
Tarrant Regional Water District
313550735
Texas LNG
313550683
The Business Roundtable, Inc.
313550786
The ESOP Association
313550353
The First Church of Christ, Scientist
313550718
The World Dog Alliance Limited
313550835
TM3 Systems
313550665
TOWN OF FUQUAY-VARINA, NC
313550702
Trans AstroNautica Corporation d/b/a TransAstra
313550719
Trans-Atlantic Business Council
313550779
TRANSPHORM INC.
313550396
TRANSPORTATION INSTITUTE
313550032
TRI-CITY DEVELOPMENT COUNCIL
313550033
TrueBlue, Inc.
313550143
Turing Inc.
313550834
U.S. Global Leadership Campaign
313550864
Velocys Inc
313550712
Veolia Nuclear Solutions f/k/a Kurion
313550450
Viamedia, Inc.
313550744
WATER INNOVATIONS ALLIANCE
313550440
WATER INNOVATIONS FOUNDATION
313550460
WESTERN GREAT LAKES PILOTS ASSN
313550051
WESTON SOLUTIONS
313550219
Williams & Lake LLC
313550821
XO Energy, LLC
313550692
Zapata Computing, Inc.
313550844
Zeno Power Systems, Inc.
313550851
Forms Archive
Click on the link below to download blank semiannual LD2 forms.
Forms Archive
Install Form Viewer Software
The IBM Workplace Viewer software is required to work with the Lobbying Disclosure forms on a Windows computer. To download the application, enter your registrant name and e-mail address in the fields listed below and click the "download" button.