---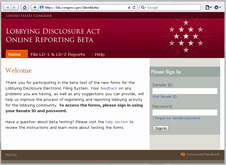 Notice: Online Lobby Reporting Available
There are newer web based versions of the lobbying disclosure forms available for use on all of your future filings. These new Online Lobbying Disclosure forms have been available for over three years now and will be replacing the IBM forms early next year.
We encourage you to start using these forms as we will not be accepting IBM forms after the 2014 Fourth Quarter filing period (ending January 20th, 2015).
---
Download Template Forms
If you are an active registrant, you can download IBM Workplace forms that are pre-populated with your registrant and client information. To locate your forms, enter your registrant name in the field below and click the "Search" button. If you are not sure of the Registrant name, you can view the list of active registrant names in alphabetical order using the links below.
If you have just registered a new client and a link to the pre-populated form is not available, please check the download page again later in the day. The icon will be displayed when the new form is available.
View Alphabetically:
| Registrant Name | Registrant ID | LD-1 Form |
| --- | --- | --- |
| K&L GATES LLP | 31355 | |

Download all client forms
Client Name

House ID

LD-2 Form

Abpro Corporation
313550916
ACCELERGY CORPORATION
313550385
AGC America, Inc. f/k/a known as AGC Flat Glass North Amrica
313550408
AIRPORT MINORITY ADVISORY COUNCIL
313550276
ALGAE BIOMASS ORGANIZATION
313550531
Allegheny County Airport Authority
313550992
American Association of Port Authorities
313550998
AMERICAN BUREAU OF SHIPPING
313550578
American Fuel and Petrochemical Manufacturers
313550728
AMERICAN MARITIME PARTNERSHIP
313550621
American Roll-on Roll-off Carrier Group, Inc.
313550724
American Superconductor Corporation
313550767
American Tower Corporation
313550736
AMERICAN WATER
313550570
Ashley Addiction Treatment
313550935
Association of Washington Business
313550698
AVIS-BUDGET GROUP, INC.
313550521
Berkshire Hathaway Energy
313550826
Beyond Finance LLC
313550988
Black Summit Financial
313550926
BNSF RAILWAY CO.
313550005
Boeing Employees' Credit Union
313550513
Breville Pty, Ltd.
313550808
BROWN-FORMAN CORP
313550004
BUSINESS LEADERS FOR MICHIGAN
313550664
ByteDance Inc.
313550838
Caelux Corporation
313550902
California Public Employees' Retirement System
313550684
California State University Maritime Academy
313550945
CERES, INC.
313550666
CHURCH ALLIANCE
313550566
City of South Sioux City, Nebraska
313550990
Cleco Power LLC
313550901
CMS ENERGY CORP.
313550622
Coalition for Energy Efficient Jobs & Investment
313550772
Coalition for the Preservation of Employment Choice f/k/a 14c Coalition
313550924
Columbia Sportswear
313550822
Commonwealth Fusion Systems LLC
313550898
CONSORTIUM OF STATE MARITIME ACADEMIES
313550252
Consumer Technology Association
313550669
Coursera Inc.
313550927
CTC Global Corporation
313550919
Dataiku, Inc.
313550949
Defense Maritime Solutions Inc. f/k/a Wartsila Defense, Inc.
313550911
Duquesne University of The Holy Spirit
313550991
Edelman Financial Engines f/k/a Financial Engines
313550499
Engine No. 1 LP
313550978
ENVIRONMENTAL DEFENSE ACTION FUND
313550309
Equinix, Inc.
313550784
Fisher Investments
313550879
Foris DAX, Inc. d/b/a Crypto.com
313550942
Forterra, Inc.
313550676
Fusion Industry Association
313550915
Gecko Robotics Inc.
313550995
Glenfarne Energy Transition
313550983
Gordon Food Service, Inc.
313550841
Great Lakes Dredge & Dock Company, LLC
313550137
GREAT LAKES METRO CHAMBERS
313550606
Greater Pittsburgh Chamber of Commerce
313550733
GREATER SPOKANE INCORPORATED
313550244
Greenfield Exports LLC
313550966
Gulf of Mexico Reef Fish Shareholders' Alliance
313550752
Hecla Mining Company
313550682
Hyundai Motor Company, Ltd.
313550894
Index Industry Association
313550869
INSTITUTE OF INTERNATIONAL CONTAINER LESSORS
313550558
Intelligrated Systems, Inc. dba Honeywell Intelligrated
313550805
International Sustainability Standards Board (ISSB)
313550989
Interpool, Inc. d/b/a Trac Intermodal
313550944
James Hardie Building Products, Inc.
313550760
Kinetic Pressure Control Limited
313550960
LAKE CARRIERS ASSOCIATION
313550070
LAKE PILOTS ASSN INC.
313550199
LEHIGH HANSON INC.
313550750
LG Chem Ltd.
313550932
LIBERTY MEDIA CORPORATION
313550434
LOWER PASSAIC RIVER STUDY AREA COOP
313550549
MAGNOLIA LNG LLC
313550633
MASSACHUSETTS MARITIME ACADEMY, INC.
313550411
MATSON NAVIGATION
313550296
Mayflower Partners International LLC
313550994
McDermott International, Inc. f/k/a CHICAGO BRIDGE & IRON (CB&I)
313550030
Minority Business Association d/b/a Minority Cannabis Business Association, MCBA
313550909
Moda Health
313550769
Mormac Marine Group, Inc.
313550021
Motional AD Inc.
313550967
NATIONAL ASSOCIATION OF TRAILER MANUFACTURERS
313550429
National Glass Association
313550946
NextDecade Corporation
313550917
NORTHERN MICHIGAN UNIVERSITY
313550058
Northwest Maritime Center
313550975
Olympus Power LLC
313550802
Oshkosh Corporation
313550812
Pacific Seafood Group
313550770
PacifiCorp Energy
313550793
Package Coalition LLC
313550807
PAPER RECYCLING COALITION
313550579
Peak Nanosystems, LLC
313550979
Pinnacle Treatment Centers
313550755
PITNEY BOWES
313550057
Port of Portland
313550704
Portland General Electric
313550984
PPG Industries Inc.
313550711
PRN Software
313550892
Public Sector Pension Investment Board
313550987
Qurate Retail, Inc. f/k/a LIBERTY INTERACTIVE CORPORATION
313550604
QVC, INC.
313550595
Receivables Management Association f/k/a Debt Buyers Association
313550722
REE Medical LLC
313550962
RenaissanceRe Holdings Ltd.
313550374
Renewable Thermal Collaborative, The
313550941
Resolve Marine Group, Inc.
313550813
Ring of Fire Metals Pty Ltd.
313550993
Robotic Research Opco, LLC
313550958
Roger F. Nyhus
313550985
Rondo Energy Inc.
313550965
Savion, LLC
313550888
Shikun & Binui USA
313550996
Sierra Pacific Industries
313550730
SPOKANE AIRPORT BOARD
313550742
ST. LAWRENCE SEAWAY PILOTS ASSN.
313550052
STARBUCKS COFFEE CORP
313550227
Thalo Labs Inc.
313550986
The ESOP Association
313550353
The First Church of Christ, Scientist
313550718
TOWN OF AYDEN, NORTH CAROLINA
313550302
TRANSPHORM INC.
313550396
TRANSPORTATION INSTITUTE
313550032
Triad Semiconductor, Inc.
313550969
TRI-CITY DEVELOPMENT COUNCIL
313550033
Trident Group America, Inc.
313550957
TrueAccord Corp.
313550931
TrueBlue, Inc.
313550143
U.S. Merchant Marine Academy Alumni Association and Foundation, Inc.
313550972
Unlock Aid Coalition
313550954
UV Angel
313550936
Vanguard Charitable
313550889
Velocys Inc
313550712
Veolia Nuclear Solutions f/k/a Kurion
313550450
Virginia Hospital and Healthcare Association
313550997
Walnut Capital Management, Inc.
313550980
Wartsila North America, Inc.
313550912
WESTERN GREAT LAKES PILOTS ASSN
313550051
WESTON SOLUTIONS
313550219
Zeno Power Systems, Inc.
313550851
Forms Archive
Click on the link below to download blank semiannual LD2 forms.
Forms Archive
Install Form Viewer Software
The IBM Workplace Viewer software is required to work with the Lobbying Disclosure forms on a Windows computer. To download the application, enter your registrant name and e-mail address in the fields listed below and click the "download" button.