---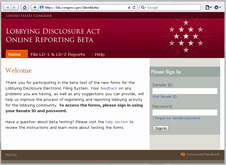 Notice: Online Lobby Reporting Available
There are newer web based versions of the lobbying disclosure forms available for use on all of your future filings. These new Online Lobbying Disclosure forms have been available for over three years now and will be replacing the IBM forms early next year.
We encourage you to start using these forms as we will not be accepting IBM forms after the 2014 Fourth Quarter filing period (ending January 20th, 2015).
---
Download Template Forms
If you are an active registrant, you can download IBM Workplace forms that are pre-populated with your registrant and client information. To locate your forms, enter your registrant name in the field below and click the "Search" button. If you are not sure of the Registrant name, you can view the list of active registrant names in alphabetical order using the links below.
If you have just registered a new client and a link to the pre-populated form is not available, please check the download page again later in the day. The icon will be displayed when the new form is available.
View Alphabetically:
| Registrant Name | Registrant ID | LD-1 Form |
| --- | --- | --- |
| HOLLAND & KNIGHT LLP | 30825 | |

Download all client forms
Client Name

House ID

LD-2 Form

A.O. Smith Corporation
308251016
ACP Technologies, LLC
308250998
Advanced Biofuels Association
308250551
Aleph Farms Ltd.
308251011
Alibaba Group Holding Limited
308250947
Alliance for Infrastructure Reuse and Redevelopment
308250847
Alliance for Regenerative Medicine
308250510
Alliance to Restore Our Waterways
308250687
Alliant International University
308251024
Amazon.com Services LLC
308250951
Ameresco, Inc.
308250986
AMERICAN CHEMISTRY COUNCIL
308250061
American Clean Power Association
308250924
American Factoring Association
308251026
American Forest & Paper Association
308250427
AMSCOT FINANCIAL CORPORATION
308250207
An Achievable Dream Academies
308250255
Aon Risk Services, Inc.
308251002
Apartment Investment Management Company
308250752
Apollo MedFlight on behalf of Oglala Lakota Air Rescue, LLC
308251040
Association of Critical Care Transport
308250519
Association of Organ Procurement Organizations
308250917
Atlanta Beltline, Inc.
308250607
Ava Labs, Inc.
308250994
Big Brothers Big Sisters of America
308250985
BioMADE
308251031
Black Women's Health Imperative
308250932
Blue Cross and Blue Shield of Minnesota
308250369
Board of County Commissioners of Pitkin County, CO
308251009
Bristow Group, Inc.
308251047
Broward Metropolitan Planning Organization
308250643
Burnham Developer LLC (on behalf of Akridge)
308250971
Burning Man Project
308250824
Business Valuation Resources, LLC
308250933
CACI International, Inc.
308250852
Capitol Bridge, LLC
308250849
Carbice Corporation
308251066
Case Western Reserve University
308250679
Celanese Corporation
308250918
CENTRAL COUNCIL OF TLINGIT AND HAIDA INDIAN TRIBES
308250212
Certified Financial Planner Board of Standards, Inc.
308250702
Charles R. Drew University of Medicine and Science
308250931
Charter Schools USA
308250982
CHICAGO BOTANIC GARDEN
308250259
CHOCTAW NATION OF OKLAHOMA
308250245
CITY AND COUNTY OF SAN FRANCISCO
308250444
City Innovate Inc.
308250926
City of Atlanta, GA
308250363
City of Aurora, CO
308250682
CITY OF CHARLOTTE
308250213
CITY OF CLEVELAND
308250162
City of Everett, WA
308250816
City of Fremont, CA
308250569
City of Hampton, VA
308251054
City of Norfolk, Virginia
308250220
City of Philadelphia, PA
308250577
City of Phoenix, AZ
308250045
City of Sacramento, CA
308250689
City of San Diego, CA
308251005
City of San Jose, CA
308250838
City of Santa Ana, CA
308250652
CITY OF SEATTLE, WA
308250443
City of Sugar Land, TX
308251006
CITY OF TAMPA
308250522
CITY OF WEST PALM BEACH
308250004
City of West Sacramento
308250364
Clark Atlanta University
308251038
Coalition for the Northeast Corridor
308250732
COBB COUNTY, GA
308250257
COMPRESSED GAS ASSOCIATION
308250497
Consolidated Rail Corporation
308251022
Continental Service Group, Inc. d/b/a ConServe
308250899
Cooperative of American Physicians - Mutual Protection Trust (CAP-MPT)
308250429
CoorsTek
308251048
Corteva Agriscience
308250825
Council for Affordable and Rural Housing
308250747
COUNTY OF PLACER
308250046
CrossFit, LLC
308250905
DataMotion, Inc.
308251050
Delaware North
308250798
Denver Health and Hospital Authority
308250773
Digital Health for Equitable Health Alliance
308250999
East West Bank
308250875
ECMC Group
308250772
EDISON ELECTRIC INSTITUTE
308250578
Education Finance Council
308251061
EMD Serono, Inc.
308251008
Energizer Holdings, Inc.
308250858
Energy Materials Corporation
308250829
Entegris, Inc.
308251060
Erlanger Health System
308250605
Factorial, Inc.
308251069
FCA US LLC
308250764
Financial Oversight & Management Board of Puerto Rico
308250813
FirstEnergy Corporation
308250089
Flo Services USA Inc.
308250987
Fort Valley State University
308250925
Freeport-McMoRan, Inc.
308251034
Front Line Hospital Alliance
308250819
GENESEE & WYOMING, INC.
308250180
Give Legacy, Inc.
308251012
Global Business Alliance
308250949
Guidehouse LLP
308250820
Gulf Energy Alliance
308251021
Gulf Marine Repair Corporation
308250400
H. Lee Moffitt Cancer Center & Research Institute Hospital, Inc.
308250440
HILLSBOROUGH AREA REGIONAL TRANSIT AUTHORITY
308250094
HMS Associates (on behalf of Friendship House Assoc. of American Indians)
308250942
HMS Associates (on behalf of Glide Foundation)
308251013
HMS Associates (on behalf of The Exploratorium)
308251063
Houghton Mifflin Harcourt
308250859
Humanity Forward
308251020
Hypori LLC
308250972
Independent Sector
308250977
Ingevity Corporation
308250817
Innovas Indiana LLC
308251057
Institute of Scrap Recycling Industries, Inc.
308251052
Intelligent Waves LLC
308251027
International Association of Plumbing and Mechanical Officials
308250760
Inupiat Community of the Arctic Slope
308251046
ITG Brands
308250910
Jacksonville Transportation Authority
308250640
Joby Aviation
308250874
John Bean Technologies (JBT) Corporation
308250413
Johnson Foods, LLC
308251039
JRC Integrated Systems, Inc.
308251023
Kaiser Found. Hospitals & Health Plan Inc. obo Mayors & CEOs for US Housing Inv.
308251028
Ketchikan Indian Community
308250366
Keurig Dr Pepper Inc. and Affiliates
308251042
Kinross Gold U.S.A., Inc.
308250409
KORE Power, Inc.
308250879
Los Angeles Community College District
308250677
Los Angeles County Development Authority (formerly LA County/LACDC)
308250445
LOS ANGELES COUNTY METROPOLITAN TRANSPORTATION AUTHORITY
308250574
Lurie Children's Hospital of Chicago
308250354
Lynas Rare Earths Ltd.
308250958
Lynas USA LLC
308250959
Management & Training Corporation
308250920
Mandan, Hidatsa & Arikara Nation
308250800
Marathon Petroleum Corporation
308250945
MasterCard, Inc.
308250991
MCCLELLAN BUSINESS PARK LLC
308250563
METROPOLITAN ATLANTA RAPID TRANSIT AUTHORITY
308250399
Mille Lacs Band of Ojibwe Indians
308250036
Mitsubishi Power Americas, Inc.
308250923
Monster Worldwide, Inc.
308250857
Morehouse College
308250907
National Association of EMS Physicians
308250599
NATIONAL FISHERIES INSTITUTE
308250223
National Mining Association
308250916
Navajo Nation
308250728
NET Power LLC
308250873
Newtown Creek Group
308250776
Niagara Frontier Transportation Authority
308250821
NIC Federal LLC
308250940
Niron Magnetics
308250941
Nomi Health
308250955
Noodle Partners
308250780
Northern Ponca Housing Authority
308250812
Novo Nordisk, Inc.
308250996
Nuseed Americas
308250944
Occidental Petroleum Corporation
308250938
OMNOVA Solutions Inc.
308250980
Orange County Fire Authority
308250617
Osceola County, FL
308250722
Ouster, Inc.
308251035
Pallet PBC
308251064
Pallidus, Inc.
308251065
Paragon Solutions (US), Inc.
308251062
Parsons Corporation
308251007
Partnership for Conservation
308250723
PCI Security Standards Council, LLC
308250472
Peak Minerals Inc.
308251053
Peninsula Corridor Joint Powers Board
308250618
Pilot Travel Centers LLC
308251041
POLK COUNTY
308250121
Ponca Tribe of Nebraska
308250657
Port of Los Angeles
308250651
Portland Harbor Common Interest Group
308250711
POSCO America Corp.
308250877
Protecting Access to Pain Relief Coalition
308250701
Public Access to SunScreens (PASS) Coalition
308250624
Puget Sound Regional Council
308251058
QuikTrip Corporation
308251015
RAPISCAN SYSTEMS, INC.
308250402
RAYUS Radiology
308250603
Red Lake Band of Chippewa Indians
308250033
Reforma Strategies, LLC (on behalf of Federal Home Loan Bank of San Francisco)
308250936
Regional Transportation Commission of Southern Nevada
308250768
Results for America
308250927
Retriev Technologies, Inc.
308251056
Riot Blockchain, Inc.
308251014
Roanoke College
308251025
SACRAMENTO COUNTY
308250181
Sacramento Metropolitan Fire District
308250839
SailPlan
308250989
Samsung SDI America, Inc.
308251036
SAMTRANS
308250450
Satelles, Inc.
308250840
Saxon, Gilmore & Carraway, P.A. on behalf of Meridian River Development Corp.
308250690
Scipher Medicine Corporation
308251051
Securitas, Inc.
308250970
SENECA NATION OF INDIANS
308250342
SHAKOPEE MDEWAKANTON DAKOTA (SIOUX) COMMUNITY
308250211
Sila Nanotechnologies Inc.
308250909
Six Continents Hotels, Inc. d/b/a InterContinental Hotels Group
308250699
SKF USA Inc.
308250943
Skydio, Inc.
308250928
Smithfield Foods, Inc.
308250826
Solis Mammography
308250706
Southeastern Pennsylvania Transportation Authority
308250974
Southern California Association of Governments
308250906
Southwest Ohio Regional Transit Authority
308250683
Space Florida
308250891
Spelman College
308250908
Spirit Airlines, Inc.
308250080
St. Regis Mohawk Tribe
308250267
Standards Coordinating Body for Regenerative Medicine
308250810
StarPlus Energy LLC
308251037
Stratasys, Inc.
308250881
Stride, Inc. (f/k/a K12 Inc.)
308250903
Subcom, LLC
308250784
Synopsys, Inc.
308251055
Takeda Pharmaceuticals America, Inc.
308250930
Temple University Health System, Inc.
308250622
The Catholic Church Extension Society of the United States of America
308251001
The Chemours Company
308250710
The DOW Chemical Company
308250503
The Purpose Built Communities Foundation, Inc.
308250981
The Western Union Company
308250954
THOMAS RUTHERFOORD, INC.
308250532
Thomson Reuters
308250030
T-Mobile US
308250921
Tohopekaliga Water Authority
308250785
TransDigm Group, Inc.
308250939
Transocean Offshore Deepwater Drilling Inc.
308251019
Triad Life Sciences, Inc.
308251032
TRIBN LLC (on behalf of Inupiat Community of The Arctic Slope)
308250990
Tricon Residential Inc.
308251059
Tuskegee University
308250913
U.S. Immigration Fund LLC
308250626
UC Health
308250988
UNITED MITOCHONDRIAL DISEASE FOUNDATION
308250451
University of Pittsburgh
308251071
University of Southern California
308250878
University of the District of Columbia Foundation
308251044
VeriSign, Inc.
308251033
Viasat, Inc.
308251000
Viatris, Inc.
308250861
Volta Industries, Inc.
308250914
W.W. Grainger, Inc.
308250754
Wallbox USA Inc.
308251070
Washington Hospital Healthcare System
308250344
Water Agency Leaders Alliance
308251067
Waterloo Greenway Conservancy
308250956
Waymo LLC f/d/b/a Google (on behalf of Waymo LLC)
308250741
Western Regional Off Track Betting
308251068
Wiley College
308250863
Wing Aviation LLC
308250919
Forms Archive
Click on the link below to download blank semiannual LD2 forms.
Forms Archive
Install Form Viewer Software
The IBM Workplace Viewer software is required to work with the Lobbying Disclosure forms on a Windows computer. To download the application, enter your registrant name and e-mail address in the fields listed below and click the "download" button.