---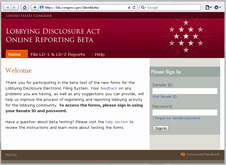 Notice: Online Lobby Reporting Available
There are newer web based versions of the lobbying disclosure forms available for use on all of your future filings. These new Online Lobbying Disclosure forms have been available for over three years now and will be replacing the IBM forms early next year.
We encourage you to start using these forms as we will not be accepting IBM forms after the 2014 Fourth Quarter filing period (ending January 20th, 2015).
---
Download Template Forms
If you are an active registrant, you can download IBM Workplace forms that are pre-populated with your registrant and client information. To locate your forms, enter your registrant name in the field below and click the "Search" button. If you are not sure of the Registrant name, you can view the list of active registrant names in alphabetical order using the links below.
If you have just registered a new client and a link to the pre-populated form is not available, please check the download page again later in the day. The icon will be displayed when the new form is available.
View Alphabetically:
| Registrant Name | Registrant ID | LD-1 Form |
| --- | --- | --- |
| Holland & Knight LLP | 30825 | |

Download all client forms
Client Name

House ID

LD-2 Form

Advanced Biofuels Association
308250551
AirMap
308250717
Alliance for Infrastructure Reuse and Redevelopment
308250847
Alliance for Regenerative Medicine
308250510
Alliance to Restore Our Waterways
308250687
Alltran
308250762
AMERICAN CHEMISTRY COUNCIL
308250061
American Forest & Paper Association
308250427
America's Homeowner Alliance
308250804
AMSCOT FINANCIAL CORPORATION
308250207
Apartment Investment Management Company
308250752
APC Automotive Technologies LLC
308250860
Ascendant Resources, Inc.
308250833
Ashland Inc.
308250587
Associated Press
308250866
Association of Critical Care Transport
308250519
Atlanta Beltline, Inc.
308250607
Atrius Health, Inc.
308250870
Bethel Native Corporation
308250807
Block.One
308250823
Bloomberg, L.P.
308250865
Blue Cross and Blue Shield of Minnesota
308250369
Broward Metropolitan Planning Organization
308250643
Building Industry Legal Defense Foundation (on behalf of BIASC)
308250853
Burning Man Project
308250824
CACI International, Inc.
308250852
Caliburn Holdings, LLC
308250828
California Manufacturing Technology Center
308250442
Calista Corporation
308250854
Capitol Bridge, LLC
308250849
Case Western Reserve University
308250679
Center for Diagnostic Imaging
308250603
CENTRAL COUNCIL OF TLINGIT AND HAIDA INDIAN TRIBES
308250212
Certified Financial Planner Board of Standards, Inc.
308250702
CGI FEDERAL
308250339
CHICAGO BOTANIC GARDEN
308250259
CHOCTAW NATION OF OKLAHOMA
308250245
Citrix Systems, Inc.
308250801
CITY AND COUNTY OF SAN FRANCISCO
308250444
City of Atlanta, GA
308250363
City of Aurora, CO
308250682
CITY OF CHARLOTTE
308250213
City of Everett, WA
308250816
City of Fremont, CA
308250569
City of Key West, FL
308250136
City of Norfolk, Virginia
308250220
City of Philadelphia, PA
308250577
City of Phoenix, AZ
308250045
City of Sacramento, CA
308250689
City of San Jose, CA
308250838
City of Santa Ana, CA
308250652
CITY OF SEATTLE, WA
308250443
City of Stamford, CT
308250788
CITY OF TAMPA
308250522
CITY OF WEST PALM BEACH
308250004
City of West Sacramento
308250364
CleanWell, LLC
308250856
ClearPath Foundation
308250834
Coalition for the Northeast Corridor
308250732
COBB COUNTY, GA
308250257
Comcast Corporation
308250642
COMPRESSED GAS ASSOCIATION
308250497
Cooperative of American Physicians - Mutual Protection Trust (CAP-MPT)
308250429
Corteva Agriscience
308250825
Council for Affordable and Rural Housing
308250747
COUNTY OF PLACER
308250046
Delaware North
308250798
Denver Health and Hospital Authority
308250773
Depository Trust & Clearing Corporation
308250573
Deschutes Basin Board of Control
308250851
Dow Jones & Company
308250864
East Texas Electric Cooperative
308250664
East West Bank
308250875
ECMC Group
308250772
Edera, LLC d/b/a National Coordination Center
308250837
EDISON ELECTRIC INSTITUTE
308250578
Energizer Holdings, Inc.
308250858
Energy Materials Corporation
308250829
Erlanger Health System
308250605
Ewiiaapaayp Band of Kumeyaay Indians
308250215
FCA US LLC
308250764
Financial Oversight & Management Board of Puerto Rico
308250813
Financial Services Institute
308250809
FirstEnergy Corporation
308250089
Florida Hospital Association
308250452
Front Line Hospital Alliance
308250819
GENESEE & WYOMING, INC.
308250180
Google (on behalf of Waymo LLC)
308250741
Guidehouse LLP
308250820
Gulf Marine Repair Corporation
308250400
H. Lee Moffitt Cancer Center & Research Institute Hospital, Inc.
308250440
Hess Corporation
308250832
HILLSBOROUGH AREA REGIONAL TRANSIT AUTHORITY
308250094
HMS Associates (on behalf of San Francisco Arts Alliance)
308250855
Home(ful) Foundation
308250846
HomeFree USA
308250876
Houghton Mifflin Harcourt
308250859
Ingevity Corporation
308250817
International Association of Plumbing and Mechanical Officials
308250760
Jacksonville Transportation Authority
308250640
Jamestown S'Klallam Tribe
308250597
Joby Aviation
308250874
KEMET Electronics Corporation
308250580
Ketchikan Indian Community
308250366
Kinross Gold U.S.A., Inc.
308250409
League of California Cities
308250447
Los Angeles Community College District
308250677
Los Angeles County Development Authority (formerly LA County/LACDC)
308250445
LOS ANGELES COUNTY METROPOLITAN TRANSPORTATION AUTHORITY
308250574
Los Angeles LGBT Center (f/k/a Los Angeles Community Service Center)
308250441
Louisville Regional Airport Authority
308250756
Lurie Children's Hospital of Chicago
308250354
Mandan, Hidatsa & Arikara Nation
308250800
MarineMax, Inc.
308250850
Market News International
308250867
MCCLELLAN BUSINESS PARK LLC
308250563
MEDNAX, Inc.
308250757
METROPOLITAN ATLANTA RAPID TRANSIT AUTHORITY
308250399
MidFirst Bank
308250802
Mille Lacs Band of Ojibwe Indians
308250036
Mohegan Tribe of Indians of Connecticut
308250318
Monster Worldwide, Inc.
308250857
Mortgage Bankers Association
308250629
Mylan, Inc.
308250861
National Association of EMS Physicians
308250599
NATIONAL FISHERIES INSTITUTE
308250223
National Press Photographers Association
308250676
National Strategies, LLC (on behalf of Taser International, Inc.)
308250736
Nat'l. Community Reinvestment Coalition(for Affordable Homeownership Coalition)
308250844
Navajo Nation
308250728
Navigate Affordable Housing Partners
308250845
Navistar Defense, LLC
308250835
NAVYA Inc.
308250830
Neste US, Inc.
308250594
NET Power LLC
308250873
New Troy Strategies (on behalf of ITG Holdings USA, Inc.)
308250872
Newtown Creek Group
308250776
Niagara Frontier Transportation Authority
308250821
Noodle Partners
308250780
Northeast Texas Electric Cooperative of Texas, Inc.
308250665
Northern Ponca Housing Authority
308250812
OCHIN, Inc.
308250765
Orange County Fire Authority
308250617
Orange County Water District
308250729
Osage Casinos
308250775
Osage Nation
308250716
Osceola County, FL
308250722
Partnership for Conservation
308250723
PCI Security Standards Council, LLC
308250472
Peninsula Corridor Joint Powers Board
308250618
POLK COUNTY
308250121
Ponca Tribe of Nebraska
308250657
Port of Los Angeles
308250651
Portland Harbor Common Interest Group
308250711
POSCO American Corporation
308250877
Protecting Access to Pain Relief Coalition
308250701
Public Access to SunScreens (PASS) Coalition
308250624
Pursuit Response
308250738
Radian Group, Inc.
308250805
Railway Supply Institute
308250721
RAPISCAN SYSTEMS, INC.
308250402
RAYTHEON COMPANY
308250571
Red Lake Band of Chippewa Indians
308250033
Reforma Strategies LLC (on behalf of East-West Bank)
308250836
Regional Transportation Commission of Southern Nevada
308250768
Rent Stabilization Association of New York City, Inc.
308250871
SACRAMENTO COUNTY
308250181
Sacramento Metropolitan Fire District
308250839
SAMTRANS
308250450
San Bernardino Associated Governments
308250700
SAN MANUEL BAND OF SERRANO MISSION INDIANS
308250392
SAS Institute Inc.
308250794
Satelles, Inc.
308250840
SENECA NATION OF INDIANS
308250342
SHAKOPEE MDEWAKANTON DAKOTA (SIOUX) COMMUNITY
308250211
Silver Spring Owner, LLC
308250842
Six Continents Hotels, Inc. d/b/a InterContinental Hotels Group
308250699
Skyryse, Inc.
308250814
Small Business Investor Alliance
308250685
Smithfield Foods, Inc.
308250826
Solis Mammography
308250706
Southwest Ohio Regional Transit Authority
308250683
Spirit Airlines, Inc.
308250080
St. Regis Mohawk Tribe
308250267
Standards Coordinating Body for Regenerative Medicine
308250810
Subcom, LLC f/k/a Tyco Electronics Subsea Communications, LLC
308250784
Swissport USA, Inc.
308250862
Temple University Health System, Inc.
308250622
Tesla, Inc.
308250767
Teva Pharmaceuticals USA, Inc.
308250808
The Chemours Company
308250710
The DOW Chemical Company
308250503
The E-Ordering Coalition
308250421
THOMAS RUTHERFOORD, INC.
308250532
Thomson Reuters
308250030
Tohopekaliga Water Authority
308250785
U.S. Immigration Fund LLC
308250626
U.S. Mortgage Insurers
308250868
Unitape (USA), LLC
308250848
UNITED MITOCHONDRIAL DISEASE FOUNDATION
308250451
United Shore Financial Services, LLC
308250869
Vizient, Inc. (formerly VHA, INC.)
308250335
W.W. Grainger, Inc.
308250754
Washington Hospital Healthcare System
308250344
Waste Management, Inc.
308250733
White Memorial Medical Center
308250460
Wiley College
308250863
Zovio Inc. f/k/a Bridgepoint Education
308250616
Forms Archive
Click on the link below to download blank semiannual LD2 forms.
Forms Archive
Install Form Viewer Software
The IBM Workplace Viewer software is required to work with the Lobbying Disclosure forms on a Windows computer. To download the application, enter your registrant name and e-mail address in the fields listed below and click the "download" button.