---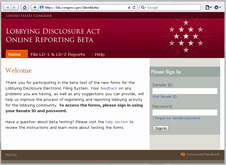 Notice: Online Lobby Reporting Available
There are newer web based versions of the lobbying disclosure forms available for use on all of your future filings. These new Online Lobbying Disclosure forms have been available for over three years now and will be replacing the IBM forms early next year.
We encourage you to start using these forms as we will not be accepting IBM forms after the 2014 Fourth Quarter filing period (ending January 20th, 2015).
---
Download Template Forms
If you are an active registrant, you can download IBM Workplace forms that are pre-populated with your registrant and client information. To locate your forms, enter your registrant name in the field below and click the "Search" button. If you are not sure of the Registrant name, you can view the list of active registrant names in alphabetical order using the links below.
If you have just registered a new client and a link to the pre-populated form is not available, please check the download page again later in the day. The icon will be displayed when the new form is available.
View Alphabetically:
| Registrant Name | Registrant ID | LD-1 Form |
| --- | --- | --- |
| Williams and Jensen, PLLC | 30771 | |

Download all client forms
Client Name

House ID

LD-2 Form

Advanced Medical Technology Association (AdvaMed)
307710500
Air Medical Operators Association
307710337
Alorica, Inc.
307710513
American Academy of Emergency Medicine (AAEM)
307710412
American Association of Crop Insurers (AACI)
307710473
American Business Group of Abu Dhabi (d/b/a Amcham Abu Dhabi)
307710456
American Central European Business Association
307710460
American Equity Investment Life Holding Company
307710313
American Lithuanian Business Council
307710419
American Romanian Business Council
307710403
Anthem, Inc. (formerly known as WellPoint, Inc.)
307710388
Antimicrobials Working Group
307710496
Association of Air Medical Services
307710480
BIOBOT Analytics
307710502
BLOOMBERG LP
307710277
Bombardier Aerospace Holdings (USA) Inc formerly Bombardier Transit Corporation
307710453
BRINKS COMPANY
307710039
Brooks Brothers
307710187
Buhler Quality Yarns Corporation
307710188
Central Iowa Water Trails
307710514
Chicago Deferred Exchange Corporation
307710081
City and County of Honolulu
307710470
CITY OF NEW HAVEN, CONNECTICUT
307710180
Clark Street Associates on behalf of Arris Composites
307710516
Coalition for a 21st Century Postal Service
307710358
COLONIAL PIPELINE
307710010
Comcast Corporation
307710335
Concho Resources, Inc.
307710413
County of Maui- Hawaii
307710328
DELL INC.
307710163
Eli Lilly & Company
307710431
Elliott Management
307710321
Enable Midstream Partners, LP
307710451
Encova Insurance
307710511
Federal Home Loan Bank of Cincinnati
307710386
Federation of Exchange Accomodators, Inc.
307710244
GENENTECH, INC
307710023
General Electric Company (previously reported as GE Aviation)
307710389
Gitman and Company
307710191
Global Down Syndrome Foundation
307710484
Hardwick Clothes
307710440
Hickey Freeman Tailored Clothing, Inc
307710429
Honolulu Auth. for Rapid Trns. (previously known as InfraConsult, LLC.)
307710308
HOUSTON FIREFIGHTERS RELIEF AND RETIREMENT FUND
307710147
Indexed Annuity Leadership Council
307710495
Indicium Group
307710504
Indivior, Inc.
307710482
J.A. Apparel Corp.
307710510
Kansas State University
307710471
Los Angeles County Employees' Retirement System
307710492
MERCK & CO, INC
307710237
MT Pharma America, Inc.
307710478
Municipal Securities Rulemaking Board
307710506
NATIONAL ASSN. OF STATE TREASURERS (NAST)
307710239
NATIONAL ASSOCIATION OF REHABILITATION PROVIDERS AND AGENCIES
307710028
National Coalition for Access to Autism Services (NCAAS)
307710479
National Conference on Public Employee Retirement Systems
307710373
New England Shirt Co
307710430
News Media Alliance
307710474
Norfolk Southern Corporation
307710033
Novo Nordisk Inc.
307710509
OGE ENERGY CORP
307710034
Ohio Police and Fire Pension Fund
307710397
OTC Markets
307710454
Oxford Biochronometrics
307710444
PFIZER
307710185
PhRMA
307710060
Plasma Protein Therapeutics Association
307710464
REINSURANCE ASSOCIATION OF AMERICA
307710114
RESEARCH SOCIETY ON ALCOHOLISM
307710252
Ripple Labs, Inc.
307710503
Sanofi, U.S.
307710486
SECURITY TRADERS ASSOCIATION
307710103
Signify Health
307710512
SMITHFIELD FOODS, INC
307710126
Southwestern Company
307710307
Southwick Clothing, LLC
307710320
Stanley Black & Decker, Inc.
307710148
Supima
307710192
Syneos Health, Inc.
307710515
Tactical Air Support, Inc.
307710485
Takeda Pharmaceuticals America, Inc.
307710285
TD Ameritrade
307710363
TE Connectivity, Inc.
307710392
Tennessee Consolidated Retirement Systems
307710438
The Amalgamated Sugar Company LLC
307710477
The Anschutz Corporation
307710507
The Davis Brown Law Firm on behalf of Polk County IA
307710508
The Internet & Television Assn (Formerly NTL CABLE & TELECOMMUNICATIONS ASSN)
307710070
The Vanguard Group, Inc
307710345
Tom James Company
307710311
Us Against Alzheimer's
307710501
US Guatemala Business Council
307710490
US- Poland Business Council
307710375
US-Mexico Business Coalition
307710483
US-Turkmenistan Business Council
307710354
Veritec Solutions, LLC
307710377
Vertex Pharmaceuticals Incorporated
307710449
VISA
307710259
W Diamond Group Corporation
307710421
Women's Health Coalition
307710491
Zoetis
307710418
Forms Archive
Click on the link below to download blank semiannual LD2 forms.
Forms Archive
Install Form Viewer Software
The IBM Workplace Viewer software is required to work with the Lobbying Disclosure forms on a Windows computer. To download the application, enter your registrant name and e-mail address in the fields listed below and click the "download" button.