---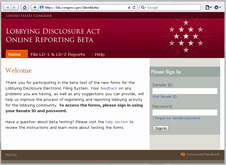 Notice: Online Lobby Reporting Available
There are newer web based versions of the lobbying disclosure forms available for use on all of your future filings. These new Online Lobbying Disclosure forms have been available for over three years now and will be replacing the IBM forms early next year.
We encourage you to start using these forms as we will not be accepting IBM forms after the 2014 Fourth Quarter filing period (ending January 20th, 2015).
---
Download Template Forms
If you are an active registrant, you can download IBM Workplace forms that are pre-populated with your registrant and client information. To locate your forms, enter your registrant name in the field below and click the "Search" button. If you are not sure of the Registrant name, you can view the list of active registrant names in alphabetical order using the links below.
If you have just registered a new client and a link to the pre-populated form is not available, please check the download page again later in the day. The icon will be displayed when the new form is available.
View Alphabetically:
| Registrant Name | Registrant ID | LD-1 Form |
| --- | --- | --- |
| Hogan Lovells US LLP | 30470 | |

Download all client forms
Client Name

House ID

LD-2 Form

Academy of Rail Labor Attorneys
304700357
Aerion Corporation
304700732
AFLAC
304700382
Airbus Americas, Inc. (Formerly known as Airbus Group, Inc.)
304700597
AllerQuest
304700834
American Academy of Pediatric Dentistry
304700359
American Frozen Food Institute
304700038
American Gaming Association
304700141
American Seed Trade Association
304700585
America's Community Airline Coalition
304700839
Americas Mining Corporation
304700825
Anschutz Corporation
304700447
Anschutz Entertainment Group Inc.
304700832
Antero Midstream Partners LP
304700728
Apple, Inc.
304700822
Association for Competitive Technology Inc.
304700827
Association of Community Cancer Centers
304700311
Avast Software Inc.
304700828
Barclays Capital Inc
304700592
Biotechnology Industry Organization
304700251
California State Teachers' Retirement System
304700004
Canadian Solar Inc.
304700829
Cochlear Americas
304700723
College Football Playoff
304700574
Commercial Drone Alliance
304700780
Cormedix
304700741
Credit Suisse Securities (USA)
304700593
Crown Castle International Corp.
304700795
Direct Selling Association
304700006
DTE Energy
304700055
Dune Medical Devices
304700810
Eldridge Business Services, LLC
304700802
Essentia Health
304700835
EyePoint Pharmaceuticals, Inc
304700811
Federation of Rice Producers of Colombia
304700680
Fox Corporation (formerly known as 21st Century Fox)
304700696
Frontier Communications
304700818
Fulcrum Bioenergy, Inc.
304700775
GE Aviation
304700833
Gogo Inc.
304700838
HawkEye 360
304700779
HollyFrontier
304700777
Hologic, Inc.
304700817
Hospice Action Network
304700726
Intercomp Company
304700824
Kearney & Company, P.C.
304700823
Keystone Inc
304700596
Kinder Morgan, Inc.
304700789
Lee County Port Authority
304700094
Lexicon Pharmaceuticals, Inc
304700826
LG Chem Ltd.
304700840
Lloyd's America, Inc.
304700781
Louisiana Energy Services
304700530
M S International
304700813
National Chicken Council
304700014
National Structured Settlements Trade Association
304700011
News Corporation
304700767
Nissan North America
304700241
NVR Inc.
304700471
OAK HILL CAPITAL PARTNERS L.P.
304700836
Office of the Commissioner of Baseball
304700804
Organ Donation Advocacy Group
304700814
Pacific Seafood
304700837
Park Front Apartments LLC
304700783
Paulson & Co Inc
304700750
Pelvalon Inc.
304700812
PMI Global Services Inc.
304700799
Polyisocyanierate Insulation Manufacturers Association
304700062
Recombinetics Inc.
304700801
Republic Airways Holdings Inc
304700629
Roku, Inc.
304700771
Rural Media Group
304700712
Rustavi Steel LLC
304700816
Safe Fleet
304700820
Semiconductor Industry Association
304700806
SkyWater Technology Foundry
304700798
Smarte Carte Inc.
304700797
SmartTruck Systems, LLC
304700754
Starkey Hearing Technologies
304700792
The AES Corporation
304700472
The J.M. Smucker Company
304700640
The Mackinac Technology Company
304700821
The Vinyl Institute, Inc.
304700807
T-Mobile US, Inc.
304700803
Toyota Motor North America
304700249
TPG
304700595
United Services Automobile Association
304700594
United States Steel Corporation
304700841
United Talmudical Seminary
304700819
Virginia Department of Rail and Public Transportation
304700830
Walmart Inc. (Formerly known as Wal-Mart Stores Inc.)
304700498
Western Riverside County Regional Conservation Authority
304700635
Xanterra Parks and Resorts Inc
304700729
Xcel Energy Inc
304700386
Zurich American Insurance Company
304700768
Forms Archive
Click on the link below to download blank semiannual LD2 forms.
Forms Archive
Install Form Viewer Software
The IBM Workplace Viewer software is required to work with the Lobbying Disclosure forms on a Windows computer. To download the application, enter your registrant name and e-mail address in the fields listed below and click the "download" button.