---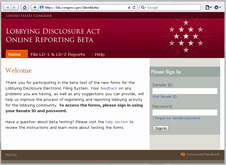 Notice: Online Lobby Reporting Available
There are newer web based versions of the lobbying disclosure forms available for use on all of your future filings. These new Online Lobbying Disclosure forms have been available for over three years now and will be replacing the IBM forms early next year.
We encourage you to start using these forms as we will not be accepting IBM forms after the 2014 Fourth Quarter filing period (ending January 20th, 2015).
---
Download Template Forms
If you are an active registrant, you can download IBM Workplace forms that are pre-populated with your registrant and client information. To locate your forms, enter your registrant name in the field below and click the "Search" button. If you are not sure of the Registrant name, you can view the list of active registrant names in alphabetical order using the links below.
If you have just registered a new client and a link to the pre-populated form is not available, please check the download page again later in the day. The icon will be displayed when the new form is available.
View Alphabetically:
| Registrant Name | Registrant ID | LD-1 Form |
| --- | --- | --- |
| Cassidy & Associates, Inc. | 30223 | |

Download all client forms
Client Name

House ID

LD-2 Form

Adapdix Corporation
302230967
Airbus Americas, Inc
302230651
American Rheinmetall Munitions, Inc.
302230827
American Superconductor
302230016
Anschutz Corporation
302230913
Apex Clean Energy Inc
302230755
Arconic
302230806
Arnold Ventures
302230957
Art into Acres
302230963
AT Government Strategies on behalf of The St Louis Economic Development Partners
302230883
Atlantic Shores Offshore Wind, LLC
302230896
Atrium
302230935
BAE Systems Inc.
302230762
Barrick Gold of North America Inc.
302230738
BJC HEALTHCARE
302230478
BOSTON COLLEGE
302230021
BOSTON UNIVERSITY
302230036
Bradley University
302230919
Bridger Photonics
302230945
California Resources Corporation
302230953
Calpine Corporation
302230909
Campion Advocacy Fund
302230888
CareSource
302230902
Center for American Progress
302230926
Cerner Corporation
302230744
CHAINALYSIS (formerly registered as Chainalysis)
302230948
Charter Communications Operating, LLC
302230859
Cheniere Energy
302230870
Churchill County, Nevada
302230880
ClearPath Action Fund for Conservative Clean Energy, Inc.
302230816
Commonspirit Health
302230864
Control Solutions, LLC
302230956
Corpus Christi Regional Transportation Authority
302230877
Covestro, LLC
302230847
Crescent Peak Renewables
302230917
CRISTAL U.S. INC. d/b/a INTERNATIONAL TITANIUM POWDER
302230569
Crowdpulse LLC
302230942
CTC Global
302230929
Dish Network
302230858
Doe Run Company
302230559
Donlin Gold
302230921
Dun & Bradstreet
302230884
EAGLEPICHER TECHNOLOGIES, LLC
302230451
Eaton Corporation
302230757
ELCON
302230933
Electronic Fluorocarbons
302230944
EOG Resources
302230906
EVgo (formerly known as EvGo)
302230901
Expedia Inc.
302230571
Fairview Health Services
302230216
Firehawk Aerospace
302230968
First Cobalt Corp.
302230931
FirstElement Fuel
302230932
Fluor
302230771
Forest Service Employees for Environmental Ethics
302230962
Fortescue Future Industries
302230965
Fulcrum Bioenergy
302230814
Ghost Robotics Corporation
302230969
Gordian
302230879
Great Basin Transmission, LLC
302230636
Greater Columbia Chamber of Commerce
302230655
Greater Omaha Economic Development Partnership
302230780
Howmet
302230892
HRP Hudson Urban
302230905
HRP Philadelphia Holdings, LLC
302230903
Husch Blackwell Strategies on behalf of Missouri State University
302230928
Intel Corporation
302230583
Linde North America, Inc.
302230702
LORAIN COUNTY COMMUNITY COLLEGE
302230145
Lovelace Biomedical Research Institute
302230523
LS Power
302230557
LTC Action
302230863
Messer
302230862
MGM RESORTS
302230526
Migrant Clinicians Network
302230946
Morgan City Harbor and Terminal District
302230821
MULLEN
302230386
National Audubon Society
302230966
NatureServe
302230958
NCR CORPORATION
302230662
Neogenomics Laboratories
302230918
New Venture Fund
302230873
New York Cruise Lines
302230836
Newmont Mining Corporation
302230740
Nimitz Group, LLC
302230950
North Carolina Military Affairs Commission
302230866
North Carolina State Ports Authority
302230878
nZero (formerly known as Ledger8760, Inc.)
302230925
Ocean Conservancy, Inc.
302230908
Open Space Institute Inc.
302230720
Oregon Natural Desert Association (formerly known as Oregon Desert)
302230927
Ormat Nevada, Inc.
302230608
OverHorizon
302230893
Pac-12 Conference
302230889
Pacific Gas & Electric
302230853
Parts Life, Inc.
302230792
Patagonia
302230789
Pegasystems, Inc.
302230804
Pepco Holdings (PHI)
302230939
PepsiCo Inc.
302230959
Perkins Coie on behalf of Mountain Valley Pipeline, LLC
302230881
Perpetua Resources
302230922
Pharmaceutical Researchers and Manufacturers of America (PhRMA)
302230678
Phenom Resources Corp.
302230947
Port Authority of San Antonio
302230798
Port Imperial Ferry Corp
302230837
PORT OF CORPUS CHRISTI AUTHORITY
302230664
Port of Houston Authority of Harris County, Texas
302230875
Praeses
302230964
PRIDE Industries
302230675
Progression Hawaii Offshore Holdings
302230854
Resources Environmental Solutions ("RES")
302230840
Resources Legacy Fund
302230622
Seqirus USA Inc
302230960
Shipcom Wireless
302230687
Society of Actuaries
302230743
South Coast Air Quality Management District
302230794
Specialty Systems
302230669
State of Nevada
302230885
Steadman Philippon Research Institute
302230791
Strike Photonics
302230952
Student Freedom Initiative
302230943
Sunrun, Inc.
302230849
Switch
302230899
SYNEXXUS Inc.
302230955
Tarrant Regional Water District
302230811
TELOS CORPORATION
302230568
Tesla
302230907
The Mississippi State Board for Community and Junior Colleges
302230661
Tiffany & Co
302230249
Tonopah Solar Energy
302230916
UMASS MEMORIAL HEALTH CARE, INC
302230064
University of Nebraska
302230857
University of Pittsburgh, School of Health and Rehabilitation Sciences
302230670
University of Southern Mississippi
302230049
US Well Services
302230924
Verizon
302230826
View Dynamic Glass
302230759
Vision Products, LLC
302230951
VMWare
302230894
Ward Diesel Filter Systems
302230620
Western Environmental Law Center
302230941
Wilson City, LLC
302230949
World Resources Institute
302230910
Forms Archive
Click on the link below to download blank semiannual LD2 forms.
Forms Archive
Install Form Viewer Software
The IBM Workplace Viewer software is required to work with the Lobbying Disclosure forms on a Windows computer. To download the application, enter your registrant name and e-mail address in the fields listed below and click the "download" button.