To use a template to create a new filing:
•      Navigate to the folder where your forms are stored and double click on the template name you want to use;
The template will be opened in IBM Workplace Forms;
Note:  You can open a form from IBM Workplace Viewer by clicking the Open button in the toolbar or pressing Ctrl+O.  Do not try to open the forms using other applications such as MS Word or Corel WordPerfect.

•      Click the Save as button on the toolbar, or press Ctrl+Alt+S: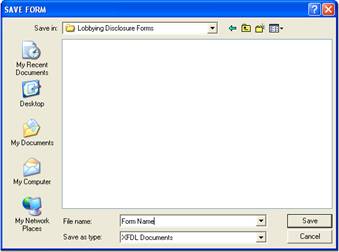 Windows Explorer is displayed.  Navigate to the folder where you are storing your Lobbying Disclosure forms;
•      Enter a form name in the File Name field using the appropriate naming convention, and click the Save button:
Your form is now saved with a new name and ready to be completed for a new filing.
NOTE:  It is important to perform these steps BEFORE you begin working with the form to ensure the template does not get altered.