If you are working with a blank form, you can create a pre-populated template using the steps listed below.
To create a template:

•      Open the form in IBM Workplace Viewer and complete the fields in section one;

•      Click the Save as button on the toolbar, or press Ctrl+Alt+S: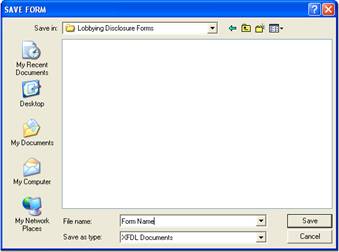 Windows Explorer is displayed.  Navigate to the folder where you are storing your Lobbying Disclosure forms;
•      Enter a form name in the File Name field using the appropriate naming convention;

•      Click the Save button, or press Ctrl+S.
Your form is now saved and available to use for future filings.
Note:  You can open a form for editing by double-clicking on the file name, by clicking the Open button in the IBM Workplace Viewer toolbar.  Do not try to open the forms using other applications such as MS Word or Corel WordPerfect.